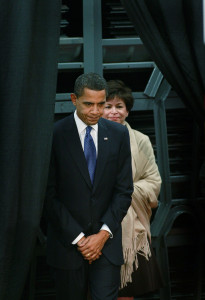 Democratic President Barack Obama will push for up to a week of mandatory sick time, senior adviser Valerie Jarrett wrote in a LinkedIn blog post Wednesday.
She said Obama will ask Congress to pass the 2013 Healthy Families Act, which requires an hour of paid sick time for every 30 hours worked with a maximum of 56 hours, or seven days of eight-hour sick days. (Working 30 hours a week for the year would be six days off; 20 hours would be four absences; the bill seems to indicate that you can't get "partial credit.")
The White House had earlier announced its support for the bill, and Obama was expected to talk about it Thursday. Jarrett wrote that 43 million private employees lacked paid sick leave, and only California, New Jersey, and Rhode Island "offer" — mandate — it.
Requiring paid sick leave could be an obstacle for collision repair business owners, though it of course could be good news for auto techs who either weren't eligible yet for time off or work at shops where it's not offered at all.
However, the bill only applies to businesses with at least 15 employees for at least 20 work weeks of the year, which means it won't be a factor for the average shop — yet.
The average shop in 2013 had 13.3 employees, according to a Collision Repair Education Foundation-I-CAR study. (If you don't want to read the whole thing, a snapshot is here.) However, that's a big jump from the average of 8.4 staff a 2007 study found. If that trend continues, more and more shops could be affected by the proposed law.
Right now, the law only seemed to affect what the study classified as the average "super shop" — sales over $1 million — which had 16.1 employees in 2013.
At this point, the plan seems like a pre-State of the Union political stunt with little chance of going anywhere. If earlier versions of the bill failed to be a priority — USA Today reported it was first introduced in 2005 — good luck getting it through an opposition Congress.
Repairer Driven News is continuing to cover the story. Continue to check back for updates.
Share This: