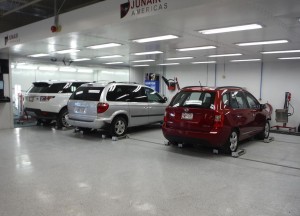 TD Insurance and Carstar have created a "one-stop solution" at a Canadian body shop that might provide an easier customer experience but raises the question of conflicts of interest with repairs.
The pilot program at Carstar Calgary Chinook installs a TD insurance adjuster there, apparently full-time, to work with customers in person and over the phone. Carstar Calgary Chinook is also increasing that shop's hours for the program.
The initiative means that a driver will "only need to deal with one contact throughout the claims process – the TD Insurance adjuster onsite assigned to the claim," according to the TD Jan. 28 news release announcing the program, which was to begin Monday.
"We appreciate that being in a car accident is stressful enough," TD Vice President Craig Richardson said in a statement. "We are proud to be leading the market in offering this new, complete one-stop shop concept for auto collision repairs in Canada. Not only does this initiative allow us to deliver critical repairs in a timely manner, TD Insurance employees will also be able to serve customers directly onsite, ensuring that we meet all our customers' needs, providing them with a more comfortable, convenient and caring experience."
It's an interesting experiment. Carstar doesn't have anything like it in the U.S., and it's a first for TD — and possibly any other insurer — in Canada.
"This solution, believed to be a first for Canada's auto collision repairs, is part of TD Insurance's continuous efforts in delivering legendary customer experiences," TD said in a statement. "… We have plans to offer this one-stop shop initiative in key strategic locations across Canada, working with the most suitable vendors in those markets. We will share more details when ready."
It seems to raise all the controversy of a direct repair program and then some. With a traditional DRP, the customer at least gets to hear from the two economically opposed sides. With this arrangement, the customer's default is to only hear from the insurer.
However, customers are still free to exercise their right under Alberta law to go to any shop they want.
"This added service does not impact any other existing claims processes," Carstar said in a statement. "TDI customers are free to decide where they would like to have their vehicle repaired. Our Claims Professionals will assist with helping them find a location that is convenient for them."
The relationship might be skewed towards the insurer, though an on-site appraiser might have a harder time disagreeing with technicians with whom they share a break room. Though Carstar has clout as the largest multi-shop operation, its record revenues in 2014 were aided by the addition of 179 new DRPs. TD had been the second largest auto and home insurer in Canada in early 2014 and the second largest car insurer in Alberta in 2013, though the Desjardins-State Farm deal completed last month has probably disrupted market share pretty significantly. (These 2010 rankings — the most recent inclusive auto-specific ones we could find — gives some context into that.)
Repairer Driven News contacted both companies about the partnership with questions including future expansion, how disputes between insurer and repairer would be handled and if Carstar had to make any concessions to get the insurer on-site. Carstar's Canadian headquarters deferred all questions to TD. TD issued another statement, relevant parts of which have been included above.
More information:
Share This: