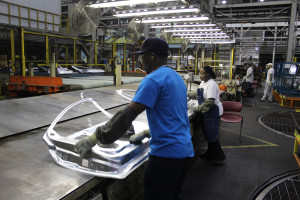 General Motors  announced Tuesday that it "remains committed" to its electronic parts price guide MyPriceLink and will test it in markets this summer.
"We are taking this step to ensure MyPriceLink, when launched, will be an integrated technology solution that the collision industry will be able to use with minimal disruption to their existing workflow," General Motors said in a statement.
The company said it had worked with the Big 3 estimating services, AudaExplore, CCC and Mitchell on integration.
It will still publish list prices of OEM GM parts until MyPriceLink officially launches.
"GM appreciates the industry interest and support MyPriceLink has received and looks forward to announcing the official industry launch of MyPriceLink in the near future," the company said in a statement.
According to GM, the service will provide real-time pricing "resulting in a process more seamless and less disruptive than today's after-the-fact processes."
General Motors communications manager Robert Wheeler explained the program further Tuesday afternoon.
"It's an automated program that allows body shops and collision repair facilities to get real-time, today-type pricing."
"Ultimately, it's so the customer has the car repaired to the same condition it was when it came in," he said.
The system is basically GM's own internal stock ticker and would involve purely GM OEM parts. Asked if GM would make Opt-OE officially sanctioned surplus or reconditioned parts available, Wheeler said he wasn't positive, but he doubted it.
"The same thing that's coming off the damaged vehicle goes right back on," he said in describing the concept of the parts for sale.
The system was announced in early November at SEMA, and postponed about a week later. That allowed the automaker to consult with estimators as well as other parties, according to Wheeler and GM.
Now, Wheeler said, "we're pretty comfortable with this."
Details about the test markets weren't immediately available; Wheeler said he was still checking to find out what he could release.
The move could be positive for collision repairers, even if their and GM's margins are cut. If GM is willing to discount OEM pricing, that could give shops more ammunition to argue for those components to insurers over non-OEM parts. That would mean parts would be guaranteed to fit correctly and truly return the vehicle to pre-collision condition.
Here's another GM voice on MyPartsLink from a 2014 Fender Bender video:
More information:
GM Statement Regarding MyPriceLink
General Motors, May 12, 2015
Featured image: A door is seen at the General Motors Pontiac Metal Center in this undated file photo. (© Copyright General Motors)
Share This: