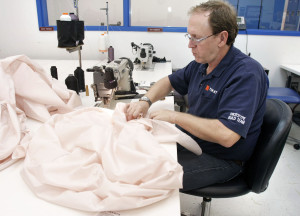 The total number of vehicles recalled for defective Takata air bag inflators has grown to 34 million — about double the prior recall — and the manufacturer has formally acknowledged the error, the Department of Transportation announced Tuesday.
BMW, Chrysler, Daimler, Ford, General Motors, Honda, Mazda, Mitsubishi, Nissan, Subaru and Toyota all have vehicles affected by the massive recall; specific model years are still being determined and will continue to be added to the National Highway Traffic Safety Administration's VIN lookup.
Takata on Monday issued notifications 15E-040, 15E-041, 15E-042 and 15E-043 of recalls, which include vehicles already recalled by manufacturers as well as others not yet identified.
"We are pleased to have reached this agreement with NHTSA, which presents a clear path forward to advancing safety and restoring the trust of automakers and the driving public," Takata CEO Shigehisa Takada said in a statement. "We have worked extensively with NHTSA and our automaker customers over the past year to collect and analyze a multitude of testing data in an effort to support actions that work for all parties and, most importantly, advance driver safety. We are committed to continuing to work closely with NHTSA and our automaker customers to do everything we can to advance the safety of drivers."
The air bag manufacturer will also be subject to a consent order, which Automotive News said halted NHTSA's $14,000/day fining of Takata.
Takata has suggested a phased schedule of replacing air bags, apparently prioritizing it by how moist the state or territory's climate is, and the Transportation Department seems to agree.
"It's anticipated that the remedy of vehicles will be prioritized based upon risk, with the vehicles that present the greatest risk in terms of age and geographic location to be serviced first,"the agency said in a news release.
Nobody actually knows why the air bags malfunction, but the NHTSA thinks extensive moisture entering the inflators is probably a factor.
"Today is a major step forward for public safety," Transportation Secretary Anthony Foxx said in a statement. "The Department of Transportation is taking the proactive steps necessary to ensure that defective inflators are replaced with safe ones as quickly as possible, and that the highest risks are addressed first. We will not stop our work until every air bag is replaced."
Passenger-side air bag recalls will apply to more than 16 million vehicles, and more than 17 million vehicles are recalled for driver's-side air bags.
"From the very beginning, our goal has been simple: a safe air bag in every vehicle," said NHTSA Administrator Mark Rosekind. "The steps we're taking today represent significant progress toward that goal. We all know that there is more work to do, for NHTSA, for the auto makers, for parts suppliers, and for consumers. But we are determined to get to our goal as rapidly as possible."
More details: www.SaferCar.gov/RecallsSpotlight or this Takata-specific NHTSA page.
Collision repair
For collision repair, it might not be as awful as it sounds.
Many of the recalled vehicles so far have been older, and CCC observed in an October 2014 Crash Course that less than 2 percent of repairs in 2013 involved replacing an air bag — and that trend had more or less held up for a decade. After all, with older vehicles and blown air bags, you start getting into total loss territory pretty quickly.
Granted, vehicles in your shop who do need an air bag might have to wait before a replacement is available, according to Automotive News coverage of the backlog in new air bags — as will anybody bringing in their recalled vehicle for a replacement.
But CCC has also noted that most repairs that do swap out an air bag are on vehicles no older than three model years, so it's unlikely you're going to see a lot of jobs you can't truly finish at this point.
Of course, we don't completely know the model years under the new recall — which we'll reiterate is about 16 million more cars than in the past. However, a running Car and Driver tally of past recalls finds the defective air bags mostly petering out after the 2008 model year.
Plus, if the expanded recall works the way the October one did, there still won't be a way a repairer could have installed a defective air bag inflator into a vehicle not covered by the recall.
The October Takata recall applies to any vehicle model year in which the airbags could "fit," the NHTSA told Repairer Driven News earlier this year. That echoed the findings of a Society of Collision Repair Specialists inquiry into replacement parts.
We're going to check with the NHTSA to make sure those statements still apply. Continue to check Repairer Driven News for updates.
Any vehicle owners or repairers with questions should also continue to check the VIN lookup to see if a particular vehicle has been recalled for air bags; the agency plans to update it as it learns more from Takata.
More information:
Featured image: A Takata employee sews an airbag at Takata's crash-testing facility Aug. 19, 2010, in Auburn Hills, Mich. (Bill Pugliano/Getty Images/Thinkstock file.)
Share This: