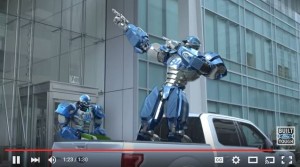 Ford took a "military-grade" shot back at General Motors this weekend with the debut of some ads mocking steel trucks as behind the times.
GM made headlines in July with YouTube Chevrolet Silverado ads mocking people's perceptions of aluminum versus high-strength steel. Ironically, Automotive News' sources told the newspaper GM will likely use more aluminum in the next-generation Silverado.
Ford wrote in a news release Sunday it created three ads, though it only provided two: "Wake-Up Call" and "Battle-Tested." "Brainstorm," which shows off the F-150's cool back-your-trailer-up-with-a-knob feature, wasn't available.
However, we found a different third ad on Ford's YouTube channel, in which comedian Rob Riggle cuts a steel model of FOX NFL Sunday's mascot Cleatus and replaces him with an aluminum version. (Editor's note: It's no longer on the YouTube channel as of June 8, 2016, but you can see it still on Zoic Studios' site.)
---
Aluminum at SEMA Repairer Driven Education
---
"He's lighter, stronger, faster and smarter," Riggle says.
After Cleatus reacts unprofessionally, Riggle continues: "By the way, crankypants, how's your power-to-weight ratio these days? That's what I thought."
"We already have Aluminum Cleatus and Howie Long!" Riggle says when "Steel Cleatus" seeks to stay. "Two robots is enough."
Riggle then gives the new Cleatus a ride in an aluminum F-150.
The jab at FOX NFL Sunday commentator Howie Long has an added power, as Long recently appeared in one of the F-150-bashing Silverado ads.
In GM's spot, Chevrolet chief engineer Eric Stanczak explains to the former Raiders star in an humorously stilted conversation how one test found F-150 repairers to cost more and take longer than Ford repairs. (See a Mitchell analyst's scrutiny of that ad here.)
"Battle-Tested" (with Denis Leary's voiceover) brags of Ford's 5-star National Highway Traffic Safety Administration crash rating "on all sides, for every cab configuration."
It's technically correct, though the ad omits that the F-150 only received a four-star rollover rating. (Overall, it still received five starts from the feds.)
It also fails to mention that while the Insurance Institute for Highway Safety announced the aluminum crew cab 2015 Ford F-150 had also earned a Top Safety Pick rating, the extended cab 2015 F-150 only got a marginal score on the small-overlap crash test and failed to achieve the crew cab's Top Safety Pick recognition.
"Every other truck is history," the ad declares, also conveniently forgetting that the high-strength-steel-intensive Chevrolet Silverado 1500 and GMC Sierra received the same NHTSA reviews. (The IIHS hasn't fully reviewed those model years yet.)
"Wake-Up Call" rattles off F-150 features made possible by the aluminum truck body and teases competitors as obsolete.
"It's also a wake-up call," Leary's voiceover states. "For every full-size pickup in its class. No body rust. Most towing. Best payload. Highest gas mileage. Yeah, it's a whole new day. Cause in the truck game, it's either the Aluminum Age, or the Stone Age. Cock-a-doodle-doo, pal."
We understand the term "Aluminum Age" is just good marketing and not something settled by a team of historians. Nevertheless, we'd just like to point out that while the new F-150 has been a hit and predicted to remain so, the lightweighting materials war is very real and far from over. For an interesting counterpoint on why other OEMs might stay with steel, check out this commentary by Automotive News' Richard Truett.
Ford says it is also promoting ads on Fox Spanish-language channels Fox Deportes and MundoFox. Chevrolet also released a Spanish-language version of one of its Silverado spots.
It was unclear if all four of these spots appeared during Fox NFL Sunday on Sept. 13 as implied by the news release. Ford said the three ads mentioned in the news release can be seen throughout the season; it's unknown if they will be restricted to Fox broadcasts.
More information:
"NEW FORD TV ADS HIGHLIGHT WHY F-150 IS TOUGHEST, SMARTEST, SAFEST, MOST CAPABLE F-150 EVER"
Ford, Sept. 13, 2015
Share This: