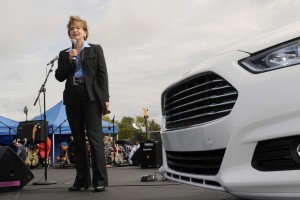 Ford announced Friday it has added 141 new components to its Collision Parts Truckload Program, and they'll average about 15 percent less than the old list price.
Model years weren't specified Friday, but the company said the parts apply to the F-series, Focus, Fusion, Explorer and Mustang.
The added and discounted parts include 44 grilles, grills outer reinforcements or grille outer panels, 42 lights, 12 mirrors, 10 wheels, eight fascias, seven bumper bars, six step pads, five brackets, three steel bumpers and an isolator.
"The Truckload Program has provided a competitive environment for wholesaling dealers, body
shops, insurance companies, and our customers for nearly 20 years," Ford Customer Service Division Truckload manager George Gilbert said in a statement. "More importantly, the program continues to be
instrumental in helping collision repairers deliver the high-quality repairs using genuine Ford
collision parts our vehicle owners expect and deserve."
This summer, Mitchell industry relations Vice President noted that the most frequently damaged collision parts in general (not just Ford models) were bumper covers (68 percent of claims), fenders (37 percent), headlamps (29 percent), bumper absorbers (29 percent), quarter panels (28 percent) and door shells (28 percent).
However, the most frequently replaced parts were headlamps (95 percent), bumper absorbers (91 percent), grilles (88 percent), bumper reinforcements (86 percent) and bumper covers (72 percent).
Horn stressed then that body technicians should make sure they're properly trained on bumper covers, as "the accuracy of the repair versus replace decision is critical" given their high crash involvement. He also noted that hoods and bumper reinforcements shifting to lighter, nonmalleable metals, those parts will begin to cost more to replace.
Though mirrors made up a chunk of the collision parts announced today by Ford, they aren't among the most damaged parts registered in insurance claims — but that's misleading, according to Horn and CCC industry analyst Susanna Gotsch. Such mirror damage is often unreported because it's under the deductible or uncounted because the mirrors are part of a recycled door assembly.
Gotsch wrote in an email in late September that about 575,000 mirrors look to be replaced this year out of a total of 13 million claims, but "keep in mind that these are claims counts.  I suspect that many times that mirrors are hit in parking lots that a claim is not made, rather paid out of pocket too."
If the number of non-total loss collisions was really more like about 18-19 million, she wrote, 800,000 mirrors could be in play.
She also provided a a great chart showing us replacement rates and OEM/non-OEM breakdowns as of Sept. 22:

The move comes about a month after Overall Parts Solutions announced shops would be be able to see the low "conquest" price for a Ford collision part early next year in OPSTRAX and shortly after General Motors announced dynamic MyPriceLink list prices would begin to flow through estimating services nationally starting Dec. 1.
Images:
Ford Fusion line director Judy Curran participates in an event for the launch of the 2013 Ford Fusion on Sept. 18, 2012. (Provided by Ford)
Mirror replacement data as of Sept. 22, 2015, based on CCC data. (Provided by CCC)
Share This: