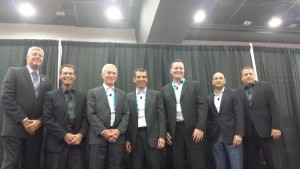 UPDATE: CCC on Tuesday told collision repairers that a free CollisionLink account is no longer necessary to use MyPriceLink on CCC ONE on the Dec. 1 launch date. Find out more here.
---
Mitchell, AudaExplore and Web-Est customers will have MyPriceLink immediately on Dec. 1, as will CCC users who sign up for CollisionLink ahead of time.
This summer, Mitchell, AudaExplore and CCC representatives said MyPriceLink's dynamic list prices would flow seamlessly though their systems, and General Motors confirmed Monday it'd happen for the Dec. 1 nationwide launch.
"GM is very excited at the unprecedented collaboration around this initiative," GM wholesale dealer channel General Director Kris Mayer said in a statement. "It is a win for all of us. For GM, we get to leverage technology to deliver list price while an estimate is written. For the collision estimating systems, they are able to deliver GM's real-time list price without any disruption to their users' workflow. Now that MyPriceLink is in place, we look forward to further exploration of ideas with these stakeholders to the benefit of all of our customers."
GM urged insurer, adjustor, fleet and collision repair shop users of CCC ONE and Comp-Est to sign up for CollisionLink Shop (fleets and shops) or Collision Link Insurance before Dec. 1 to take advantage of MyPriceLink on Day 1. Both products are free; contact OEConnection at 888-776-5792, ext. 3.
Mitchell, AudaExplore and Web-Est users shouldn't have to do anything in advance, according to GM.
---
More MyPriceLink coverage
---
"A year ago everyone understood the strategy and some even applauded it, but many were concerned with the disruption it was going to create," Mayer said in a statement. "The market asked us to pause and collaborate. Since then, we have done just that. We have met with all three estimating companies, key insurance company stakeholders, and body shops and listened to their workflow concerns.
We've designed just what the marketplace asked for – a seamless and transparent end-user experience. The discussion we have had with industry stakeholders regarding MyPriceLink has provided unprecedented collaboration and is just a start. We look forward to working on many mutually identified areas of opportunity."
Details: www.mypricelink.com.
IPs customer advice
Mitchell industry relations Vice President Greg Horn gave a little perspective and advice for his company's MyPriceLink users during Mitchell's most recent quarterly webinar. See a Mitchell "how-to" for users here.
Horn said Mitchell sends EMS data to GM — but only the fields necessary for the quote, not other customer data or other parts of the EMS file — so the real-time price is preserved at both ends. Mitchell's disconnected workflow also lets a user store a price for 24 hours.
He said Mitchell didn't have a pre-launch analysis of what the program would mean for average severity. However, he said the pilot appeared to have "no net effect."
Horn later in an email elaborated on how long, based on what he'd been told by GM, prices could remain in the system for Mitchell users.
"Once a unique quote ID is generated by the call out to OE Connection, the prices will stay in the system for 120 days," Horn wrote. "However, as happens today, if there is a price change, the dealer will likely charge the new price.  So, (as they recommend currently)  if an estimate is more than a month old, the estimate should be refreshed to capture current prices."
Horn on the webcast referred users to www.mitchell.com/mypricelink for more details.
CCC didn't offer as many details publicly, but said it'd been in contact with users on the topic.
"CCC is communicating directly with customers on this so they know what to expect, etc.," spokeswoman Michelle Hellyar wrote in an email.
An AudaExplore representative last week said he would check into more details of the company's work with or tips for repairers. We haven't heard back, but that might just because there isn't much that needs to be said given how invisible the IPs have said the program will be:
"For collision repairers using the AudaExplore platform, the MyPriceLink integration will be seamless, and shops and insurers will continue to write estimates in the manner to which they are accustomed," AudaExplore wrote in a news release Nov. 16. "Shops and insurers, who are not working with one of the major estimating systems providing the integrated solution, will need to visit the MyPriceLink portal itself or call dealerships for part price quotes."
The AudaExplore release also included a testimonial from ABRA on the pilot program:
"We have been testing the AudaExplore solution  in our stores in the pilot market since July 22nd," ABRA Colorado market Vice President Ken Lanier said in a statement. "The solution has proven to work seamlessly and we believe the integrated MyPriceLink workflow will benefit our operation by reducing part price discrepancies between systems."
More information:
"Genuine GM Collision Parts Announces MyPriceLink Integration with Major Collision Estimating Systems"
MyPriceLink, Nov. 23, 2015
Featured image: Members of the MyPriceLink panel — including CCC, AudaExplore and Mitchell representatives — and moderator Dan Risley, President of the Automotive Service Association, pose Aug. 24, 2015, at NACE. (John Huetter/Repairer Driven News)
Share This: