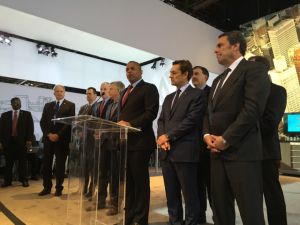 Democratic President Barack Obama will ask Congress for nearly $4 billion over 10 years to pilot self-driving car tests, Transportation Secretary Anthony Foxx announced Thursday.
But the larger boon to the technology might be the Department of Transportation's Thursday pledge to by this summer develop not only autonomous vehicle guidelines for OEMs but a policy direction states can use to regulate the cars.
By telling automakers and regulators how self-driving cars should perform and be assessed, the NHTSA helps clear one of the three major barriers to the technology: How the feds will regulate it. (The other two are the technology — it must work nearly perfectly for the life of the vehicle — and who gets the insurance/lawsuit for its preformance.)
The state guideline might remove more of the roadblock by giving legislators agencies a starting point for laws or regulations. A mix of state rules could be confusing for drivers, not to mention yield a new dispute regarding the generally recognized right to pass between states, and the DOT hoped its action would help provide "a path to consistent national policy."
Considering that the trucking industry might provide a gigantic market for autonomous vehicles, too much state variation might also conflict with the commerce clause of the Constitution.
Citing the reality that 94 percent of crashes are a human's fault (ouch), the DOT has over the past year indicated heavy interest in any high-tech safety technology.
"NHTSA is using all of its available tools to accelerate the deployment of technologies that can eliminate 94 percent of fatal crashes involving human error," National Highway Traffic Safety Administrator Mark Rosekind said in a statement. "We will work with state partners toward creating a consistent national policy on these innovations, provide options now and into the future for manufacturers seeking to deploy autonomous vehicles, and keep our safety mission paramount at every stage."
Foxx on Thursday announced a change to the National Highway Traffic Safety Administration's overall stance on self-driving vehicles, replacing cautious 2013 guidance by his and Rosekind's predecessors with a full-speed-ahead view. The DOT said the new language "reflects the reality that the widespread deployment of fully autonomous vehicles is now feasible."
"To that end, NHTSA will use all available tools to determine the safety potential of new technologies; to eliminate obstacles that would prevent or delay technology innovations from realizing that safety potential; and to work with industry, governmental partners at all levels, and other stakeholders to develop or encourage new technologies and accelerate their adoption where appropriate," it states.
"… For policymakers at all levels, the governing principal should be that technologies with proven, data-supported benefits that would make roads safer should be encouraged."
The NTHSA noted it can grant a 2,500-vehicle, two-year exemption to an OEM testing self-driving cars, but it might need new authority to handle the unprecedented technology. It also reiterated the need to stay flexible; a sluggish bureaucracy can't work when one's agency weighing technology improving or changing every model year — or every vehicle OS update.
Finally, it urged OEMs to ask for a ruling from the NTHSA whenever they've got a hot new technology.
The DOT provided a Jan. 4, 2016, letter to BMW answering an October 2015 query about the company's self-parking system, in which the Beemer parks itself after a driver exits the vehicle and pushes a keychain button. It's intended to get the vehicle in and out of tight parking spots where there's room for the car but not enough for a driver to open the door.
Did the BMW system violate the child-protecting rule that a driver must have a foot on the brake before shifting a car out of park?
Nope, NHTSA Chief Counsel Paul Hemmersbaugh wrote. (In the best copy editor tradition, he also takes BMW to task for his choice of verbs. You depress a brake pedal, not a brake. Tsk, tsk.)
So go with God, BMW, and those of us who are terrible at narrow parking and can afford a BMW 7 Series thank you.
Obama's fiscal-year 2017 $4 billion request for autonomous car tests must clear a Republican Congress in an election year.
However, $4 billion over 10 years is cheap by government standards, and the prospect of testing "connected vehicle systems in designated corridors throughout the country" might kick enough jobs and excitement to the "corridors" to avoid partisan politics. Both Republican and Democratic governors have allowed self-driving tests, after all.
The DOT promised more details on Obama's budget later.
More information:
Share This: