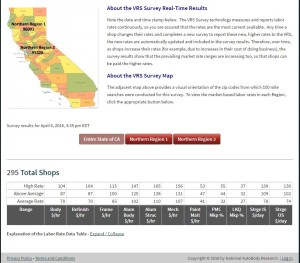 Editor's note: National Auto Body Research, the company behind the Variable Rate System surveys in various states across the country, provided this reaction to our recent series on California's proposed overhaul of insurer labor rate surveys. We've opted to run it here, with minor edits, as a guest "op-ed" of sorts as repairers and insurers continue to battle nationwide over the calculation of "market rates."
By Sam Valenzuela

We were happy to read your recent article about the California DOI's proposed regulations on labor rate surveys and glad to see this topic getting its due coverage.
Because NABR already has a solution to these labor rate survey issues, we wanted to respond to your article and remind the industry that the solution to proper labor rate surveys already exists! It's the VRS Labor Rate Survey, part of the overall Variable Rate System. And it's already in market, right in front of them, ready to use for anyone who is serious about addressing labor rates, which we think is the single biggest issue in the collision repair industry.
The California Department of Insurance said they were proposing these regulations to provide "clearer and more reliable standards … to provide consistency in the way insurance companies conduct and report Auto Body Repair Labor Rate Surveys" and "… to provide insurers with a mechanism to support the use of labor rate surveys when settling automobile insurance repair claims in a fair, equitable and reasonable manner as required by Ins. Code section 790.03(h)."
We think the VRS is the mechanism, and the VRS Labor Rate Survey is the systematic and established method that achieves both of these DOI objectives.
The CA DOI proposal outlines about 10 key criteria for what they think makes for a good and proper labor rate survey in California. Interestingly, they are basically describing the VRS Labor Rate Survey as it already exists today.
---
More RDN coverage of California's proposed labor rate, steering regulations
---
Here are a few examples of what the Department is looking for, and how the VRS already meets that requirement:
1) Standardization: "Establish a standardized labor rate survey … (to) use as a basis to settle or pay automobile repair insurance claims in a fair and equitable manner … and (2) ensure and enforce the good faith, prompt, fair and equitable settlement of automobile insurance claims …"
NABR is an independent, third party that conducts impartial labor rate surveys, using a consistent standardized survey across the country. NABR does not hide, exclude, or manipulate survey data or results for any party's interest, thereby creating a level playing field for everybody.
Why should any shop accept the rate that an insurer tells them is the single "prevailing rate" in their area? Instead, collision repairers now have a viable alternative in the VRS, which uses standardized, valid surveys to report accurate labor rates in any market, which a shop can use to show the true range of rates in their area.
2) Current data: Insurer surveys filed with the DOI under the proposal would be valid for up to one year, and the data within the survey can be no more than 16 months old. (Editor's note: Under the DOI's proposal, insurers can extend this to two years and 28 months, respectively, by indexing the data to the urban California Consumer Price Index inflation rate.) 
Most labor rate surveys we have seen are conducted annually (or longer), providing only a "snap-shot" of labor rates measured at a fixed point in time, even though shop costs and expenses change and increase continually, thereby making an annual survey rate quickly obsolete.
Annual surveys are not good enough any more; markets are more dynamic than that, and things change more than just once per year. Therefore, VRS Labor Rate Surveys are available online 24/7/365, enabling shops to report their rates to the VRS anytime and have those new rates included in labor rate reports within approximately 24 hours. This far better supports the dynamic nature of markets and keeps labor rate data current.
Because the VRS survey is always on, a shop can come back any time, many times, to report their new retail rates any time their prices change for any reason. This means the labor rates reported in the VRS are always the most current labor rates available, as reported by the shops themselves.
3) "No Standardized Labor Rate Survey shall use any discounted rate negotiated or contracted for with members of its Direct Repair Program, or any other Direct Repair Program …"
From the very beginning, the VRS Survey questions have always asked for a shop's posted labor rates, sometimes called "retail rate," "door rate," or "walk-in rate," depending on the vocabulary used around the country. The question specifically excludes contracted, negotiated, wholesale, or fleet-discounted rates.
In summary, the VRS already meets or exceeds the CA DOI criteria for proper surveys (with some very minor adjustments for California-specific questions, such as the CA BAR license number) and is immediately prepared to bring standardized, valid, and reliable labor rate surveys to any state right now. Shops or associations in fifteen states, including 7 of the 10 most populous states, already recognized this and implemented VRS Labor Rate Surveys themselves, with more states coming soon.
There's no need for state governments or state insurance departments to tell insurers and the collision repair industry how labor rate surveys should be done, because with the VRS, a proper survey already exists in the marketplace today. The industry just needs to use it!
Sam Valenzuela is the president of National Auto Body Research.

Images:
Survey results from the California Variable Rate System survey are shown April 6, 2016. (Screenshot from www.nationalautobodyresearch.com)
Sam Valenzuela is the president of National Auto Body Research. (Provided by National Auto Body Research)
Share This: