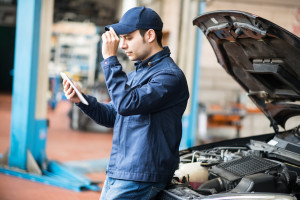 Mitchell recently released a free checklist of "forgettables" — items estimators might neglect to include even if shop technicians will actually do the work — and it's something you'll want to download regardless of which information provider you use.
"But if you don't remember to pay close attention to these seemingly minor collision shop estimating details, you and your auto body shop could probably forget about turning the kind of profit you'd like to see come the end of the year," Mitchell wrote in February. (Emphasis Mitchell's.)
"… Forgettables are all the additional parts, operations, services, and procedures performed during a repair that an auto body shop often overlooks. They're the items that a shop could 'forget' to list—on a collision repair estimate."
The need for such "forgettables" can vary depending on a particular repair; for example, removing mud flaps or fitting non-OEM parts. Thus, they're often non-included operations on a estimating service like Mitchell, CCC and AudaExplore. Without the hedge of IP inclusion, staff's knowledge of these items becomes even more cruicial to avoid missing out on legitimate revenue or expense recoupment.
Mitchell cited a 2009 Auto Body Repair Network column by now-Crash Co Vice President Kevin Mehok, who described research finding shops missed at least $35 an estimate in "forgettables."
"That may not sound like much, but when you figure that one of the groups fixed 12,000 vehicles in one year, that number suddenly becomes $35 x 12,000, or $420,000," Mehok wrote. "Remember, if you can justify it, you can charge for it."
Mitchell also cited a 2015 FenderBender Management Conference presentation by Ron Reichen, owner of Precision Paint & Body, which noted paint and materials costs had risen 50.5 percent between 2005-2013, while repairer compensation only rose by 23.9 percent.
"Neglecting to charge for these type of items and services, as their costs to your business continue to rise, could have a severe impact on your shop's bottom line," wrote Mitchell, which sells a paint and materials calculator as a means of ditching the imprecision of a paint and materials hourly rate. (And even the obsolete, flawed P&M rate has increased much more than the body, frame and paint labor rates over the past five years — 1.8 percent on average compared to 1.2 percent for the other three — according to CCC's 2016 Crash Course.)
Mitchell lists dozens of "forgettables," broken out by categories like labor rate type. Here's a list of examples the company highlighted in February:
Align sheet metal
Drill time
Remove decals
Mini bulbs
Wheel weights
Cleanup broken glass
Seat belt tensioners
Rustproofing
Undercoating
One way to deduce other "forgettables" might be to assemble your own checklist of your IP's non-included items and start there. Mitchell also promoted its "long expansions" feature, which lets shops auto-include such items:
More information:
"Collision Shop Estimating: Remember Your Forgettables!"
Mitchell, Feb. 8, 2016
Mitchell, 2016
"Collision shop profits begin with writing a proper estimate"
Kevin Mehok in Auto Body Repair Network, June 1, 2009
"Get Paid for Paint and Materials"
Ron Reichen for 2015 FenderBender Management Conference, 2015
Featured image: It's important to do a thorough estimate, even if you're a clip art estimator. (Minerva Studio/iStock/Thinkstock)
Share This: