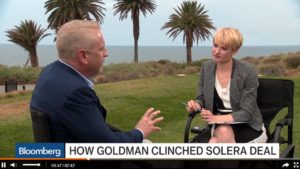 Solera went private because shareholders weren't patient enough for a long-term strategy focused on innovation and "content," CEO Tony Aquila said in new "Bloomberg Markets" footage posted this week.
"The app war is coming," Aquila told reporter Alix Steel in the first of two videos posted on Bloomberg Tuesday and embedded below.
It was difficult to get credit from investors for the game plan, as "we weren't getting the same equal return to the invested capital," he said.
As yields turned negative, the company sought out private equity capital, "which understands that from a longer-term perspective," according to Aquila, who was interviewed during the Goldman Sachs Leveraged Finance Conference.
"To me, guys like me, even private equity is still short-term," he joked.
Vista Equity Partners with Goldman Sachs' assistance closed the $6.5 billion deal for Solera in March. For industry insiders and financial wonks curious to know more about the sale, Solera provided an interesting and detailed account in this Oct. 5 Schedule 14A proxy filing. See the section "The Merger." 
Solera is a longtime staple of the collision repair industry whose products include APU, AutoPoint, AudaExplore, DST, Hollander, Identifix and LYNX Services. It also owns the Audatex system used abroad.
In March, the company reported more than 195,000 customers in 75 countries and 230 million digital interactions, and Aquila boasted in the Tuesday video that Solera had a "55-ish percent market share of the world."
Aquila said the average person has 52-54 transactions during the life of their car, and Solera's goal was "to be 20 percent, or 80 percent, of all the data and software associated to those 52 to 54 transactions." (We're assuming he meant 80 percent.)
He said that rather than the traditional mergers and acquisitions playbook, "we do I&A, which is we invent and then we acquire."
This strategy allows Solera to ensure access to historical data which can complement existing information and deliver an even more robust series of data sets the company can analyze for customers.
"People expect their provider to know about them, and to understand them and to protect their identity, and their security," Aquila said.
Asked by Steel what other tech companies were trying to make a similar switch as Solera, Aquila cited Microsoft and Dell as pursuing a "content-rich" strategy. It's hard for larger companies to make such a switch, he said.
"They're really not set up to innovate," Aquila said. "… Solera is; it's a very innovative culture."
Even industrial companies will need to have content for virtually every scenario, though it was unclear throughout the interview what he was defining as content. We've asked Solera to elaborate.
Cash in Europe
Despite the difficulty Solera had selling debt there for its leveraged buyout by Vista Equity Partners, Aquila in another Tuesday "Bloomberg Markets" video told Steel he was bullish on Europe's economy long-term.
Given the nature of Solera's business — software related to various aspects of the automotive and P&C world, particularly data and risk and asset management — it gets to "peek" at how customers buy cars, Aquila said.
"In Europe, we see them paying cash more," Solera said.
If he's right, that's a good sign for European auto body shops. Of course, cars bought on credit or leased theoretically have a greater need for body work — you want to keep the former as collateral and return the latter, after all. But a good economy is a good economy, and can fuel larger trends like more miles driven.
"I think if things get difficult here, you got more trouble," Aquila said. A typical American only has a couple of thousand dollars in reserve, he said.
"It's an interesting time," he said.
As for the Solera sale — "the first big LBO of the year," Steel said — Aquila said that while Solera certainly wanted to issue euro debt, "Europe was really seized up at the time."
However, he said investors there — including insurers — supported the high-interest bonds, and Solera was able to do the deal. The dollar securities were oversold anyway, he said.
"We just tilted the book a bit," he said.
More information:
"How Goldman Clinched Solera Holdings Deal"
"Bloomberg Markets" on Bloomberg, May 17, 2016
"Solera CEO Aquila: The App War Is Coming"
"Bloomberg Markets" on Bloomberg, May 17, 2016
Share This: