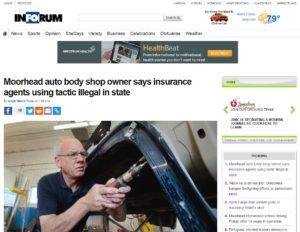 A Pulitzer-winning Fargo, N.D., newspaper has given some ink to the issue of "steering," in which insurers cross the line of how they're allowed to recommend their own collision repairer networks.
The article posted Monday by the Forum of Fargo-Moorhead (Minn.) quotes direct repair program opponent Lloyd Van Raden, owner of Moorhead-based Lloyd's Auto Body, who stressed the right of customers in Minnesota to pick which shop they want to repair their vehicle. That's a right of policyholders in many states — though not in North Dakota, according to the Forum.
"It is what it is and it's always going to be," Raden told the Forum. "We're never going to fix this, but we can try to let the public know they've got rights."
DRP shops agree to certain cost concessions (more generic or used parts, lower labor rates, etc.) and repair time targets in exchange for insurers referring customers who don't have a preference or seek guidance on which collision repairer should fix their cars.
The Forum also quotes Alliance of Automotive Service Providers-Minnesota Executive Director Judell Anderson, who encouraged customers to do their own research.
"Check out reviews and that type of thing," she told the Forum. "Just because an insurance company recommends a shop doesn't mean that shop is the only or the best shop to undertake those repairs."
The Forum provided the AASP-MN's list of certain "scare tactic" phrases allegedly used by insurers attempting to persuade customers who've selected a non-direct repair program location to switch to a DRP auto body shop.
Under Minnesota state law, an insurer is supposed to shut up once a customer informs them of their shop preference, not try and change the policyholder's mind.
"After an insured has indicated that the insured has selected a repair shop, the insurer must cease all efforts to influence the insured's or claimant's choice of repair shop," 72A.201, Subdivision 6, Clause 7 states.
The article also carries State Farm's usual media counterpoint, which we've received in the past as well:
It's unknown if the article will appear in the print newspaper, which its parent company states has a circulation of 37,500 daily and nearly 10,000 more on Sundays. But online via InForum and available on Google News, the piece theoretically can reach even more readers.
More information:
"Moorhead auto body shop owner says insurance agents using tactic illegal in state"
InForum (The Forum of Fargo-Moorhead), May 23, 2016
"Don't Take a Second Hit… Know Your Rights!*"
Alliance of Automotive Service Providers-Minnesota
Featured image: A Pulitzer-winning Fargo, N.D., newspaper, the Forum of Fargo-Moorhead, has given some ink to the issue of "steering," in which insurers cross the line in recommending their own collision repairer networks. (Screenshot from www.InForum.com)
Share This: