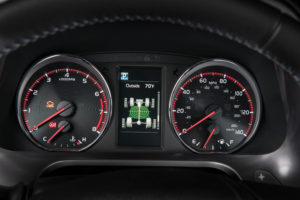 Stressing that not every trouble code will throw a dashboard light, Toyota has demanded scans after all collisions which might have affected an electrical system.
Toyota's July 2016 CRIB Bulletin 2016-191, a copy of which was provided by Collision Diagnostic Services on Thursday, was the latest OEM position statement urging shops to scan vehicles for DTCs — and not just rely on the idiot lights.
FCA, Nissan and Honda all earlier this summer stressed the need for scanning before and after all or nearly all collision repairs.
"Not all DTCs illuminate a MIL (Malfunction Indicator Light)," Toyota wrote. (Emphasis Toyota's.)
Toyota also "strongly recommends" shops to run a "Health Check" scan before and after every repair.
"Considering the fact that a capable scan tool is the only way to identify some DTCs, Toyota requires that repairers perform a "Health Check" diagnostic scan if a vehicle has sustained damage as a result of a collision that may affect electrical systems," Toyota wrote. "Additionally, Toyota strongly recommends that repairers perform a "Health Check" diagnostic scan before and after every repair to identify and document DTCs."
The OEM provided this example of trouble codes MIA from the MILs:


Pre- and post-scans — despite being another two line items on an estimate — could also head off unexpected supplements and bring-backs down the road.
"If DTCs are identified pre-repair, then they can be considered to create a complete vehicle damage analysis report," Toyota wrote. "If DTCs are identified post-repair, then they can be diagnosed and addressed before returning a vehicle to the customer."
Toyota already requires passenger-airbag sensor zero-point calibration after every collision.
The OEM recommended its official Techstream and Techstream Lite as options for finding every code. It cautioned that anyone using an aftermarket scan tool should "check with the manufacturer to ensure that their equipment can retrieve History, Pending and Current DTCs as well as 'Time Stamp' their occurrence on all Toyota vehicles."
All four OEMs will participate in a panel discussing scans at the upcoming NACE, and a CDS representative will also discuss the related issue of calibration at the SCRS open board meeting that week. Learn more about both events here.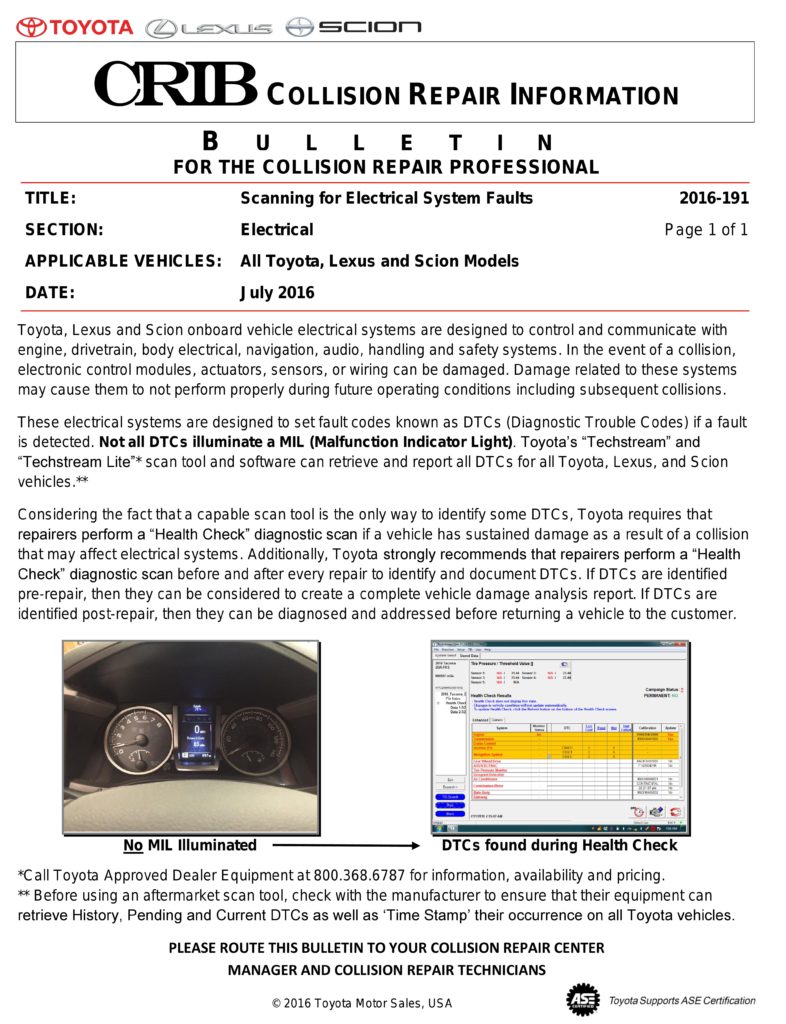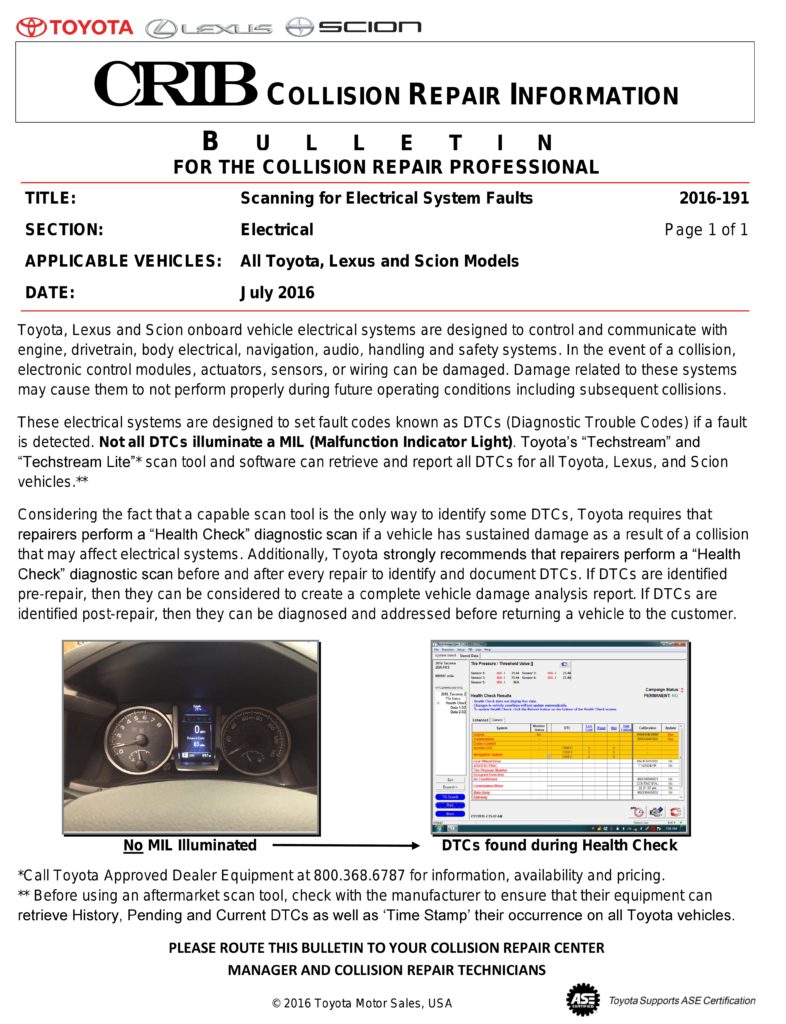 More information:
CRIB 191: "Scanning for Electrical System Faults"
Toyota, July 2016
Toyota Collision Repair & Refinishing Training site
Images:
The dashboard of a 2016 Toyota RAV4 SE with malfunction lights illuminated is shown. (Provided by Toyota)
Toyota provided this example of diagnostic trouble codes not indicated by dashboard lights. (Provided by Toyota)
Stressing that not every trouble code will throw a dashboard light, Toyota has demanded scans after all collisions which might have affected an electrical system. (Provided by Toyota)
Share This: