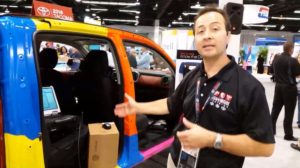 Editor's note: One of the frequent debates in collision repair surrounds the need to check and calibrate the Occupant Classification System (also known as an occupant-detection system) sensors in even minor collisions.
The OCS or ODS system either triggers or doesn't trigger an airbag based on the weight of the adult or child seated there. Matching the wrong airbag "decision" with a person too light or too heavy could result in that person being injured by the deployment or withholding of the safety feature.
With that in mind, OEMs like Toyota have stressed that if collision repair procedures dictate, auto body shops must check the OCS to ensure the "scale" isn't skewed by an impact — even a minor one — or other factor.
We collaborated with Toyota Collision Repair & Refinish Training earlier this month to help demonstrate this to collision repair professionals with the following video.
By Toyota CRRT and Repairer Driven News
Eric Mendoza, of Toyota Collision Repair & Refinish Training, demonstrates at NACE 2016 that the calibration of Occupant Classification System (OCS) sensors can be affected when a Toyota vehicle is involved in a collision while "parked and unattended."
Mendoza states that Toyota OCS systems should be checked and calibrated in accordance with each vehicle's specific repair manual.
Toyota offers online and instructor-led Collision Repair & Refinish Training to all repair decision makers. For more information, visit www.crrtraining.com.
---
Hear from Toyota, other automaker trainers at OEM Summit
Learn more from Toyota's James Meyer, senior Collision Repair & Refinish Training instructor, and a host of other automaker trainers at "Meet the Trainer" on Nov. 3 at SEMA. The session is part of the 2016 OEM Collision Repair Technology Summit hosted by the Society of Collision Repair Specialists during the Repairer Driven Education Series Nov. 1-4. Register here.
---
More information:
Toyota Collision Repair & Refinish Training website
Toyota repair procedure portal on OEM1Stop.com
Featured image: Eric Mendoza, of Toyota Collision Repair & Refinish Training, demonstrates at NACE 2016 that the calibration of Occupant Classification System (OCS) sensors can be affected when a Toyota vehicle is involved in a collision while "parked and unattended." Mendoza states that Toyota OCS systems should be checked and calibrated in accordance with each vehicle's specific repair manual. (Screenshot from RDN/Toyota CRRT video on Repairer Driven News YouTube channel.)
Share This: