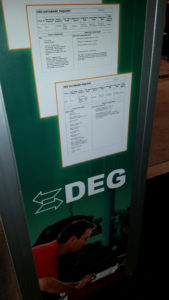 The Database Enhancement Gateway last week crossed 10,000 inquiries — an accomplishment not only for the service but also the collision repairers, insurers and information providers whose questions and answers brought it to the milestone.
The DEG, founded by the Automotive Service Association, Alliance of Automotive Service Providers and the Society of Collision Repair Specialists, is a free, Web-based platform found at www.degweb.org.
Auto body shops and insurers can submit questions about the Mitchell, CCC and AudaExplore estimating software — the platforms whose nuances and outputs are the base for nearly all physical damage claims. For example, what work is included in a particular labor time (Often not as much as you'd think), or if there's a preset labor time for scanning (No.).
The DEG's administrator then works with the IPs to quickly obtain answers, stimulate the development of new database line items and refine the existing estimate outputs. The focus on documentation and facts make it a middleman that insurers, shops and the IPs can accept.
"We're really excited about it," said DEG Administrator Art Harris, who has helmed the service for about five years, noting that the milestone was "10,000 inquiries that were processed for the industry."
"It's very good for the DEG, but also the collision industry," he continued.
Sponsored accolades came in from a variety of industry figures, congratulating the site and praising its value. The Hendler family remembered the site's catalyst, late Auto Body Hawaii owner March Taylor.
The milestone also reflects well on the three estimating services for sticking with the partnership through 10,000 inquiries.
"We've worked with them very well," Harris said. Last year (around inquiry 8,400), he estimated CCC generally responded in three to four days, and "we can easily have an answer back to the shop" during the repair. AudaExplore and Mitchell take about a "week-plus," still in time for a supplement.
Inquiry 10,000 (and 10,001)
Inquiry 10,000, for the record, asked about missing parts for air conditioner work on a 2012 Volkswagen Passat.
"CCC LISTS MOTOR TIME AS 1 HR TO CHANGE, DOES NOT LIST AS AFTER MULTIPLE COMPONENTS REMOVED," the user wrote. "WE HAD TO REMOVE BUMPER, COOLANT RESERVOIR, MOTOR MOUNT AND TILT ENGINE TO REPLACE. ALLDATA LISTS TIME AS 4.4 HOURS."
The question was received Oct. 26 and submitted Oct. 28. CCC hasn't responded to that one yet.
However, CCC has answered inquiry No. 10,001, agreeing with the user that 6 hours to install the front frame section on a 2014 Chevrolet C2500 (likely a reference to a 2014 Silverado 2500) was "Too light."
"Time is after all necessary bolted on items are removed, but to completely weld 2 frame rails for 3.0 hours per side is light," the user wrote.
After all, the user wrote, the necessary repair procedures included:
Measure and mark the cut location. Cut the damaged front section and remove it. Grind the existing frame rail to prepare the attaching surface. Remove Ecoat from new frame section in the welded area. Position new frame rail section and clamp it in place. Continuous weld the frame rails (both sides). Apply corrosion protection.
We will also have to setup the measuring system again with the new frame section to measure before we weld. Additional fitup of body parts may be necessary before weld as well
CCC agreed, bumping the repair time up to 8.5 hours.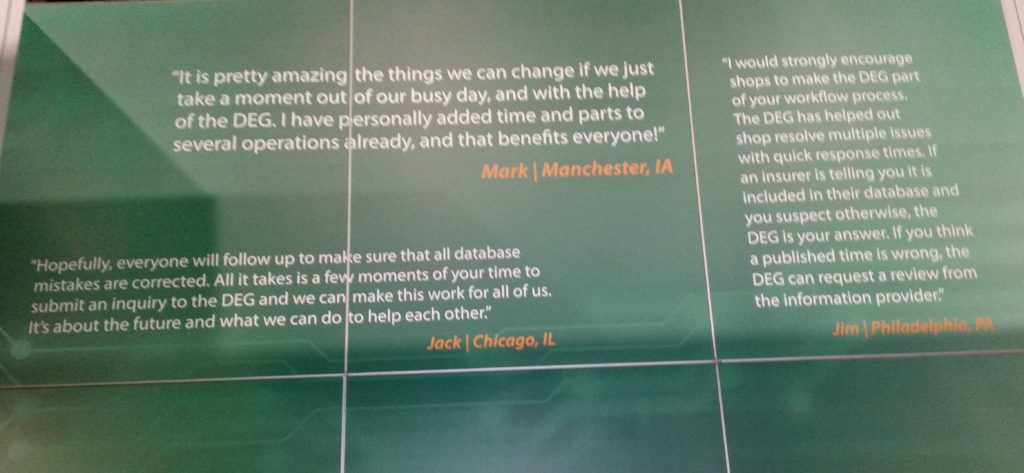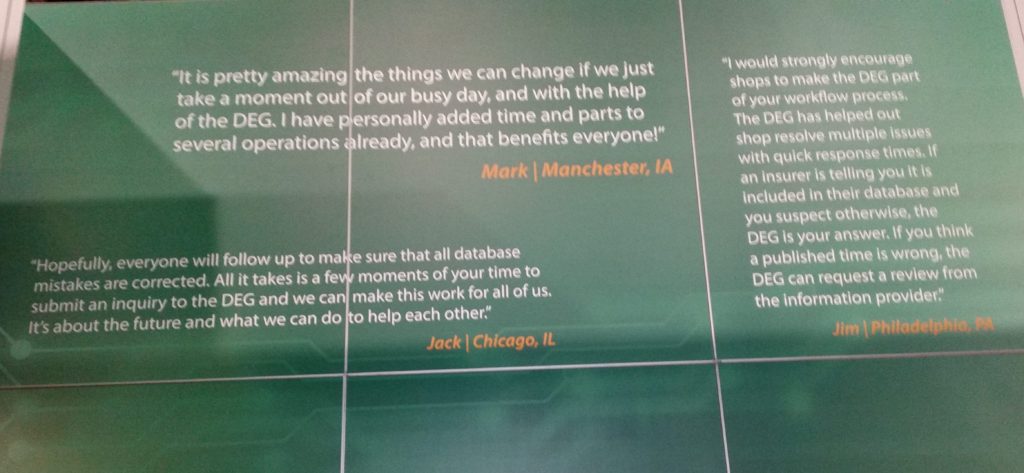 Getting it to 20,000
Despite reaching the 10,000 mark and being absolutely free, the DEG might still be somewhat of a sleeper hit, with repairers failing to take advantage of it. Spanesi Business Development manager Tom McGee lamented this during a SEMA presentation Wednesday, calling it "pathetic" how few in the industry used — or even knew about — such a great resource.
Harris said Thursday that going forward, DEG is "looking to improve, and do more."
"We've always said that we'd like to get the DEG out there in front of more shops, and get them utilizing the benefits, the free services that we offer," he said.
An overhaul and redesign of the interface might help with that. SCRS in August announced the revamp was nearing completion, and Harris said Thursday it was in testing.
"It should launch pretty soon, I think," he said.
"This is a pretty remarkable milestone for the initiative that has had a tremendous amount of positive impact on the industry," SCRS wrote to members Oct. 19 in anticipation of the 10,000th inquiry. "We are very proud of what we have accomplished with this resource, launched in 2008, and even more excited about what it can deliver in the future."
Give the DEG a try! Check out the full database, submit an inquiry, or "subscribe" to the service's weekly tips by liking/following the DEG's Facebook and Twitter feeds. Occasional video tips are also delivered on a YouTube channel.
More information:
Images:
The Database Enhancement Gateway is advertised on the side of the SCRS booth at SEMA 2016. (John Huetter/Repairer Driven News)
Testimonials about the Database Enhancement Gateway appear on the side of the SCRS booth at SEMA 2016. (John Huetter/Repairer Driven News)
Share This: