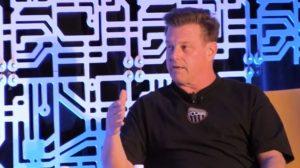 Chip Foose discussed his own career and small-business decisions during a packed SCRS-Capital One event this month at SEMA, and those who missed the enlightening conversation with the auto design star now have a chance to see the heart of the event.
We offered some highlight clips Nov. 2 following the talk, but Collision Hub on Tuesday posted the real deal: 27 minutes worth of video from the forum — about half of an episode of "Overhaulin'" with commercial breaks.
Below, see the conversation between Foose and Capital One small-business credit card head Buck Stinson on topics ranging from Foose's start in cars, his time at Ford, and what to look for when hiring.
More information:
"SCRS and Capital One Spark Business talk with Chip Foose at the 2016 SEMA Show"
Society of Collision Repair Specialists-Collision Hub via YouTube, Nov. 29, 2016
Featured image: Chip Foose talks during a SEMA 2016 SCRS-Capital One event in this screenshot of Collision Hub-SCRS video. (Screenshot from SCRS-Collision Hub video posted on YouTube)
Share This: