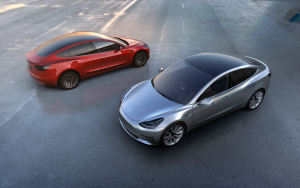 Tesla announced to shareholders Wednesday that it would open its own auto body shops on top of the previously announced third-party expansion.
"To significantly improve the customer experience with out-of-warranty body repairs, we intend to open the first Tesla-owned body repair shops later this year and expand the existing network of third-party Tesla certified body shops," Tesla wrote to investors in a first-quarter earnings letter. It gave no other details.
Tesla opening in-house body shops is interesting not only in and of itself but because the OEM eschews traditional partnerships with a dealership owned by an external party.
A traditional OEM might not have enough authorized dealership owners willing to invest in a collision repair center, no matter how much it would prefer otherwise, and therefore must depend greatly on independents. For a dealership owner reliant on service center revenue, the collision repair infrastructure might be too expensive of an capital cost and too much of a gamble.
But Tesla owns all of its own "dealerships" and unlike some traditional dealerships (see this 2013 Automotive News Fixed Ops Journal discussion) isn't reliant upon them for revenue.
For example, last quarter, AutoNation made 45 percent of its gross profit from its service operations — the most profitable segment, with financing No. 2 and actual vehicle sales behind those two. Tesla's service operations operated at a loss last quarter; selling new cars made up about 81 percent of the company's gross profit.
As Tesla CEO Elon Musk noted in an earnings call Wednesday, according to a Seeking Alpha transcript: "Our aspiration would be we make zero service revenue because the car never breaks."
Assuming selling cars and not service remains the Tesla business model, it changes the dealership body shop equation. A Tesla body shop could work on nothing but Teslas — even at a loss — to achieve broader company goals like keeping customers and Wall Street happy and bad press about lengthy cycle time at bay. The latter assumes Tesla can crank out enough parts to meet its own shops' demand, of course, not to mention the independents.
The reference to "out-of-warranty body repairs" is unusual because most body repairs take the form of claims. As to claims, it will be interesting when a Tesla corporate body shop butts up against an insurer's desire for a lower-cost repair (something that has apparently led traditional dealerships to ignore their own OEM's parts wishes and acquiesce to the carrier).
However, the company doesn't shy from a fight or the court of public opinion, and it might also value its image too much to allow excessive corner-cutting or imitation parts being used, even on the mass-market Model 3. (Look at what happened when a customer complained about long Tesla wait times on the Motley Fool.) It'll be interesting to see how former Sterling co-founder and current Tesla global head of sales and service Jon McNeill plays it.
In other service and repair news, Tesla also announced it would add more service locations across the world and send mobile service technicians out to customers. Tesla signaled the latter in its February fourth-quarter earnings letter, noting that "more than 80% of our repairs are so minor that they can be done remotely."
"As part of our Model 3 launch preparations, we are significantly expanding our infrastructure to support Tesla owners by increasing the density and geographic footprint of our presence," Tesla wrote Wednesday. "This year, we plan to add nearly 100 retail, delivery and service locations globally, representing an approximately 30% increase in facilities. These additions include the Q1 openings of our first stores in Dubai and South Korea. …
"We also plan to add more than 100 mobile repair trucks in Q2 alone. Tesla's mobile strategy is unique given the direct relationship we have with our customers and because our cars are designed so that most repairs can be done without raising the car on a vehicle lift. Our mobile strategy scales quickly, is capital efficient and lowers cost because proactive service and scheduling more than offset technician drive time to the customer. Best of all, mobile service saves Tesla customers the time traveling to and from a service center."
McNeil said on the earnings call that Tesla is also looking at "lifts" instead of physical locations as well to meet increased demands, according to the Seeking Alpha transcript. He describes what you could almost call a "Gigamechanic":
I think rather than thinking about store or service center locations, we think about it in terms of mobile units and lifts. And so we are building larger service centers over time that have more lifts, or our initial service centers, it might have had two or three lifts, and we're building now service centers with 40 lifts to 60 lifts, sometimes 80 lifts. And so there's a density within the service centers but the mobile capability expands that quite greatly. So I think a lot of people do incorrect analysis to take cars and service divided by locations because the locations vary so widely, but that's essentially how we're thinking about capacity and planning capacity. And as Deepak mentioned earlier, our throughputs and efficiency are getting much better over time, and we'll continue to improve those. So it's our goal to stay ahead of the install-base capacity so we're providing great service, but really the Model 3 has been designed for higher reliability, and as Elon has said many times, the best service is no service at all.
And because none of us can get enough scanning news these days, we should point out that Tesla observed that remote diagnostics — a new benefit with connected cars — let it cut repair times by 35 percent.
"We are also taking advantage of our vehicle technology and design to improve service efficiency," Tesla wrote. "Using remote diagnostics, our service technicians are increasingly able to identify repair needs in advance of meeting with customers and even before customers notice issues. This has helped reduce repair times by 35% this year. Our goal is to reduce repair times even further."
We're not sure if this counts as "pre-scanning" or "pre-pre-scanning," but it's the kind of electronic triage that will no doubt creep further into collision repair as well as mechanical service and repair.
More information:
Tesla first-quarter letter to shareholders
Tesla, May 3, 2017
Tesla first-quarter earnings call
Tesla, May 3, 2017
Tesla first-quarter earnings call transcript
Seeking Alpha, May 4, 2017
Featured image: The Tesla Model 3 is shown in an image released by Tesla March 31, 2016. (Provided by Tesla)
Share This: