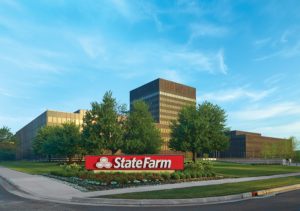 State Farm announced Thursday it would by 2021 close 11 centers in eight states and force more than 5 percent of its workforce to decide whether to accept jobs elsewhere or depart the company.
All of the 4,200 employees (out of 70,000) affected "will continue to have job opportunities in other State Farm locations," the company wrote in a news release.
The jobs in California, Florida, Illinois, Indiana, Maryland, Michigan, New Jersey and Oklahoma will move to Bloomington, Ill.; Atlanta, Ga.; Dallas, Texas; Phoenix, Ariz.; and other unspecified locations nationwide.
"We understand the decision to exit these facilities directly affects our employees and their communities," Chief Admistrative Officer Mary Schmidt said in a statement. "While the exits will begin in 2018 and continue over several years, we are announcing this decision now in order to give employees time to make personal and professional decisions. The company will continue to have a strong local presence in these communities through our agents and local claims employees."
State Farm decided to close the locations "based on efforts to best serve customers by gaining efficiency through streamlining and improving processes, leveraging technology, and concentrating employees in larger locations," it wrote in a news release.
"In order to adapt to the changing needs of our customers and continue to provide the remarkable service that our customers expect, we must continue to manage our business efficiently," Schmidt said in a statement.
State Farm last year reported a $7 billion auto underwriting loss, and property and casualty as a whole ultimately lost $1.2 billion. Companywide, State Farm ended the year netting $400 million, down from $6.5 billion. (Thought the 2015 tally includes an asterisk in the form of $3 billion in merger-related capital gains.)
State Farm will close Petaluma, Calif., and Parsippany, N.J., facilities in 2018. In 2019, Irvine, Calif.; Kalamazoo, Mich.; and Tulsa, Okla., cites will be shuttered. 2020 will see closures in Medley, Fla.; Indianapolis and West Lafayette, Ind.; and Downers Grove, Ill. Finally, State Farm will close Bakersfield, Calif., and Frederick, Md., centers in 2021. Bloomberg reported that the locations being departed were all leases, which probably explains the staggered schedule.
MLive reported that the Kalamazoo, Mich., office housed claims adjustment operations but didn't specify which lines and in what proportions they were being handled.
A Friday email to State Farm seeking information on what — if any — effect the closures and potential workforce reduction would have on auto insurance claims for policyholders, Select Service collision repairers and unaffiliated shops was not returned as of early Friday evening.
More information:
"State Farm to Displace 4,200 Workers, Exit 11 Locations"
Bloomberg, May 4, 2017
"State Farm™ Announces Plans to Consolidate Facilities"
State Farm, May 4, 2017
"State Farm to cut 600 jobs in Kalamazoo County"
MLive.com, May 4, 2017
Featured image: State Farm's corporate headquarters is shown. (Provided by State Farm)
Share This: