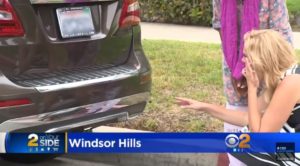 A California TV station's "On Your Side" coverage of a collision repairer's bill for a minor impact might have helped one consumer but potentially misled others about the nature of modern collision repair.
Retired schoolteacher Elnous Lewis's 2013 Mercedes ML-350 was struck from behind, resulting in seemingly superficial damage, according to KCBS, Los Angeles' CBS news station.
Insurance-recommended and Mercedes-certified Anthony's Paint and Body wrote an $815.62 estimate, according to reporter Kristine Lazar. Lewis took the car to Mercedes-certified AW Collision, whom she says her dealership uses, and it first estimated $1,135.79.
Lewis said she signed a document and checked back in two weeks only to learn that the shop had added a $16,343.18 supplement, for a total bill of $17,158.80, and torn down part of the back end, KCBS reported. Suspecting the shop was padding the bill, Lewis demanded her SUV back.
"It sure does not look like $16,000 worth of damage," Lazar tells the anchors. "… It's crazy. And this was a very slow-moving fender bender, she says."
Lazar said AW Collision demanded "a whopping" $3,965.38 for the work done before they'd release the car. Once KCBS got involved, the company refunded the money, she said.
"AW Collision will never perform work that is unnecessary or that will not be paid for by the insurance company," Ben Lamond of AW Collision said in a statement to KCBS. "Although some shops and insurers will cut corners, that is not how we do business."
We're not going to dissect the specifics of this case. We have no way of knowing if AW Collision's charges in the repair and to release the car were appropriate, or if the damage they identified was related to the loss.
What we do want to point out is that a major national CBS station has in its self-congratulatory incredulity potentially misled Southern California viewers on what they should expect in modern collision repair.
The story mistakenly suggests it is inappropriate to disassemble a vehicle to inspect for hidden damage, do a more extensive analysis of the damage or to uncover added repairs and related expenses that exceed — sometimes greatly — the initial damages and costs reflected on the insurance estimate.
An auto body shop, which retains the liability for an inadequate or improper repair, has no way of knowing the specifics of a collision. Teardown, measuring and vehicle diagnostics are often best practices — not bill padding — on even a minor repair.
KCBS' intense focus on the M350's exterior's appearance also misleads viewers about the repair demands of the kind of technology in modern vehicles. Most of the stuff which provides advanced safety and convenience features is located behind the kind of parts which are ground zero for a collision — windows, grilles and bumper fascias. Thus, a seemingly minor fender-bender might require additional labor in terms of scanning and calibration of these devices and OEM part replacement rather than repair of the superficial damage. Insurers are citing such technology in raising premiums, as the Wall Street Journal noted in April.
For example, an occupant airbag sensor — which keeps the bag from deploying and injuring a small front-seat passenger like a child — must be calibrated even after a seemingly insignificant hit. Repair of a bumper fascia over a radar sensor can be forbidden. A simple wheel alignment demands a host of other calibrations.
Again, while we don't know the facts of this loss or Lewis' options package, we would point out that a 2013 Mercedes M350 comes standard with autobraking, driver monitoring for drowsiness based on steering and pre-collision safety countermeasures. It offers options for self-parking (the sensors for which appear to be visible on Lewis' car), lane keeping assist, adaptive headlights, and blind-spot monitoring (which appears to be located in the rear of an M-Class).
We'd offer four takeaways to KCBS viewers.
First, customers and I-Teams should be aware that the advanced technology, materials and collision energy management on modern cars, luxury or otherwise, adds complexity and cost to even commonplace repairs.
Second: In this case, a Mercedes-certified repairer apparently wrote the first estimate. But we'd note that this isn't always the case, and it's common for an insurance adjuster or even a desk reviewer working off a photo to produce the first estimate. In such a situation, it is likely and natural that a shop will find additional damage and produce a supplement that is quite a bit higher than the carrier's.
Adjusters are not trained auto body repair professionals (or perhaps they were once, but haven't necessarily kept up since changing careers). They don't hold the liability for an improper repair. They don't teardown, measure or scan a vehicle for hidden damage. They're also supposed to be saving the insurer money on a claim.
So when there's a large spread between an insurer and shop estimate, a customer shouldn't automatically assume the shop is trying to pull a fast one.
Third, customers should understand what a repair authorization can mean. It does give a shop — rightly or wrongly — the latitude to start performing whatever work they feel is necessary, including tearing down part of a vehicle. How this work should be compensated is a fair point for debate, but customers should at least understand the meaning of the agreement. Think of it this way: If your doctor orders an additional test and doesn't find anything, it's not like you can get out of your co-pay or the bill for the medical practice's time and expenses for the test.
Finally, collision repairers should understand and be prepared to justify their repair procedures to a customer, insurer — or reporter. Having a firm grasp of OEM documentation and why those steps are required will be crucial to avoid sticker shock on legitimate bills.
More information:
"2 On Your Side: Outrageous Auto Body Repair Charges"
KCBS, June 2017
"Mercedes-Benz M-Class Debuts COLLISION PREVENTION ASSIST"
Mercedes, Oct. 4, 2012
Featured image: A KCBS "On Your Side" expose of a collision repairer's bill for a minor impact might have helped one consumer but misled others about the nature of modern collision repair. (Screenshot from KCBS video on YouTube)
Share This: