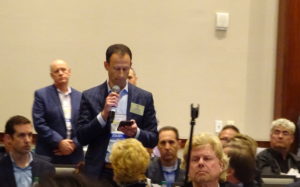 Some key collision repair business partners have publicly confirmed or suggested they will not be participating in CCC Secure Share, setting up a potentially difficult situation for shops once the service goes completely completely live in April 2018.
Likely or confirmed nos disclosed at the Oct. 31 Collision Industry Conference include Enterprise Rent-A-Car, which Auto Rental News reports is the No. 1 car rental company in America; General Motors; uParts; and Assured Performance, which manages Ford, FCA, Hyundai, Kia and Nissan certifications for more than 2,000 shops across the country.
"CCC is committed to data security," CCC Vice President of market solutions Mark Fincher said in a statement when asked for comment about the resistance. "That stated, we don't comment on speculation or the business decisions of other companies.
"Furthermore, as your readers are aware, CCC Secure Share is an open platform for industry participants to securely exchange business-critical information among the collision repair ecosystem. It delivers control to repairers enabling them to protect their customers' information. It also offers tools to third-party data and service providers to manage the flow of information, as well as promote their solutions to our network of collision repair facilities.
"Since announcing CCC Secure Share more than a year ago, CCC has met with numerous collision repairers, third-party data and service providers, insurers, and industry trade groups. We've worked hard to gather feedback, understand and address concerns, revise our solution and approach as warranted, and to be transparent about our plans. We continue to listen and gather input, but our plans to address data security via CCC Secure Share remain in place.
"Our work together as an industry on this issue can help raise the bar for data security across the broader collision repair community. We invite, and stand ready to welcome, all providers to join us."
'Two nos, essentially'
During a CIC segment featuring the Open Systems, Data Access and Sharing Task Force — a body created specifically to examine Secure Share — Society of Collision Repair Specialists Executive Director Aaron Schulenburg asked Enterprise collision industry/strategic sales Assistant Vice President Dan Friedman if the company would participate in Secure Share.
"No," Friedman said.
Friedman earlier in the forum quoted and paraphrased excerpts from a January Enterprise news release which criticized CCC without referring to the information provider by name.
"Enterprise believes that everyone benefits from an open and level playing field when industry service providers and product suppliers are able to innovate by using industry-generated data," Friedman said.
"We believe that industry constituents will need more innovative solutions based on access to data – especially during a period of transformation in vehicle technology.
"We intend to keep collaborating and partnering with businesses that believe in open technology platforms and provide services that help advance the collision repair and claims industries."
Versions of these comments were in January made by or attributed to business development Vice President Mike Hawkins.
Assured Performance CEO Scott Biggs told Schulenburg that "it would be very difficult" for his company's 2,000-plus shops to remain certified by FCA, Ford, Honda, Hyundai, Nissan and Kia, as their agreements dictate that the shops upload estimate and other information into dataSAFE for storage and dissemination in the aggregate.
"They can't report the data, they're not in compliance," Biggs said.
According to Biggs, the shop would need to negotiate around this requirement, upload the information manually rather than through Secure Share's automated process or find workarounds. Assured Performance has supported NuGen IT software which pulls estimate data off a PDF and exports it in EMS and BMS, according to NugenIT employee owner and business development executive Pete Tagliapietra. (CCC still will allow a shop to generate XLS and PDF files independent of Secure Share, and the company doesn't restrict repairers from using NugenIT's workaround.)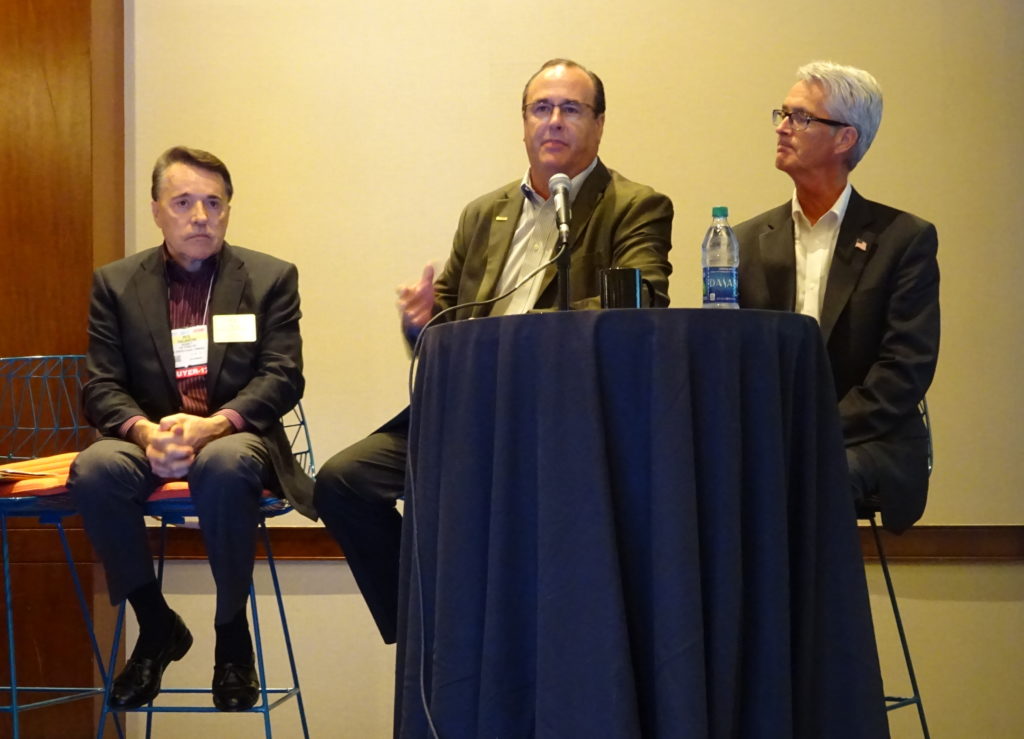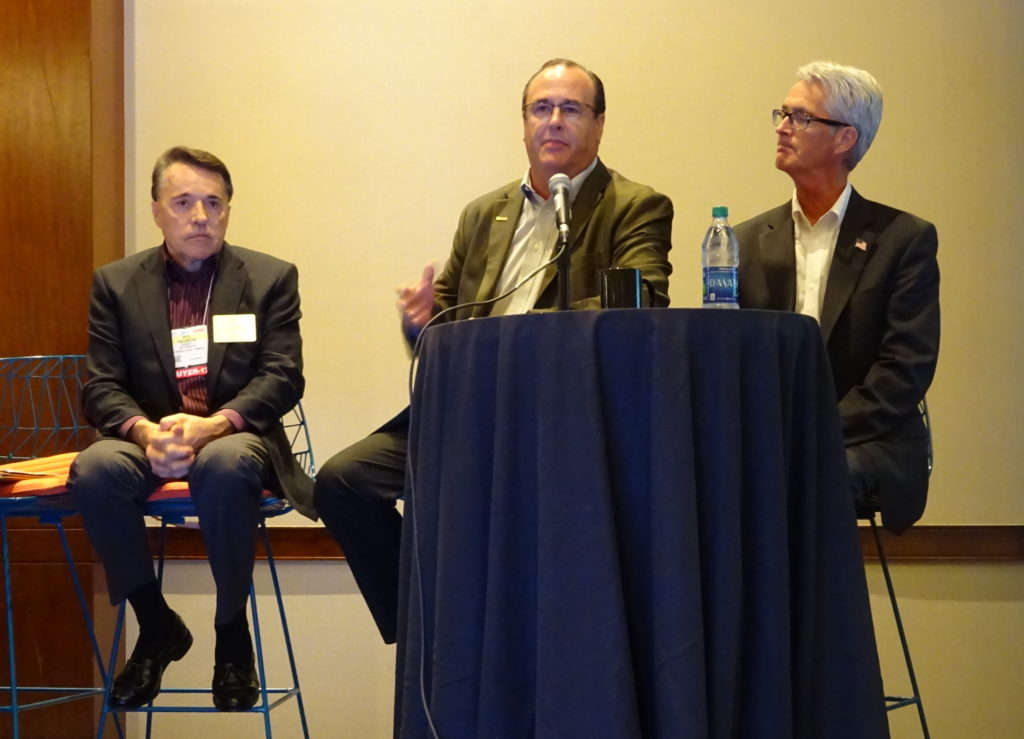 Asked about Biggs' assessment that it would be inconvenient or even potentially impossible for the OEM-certified shops to meet both CCC and Assured Performance's terms, Fincher replied that "we have an app for that."
"We have built an application for OEM certification reporting, so shops won't need any work around solution to share data as part of their OEM certification programs," he continued in a statement.
It's unclear how this would work without Assured Performance connecting dataSAFE to Secure Share. Schulenburg summarized Biggs and Friedman's positions as "two nos, essentially" and characterized this CCC-vendor standoff as setting up a huge inconvenience for insurers and repairers in April.
"You have so many things that are critical to running a collision repair business and processing a claim and dealing with a consumer that will get hung up in this process," he said.
More nos?
General Motors, which is in the process of building a body shop certification network, also was "concerned" about Secure Share, according to a statement conveyed at CIC by customer care and aftersales collision manager John Eck.
"We are concerned about secure share and the impact on the procurement process for our dealer network, as well as the overall impact … relative to subscription and/or potential transaction fees from a procurement standpoint," Eck said.
"It is not in General Motors' best interest to be beholden to a third party" for the data exchange necessary for future technology like autonomy and electrification, Eck said.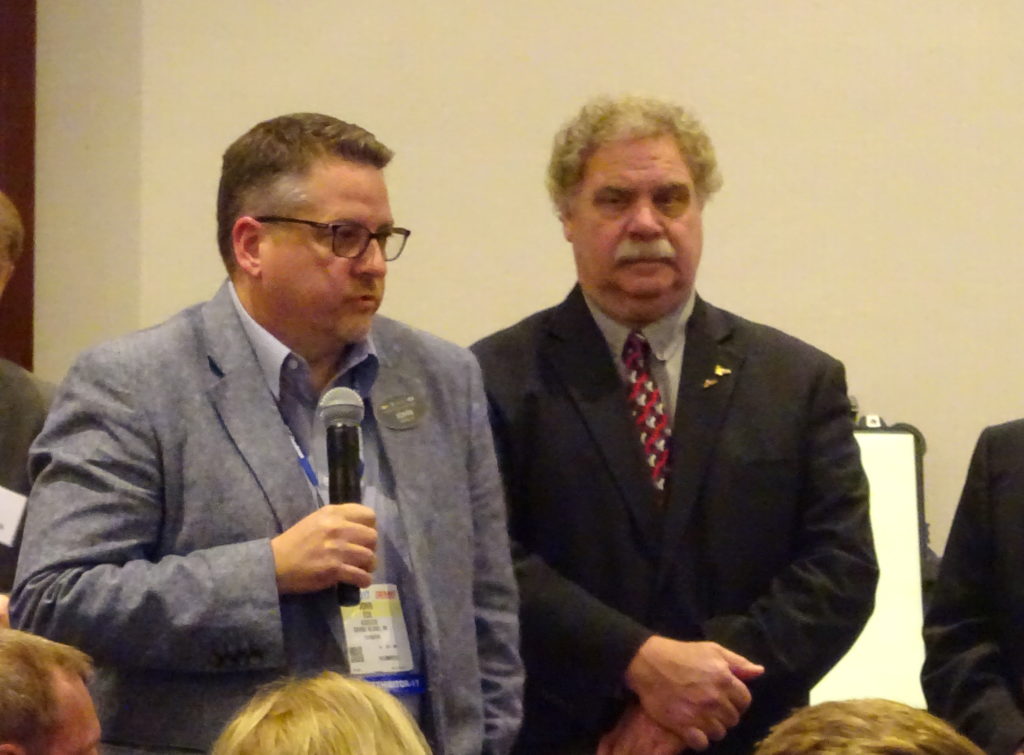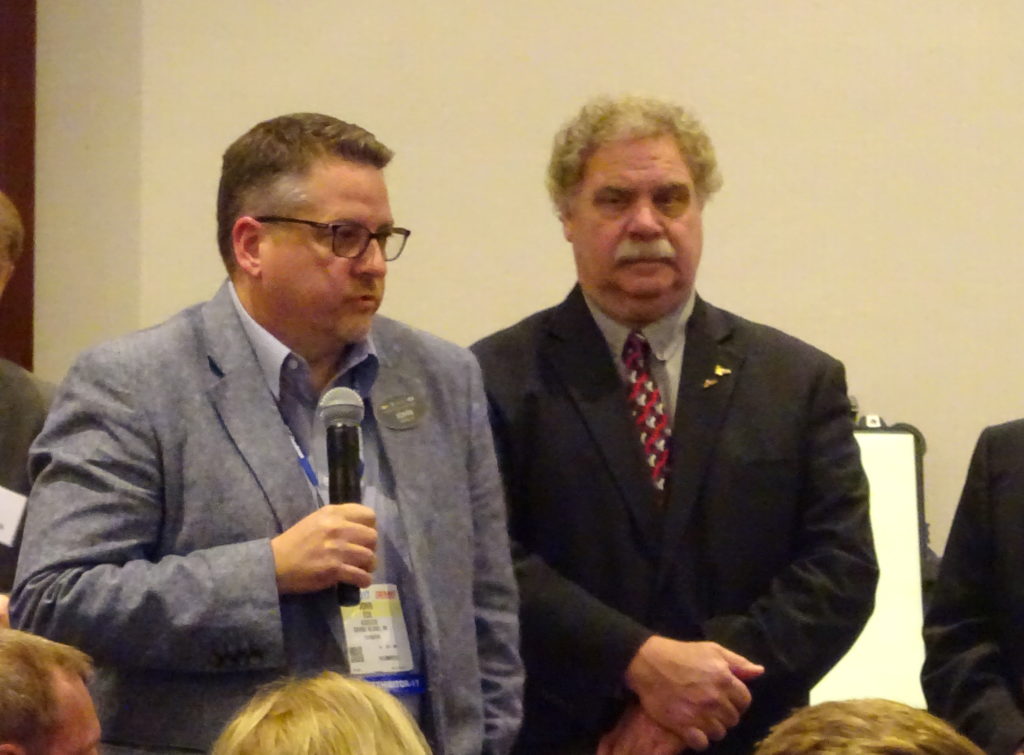 UParts CEO Alex Adegan said his company, which competes with CCC in the field of electronci parts procurement, likely wouldn't be available on Secure Share either.
"I don't believe we will in this current form," he said.
While observing "CCC is doing a fantastic job with Secure Share, I have no doubt," Adegan expressed concerns about the way it had monetized the platform — "wrong, on so many different levels" — the visibility CCC would have into the marketplace and the idea that vendors would have to bring their own subcontractors on to Secure Share to exchange data downstream. (It should be noted that with regards to electronic parts procurement, CCC won't charge fees or require shop approval for a procurement service to communicate with its extensive network of parts retailers.)
"I become the marketing arm of CCC — for a fee," Adegan said.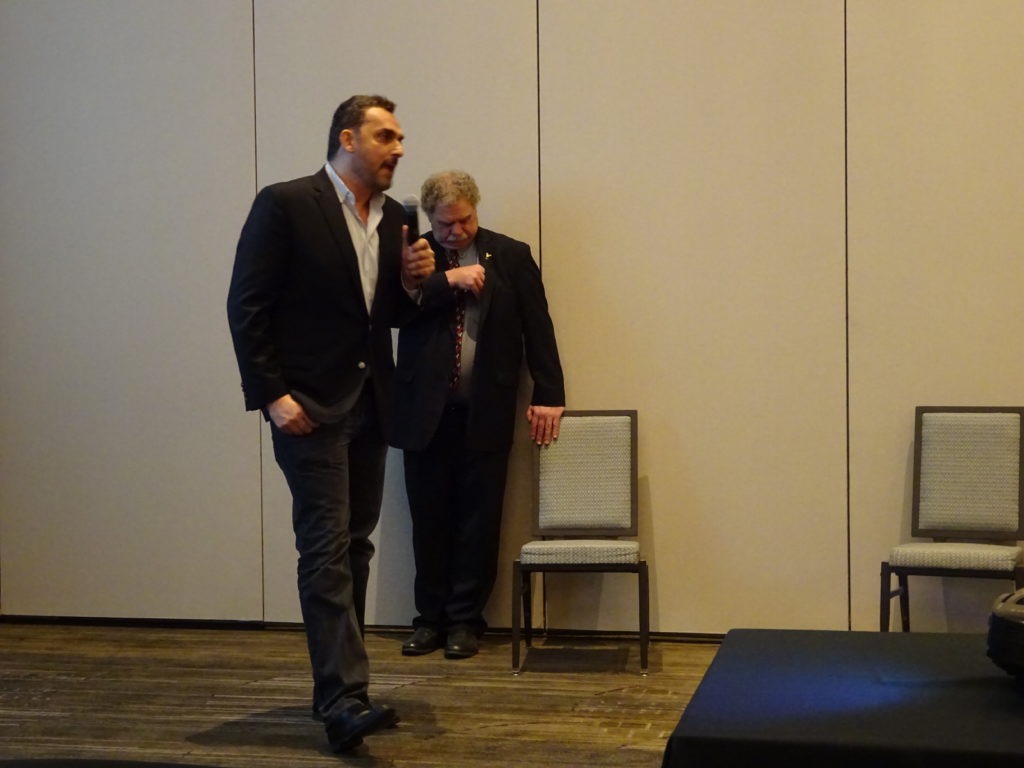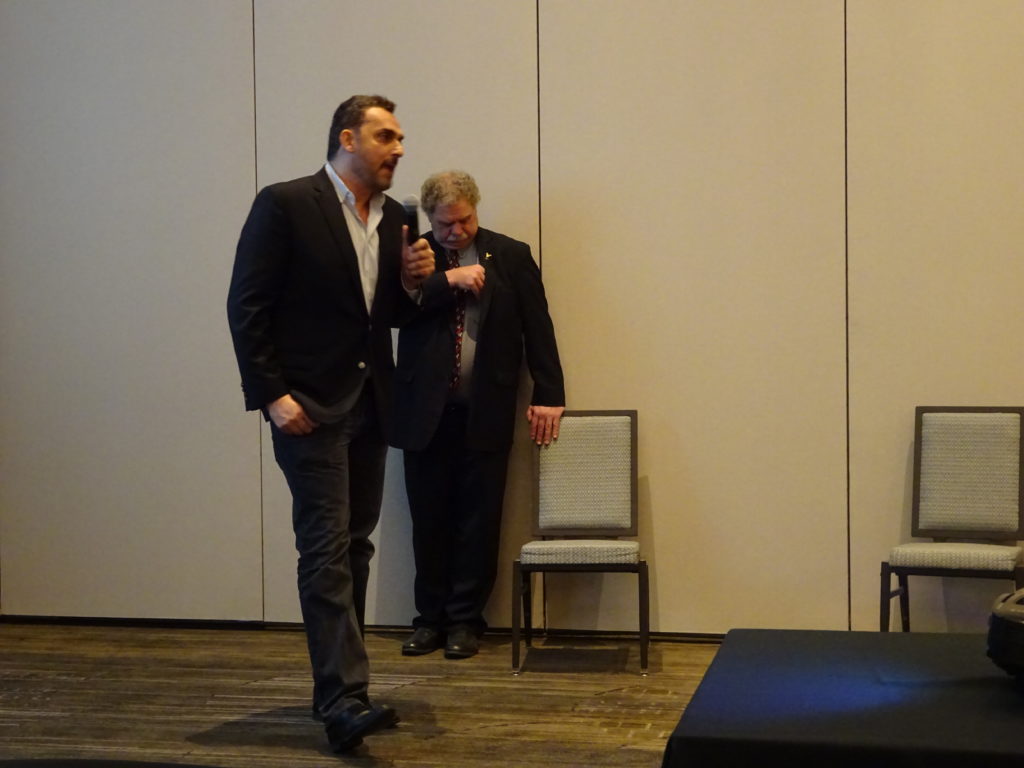 Other companies
Car-Part.com supports NugenIT's transformer and Mitchell's Project Freedom, which will allow a shop some of the capabilities of Secure Share without the cost, CEO Jeff Schroder said. He said his company has expressed its concerns to CCC and accepted an offer to sit on CCC's Secure Share advisory panel.
"The reality is they are a major force in the marketplace" who has sought feedback, and Car-Part is providing it, he said.
Nexsyis CEO Dave Braun said his company didn't believe any information provider should restrict data exchange. It was prepared to join Secure Share if changes occurred, but it also could choose not to, he said.
"We have not yet made a decision," Braun said.
Task Force Co-Chairman Rick Palmer (ComputerLogic), a vocal critic of CCC Secure Share, said he was disappointed more businesses weren't speaking up. "There's a fear in this industry," he said.
Palmer didn't seem to rule out joining the platform, however. He pointed out that CCC's $0.50 charge per transaction "represents 50 percent of my total revenue" but also observed, "obviously, we're going to pass it on."
Nine companies ("apps") were live on Secure Share Oct. 31 and 55 others had registered for the platform, according to the CIC task force's presentation.
Secure Share
For those unfamiliar with the controversy, a little background:
CCC Secure Share provides a more secure and selective means of transmitting estimate data between a shop and its various business partners than the status quo of relying on "data pumps" within shop computers or a shop manually uploading the information somewhere. It also offers shops and business partners' software the ability to communicate using the modern XML Business Message Suite data standard developed by the Collision Industry Electronic Commerce Association rather than the obsolete, unsupported Estimate Management Standard CIECA's been trying to retire for years. (To steal CIECA's analogy, it's as if the collision repair industry's computers all keep clinging to 1990s-era DOS instead of switching to 2010s-era Windows 10.)
None of this has been controversial (though it's been argued that EMS should still be permitted to hang around for shops who wish to use it). What's drawn fire and resistance from industry players is the way in which CCC will handle the transition and subsequent data communication.
CCC Secure Share serves as a sort of high-tech switchboard, encrypting and transmitting only the portions of an estimate (unlike EMS, which typically sends the whole document) approved by a shop to the repairer's intended business partner.  That business partner must register with CCC, agree to its terms of use, and pay $0.50 per repair order (which buys an infinite number of transmissions between the shop and vendor related to that particular repair job.) Vendors — some of which compete with CCC — have balked at both the cost (which some might pass on to shops) and the level of control and insight CCC could receive into their interactions with CCC ONE's 19,000 shops.
CCC has argued that the cost is necessary to recoup its expenses in setting up the network, pointed out that it is solving a security problem for the industry, and countered fears of heavy-handed competitive or controlling tactics by pointing to its track record of dealings with partners. The company has also been transparent, answering numerous questions from CIC task force members, media and likely other interests as well. It also noted that vendors, particularly entrepreneurs, might welcome the chance to immediately connect with 19,000 potential clients rather than attempt to establish and maintain data pumps or uploads for each one individually.
If neither CCC nor the vendors holding out intentionally or through procrastination "blink," CCC collision repairers might want to have a contingency plan in place for April 2018. This could simply mean switching vendors to one on the CCC platform or figuring out another automated or manual method of conveying data to the partners currently receiving your EMS files. Both carry pros and cons, and it's better to have worked the answer out in advance for your individual business rather than get caught unprepared and risk productivity or customer service gaps when CCC completes its rollout April 4, 2018.
Correction: An earlier version of this story misspelled Car-Part.com CEO Jeff Schroder's name. The article has since been corrected to address this.
More information:
Collision Industry Conference Open Industry Data Access and Sharing Task Force website
CCC answers to first two sets of task force questions
CIC, July 25, 2017
Images:
Enterprise collision industry/strategic sales Assistant Vice President Dan Friedman quotes and paraphrases excerpts from a January Enterprise news release, which criticized CCC without referring to the information provider by name, during the Collision Industry Conference session featuring the Open Systems, Data Access and Sharing Task Force on Oct. 31, 2017. (John Huetter/Repairer Driven News)
Assured Performance CEO Scott Biggs, center, speaks during the Collision Industry Conference session featuring the Open Systems, Data Access and Sharing Task Force on Oct. 31, 2017. (John Huetter/Repairer Driven News)
General Motors customer care and aftersales collision manager John Eck speaks during the Collision Industry Conference session featuring the Open Systems, Data Access and Sharing Task Force on Oct. 31, 2017. (John Huetter/Repairer Driven News)
UParts CEO Alex Adegan, left, speaks during the Collision Industry Conference session featuring the Open Systems, Data Access and Sharing Task Force on Oct. 31, 2017. (John Huetter/Repairer Driven News)
Share This: