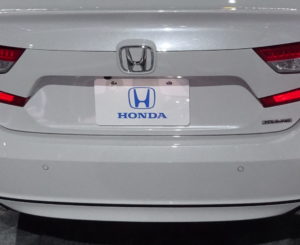 New research from the Insurance Institute for Highway Safety's HLDI has estimated the percentages of vehicles on the road today bearing certain crash-prevention technology.
The data gives collision repairers a glimpse into how likely they are to see certain advanced driver assistance systems, which might suggest which installation and recalibration equipment (for example, targets and parking sensor holepunches) would be worthwhile to have in-house. It also suggests which types of collision volume might fall in the future, for IIHS research has determined that numerous common ADAS systems are effective in reducing crashes.
Backup cameras, which are required on every new vehicle as of May 1, and parking sensors showed the greatest penetration of the U.S. fleet in the Highway Loss Data Institute's projections for 2016.
Nearly a quarter of all vehicles had backup cameras, and that number is expected to grow to more than half of the fleet in 2021 — just three years from now. Rear parking sensors had spread to an estimated 17 percent of the fleet in 2016. They were projected to reach 39 penetration by 2021 and to crack 50 percent sometime after 2025.
The HLDI predicted that autobraking, which might also come with a collision warning system as well, would grow the fastest of all the ADAS systems in the five-year study period. Autobraking was just 1 percent of the fleet in 2016, but is expected to spike to 5 percent by 2021. OEMs have committed to make the technology standard by 2022, and the IIHS predicts it'll crack 50 percent sometime after 2026.
Other ADAS systems studied reach notable levels by 2021. Blind-spot monitoring was projected on only 7 percent of the fleet in 2016, lane-departure warning on 5 percent, and forward-collision warning on 4 percent. Yet all three spread to 20 percent or more of the vehicle population in three years.
HLDI's data and estimates take into account the entire vehicle fleet, and we'd expect collision repairers and insurers might see even higher concentrations given the limited range of years a vehicle has to be repairable.
The average repairable vehicle was 5.93 years old in 2016, and more than 50 percent of vehicles total out between 0-10 years of age, according to the 2017 CCC "Crash Course" data. Mitchell's third-quarter 2017 data in the December "Industry Trends Report" put the average repairable vehicle at 6.99 years and the average totaled vehicle somewhere between 8-14 years old. The HLDI said the 2016 data it used from IHS Automotive contained 39 model years.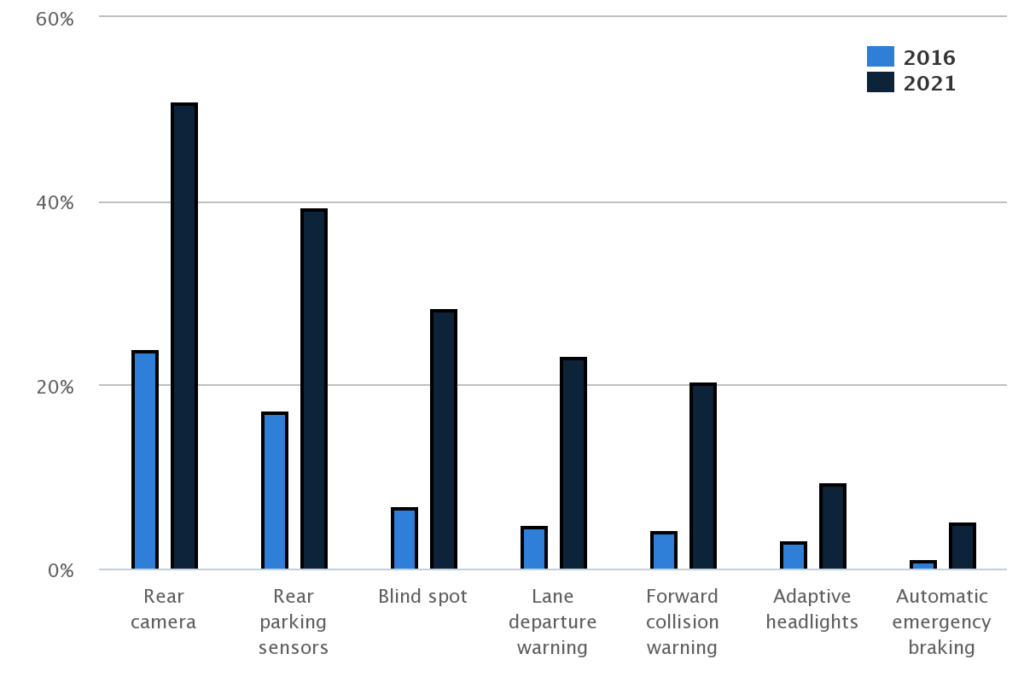 Dating back years
The HLDI report is also noteworthy in that it teaches shops and insurers that ADAS systems aren't as recent a phenomenon as it might seen. Granted, most of it probably appeared first on luxury cars which few shops encountered. But it's yet even more information to support that concepts like scanning and vehicle electronics awareness aren't necessarily limited to the past couple of model years.
Rear parking sensors: Appeared on 1995 model year, according to HLDI. By model year 2004: Standard on 6 percent and optional on 18 percent of that year's vehicles. (The number actually estimated equipped on the fleet in 2004 was far lower for this and the other ADAS systems, of course.)
Autobraking: Appeared on 2006 model year. By MY 2012: Standard on less than 1 percent, optional on 11 percent of new vehicles.
Frontal collision warning: Appeared on 2000 model year.
Backup camera: Appeared on 2002 model year. By MY 2007: Standard on 2 percent, optional on 14 percent of new vehicles.
Adaptive headlights: Introduced in model year 2004; defined as headlights which can turn to follow the car's direction. (Though the concept certainly dates back earlier than 2004; for example, the 1948 Tucker 48.) By MY 2008: Standard on 8 percent, optional on 12 percent of new vehicles.
Lane departure warning: Appeared on 2005 model year. By MY 2009, standard on less than 1 percent, optional on 4.5 percent of new vehicles.
Blind spot monitoring: Appeared on 2006 model year. By MY 2009, standard on less than 1 percent, optional on 7.5 percent of new vehicles.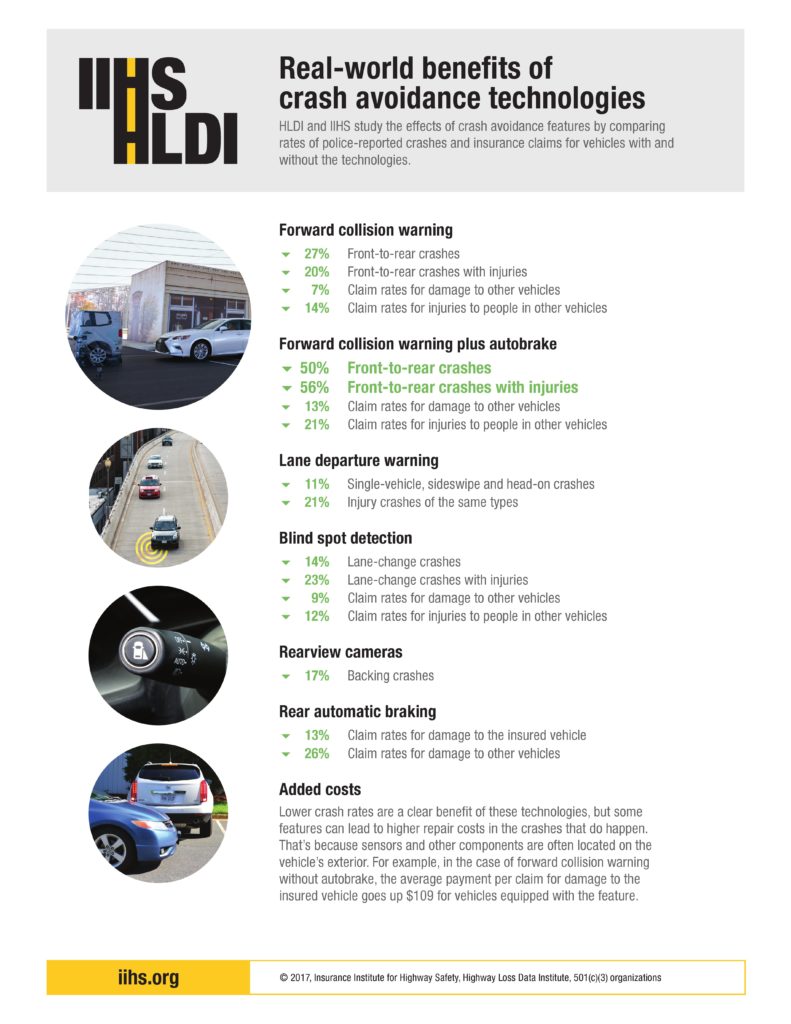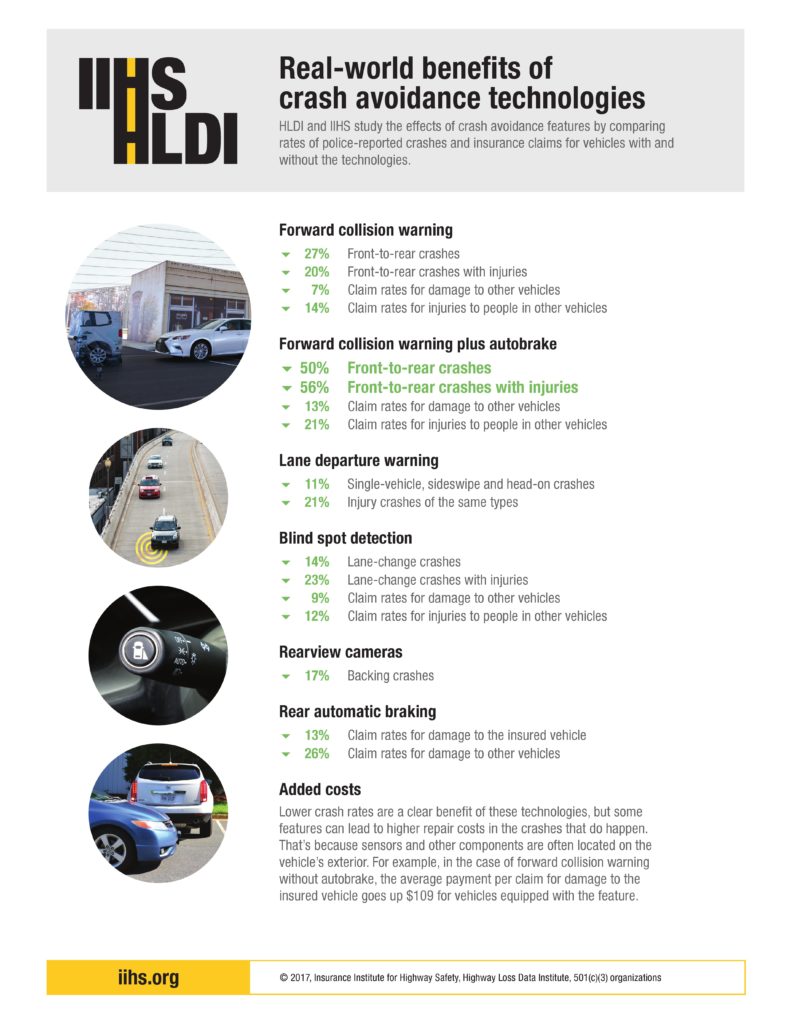 More information:
"New estimates of safety features in vehicle fleet"
Insurance Institute for Highway Safety Status Report, Dec. 28, 2017
"Predicted availability and fitment of safety features on registered vehicles"
IIHS Highway Loss Data Institute Bulletin, September 2017
Images:
A late-model Honda Accord Touring is on display Jan. 15, 2018, at the North American International Auto Show. A backup camera and parking sensors can be seen on the rear of the vehicle. (John Huetter/Repairer Driven News)
The Insurance Institute for Highway Safety's Highway Loss Data Institute has estimated the percentages of vehicles on the road today bearing certain crash-prevention technology. (Provided by Insurance Institute for Highway Safety)
Insurance Institute for Highway Safety Highway Loss Data Institute research has determined that numerous common advanced driver assistance systems are effective in reducing crashes. (Provided by Insurance Institute for Highway Safety)
Share This: