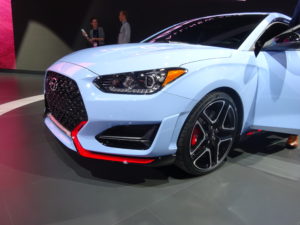 The Society of Collision Repair Specialists and I-CAR are requesting auto body shops across the country submit specific examples of the gap that exists from Hyundai's lack of U.S. repair procedures and the impact this has upon repairers.
"This has long been an area of concern expressed by the collision repair market and communicated to contacts within Hyundai Motor America," SCRS wrote in a message to members Thursday.
Hyundai provides mechanical repair procedures but remains the only major OEM without collision repair instructions for the American market. Ironically, its subsidiary Kia does offer OEM instructions for auto body shops, and Hyundai is said to provide repair procedures abroad.
SCRS and I-CAR consider manufacturer repair procedures the standard of care for the industry, with I-CAR calling them "service specifications."
A Texas jury in October 2017 agreed, levying a $31.5 million verdict against John Eagle Collision Center for its disregard of Honda's official Fit repair procedures — a decision the jury found contributed to the severity of the plaintiffs' injuries in a crash. (The parties later settled for an undisclosed amount.)
Hyundai said six months ago it was nearing the release of collision repair procedures for American shops.
"They are getting close to being able to publish those manuals," Hyundai quality, service and technology communications senior manager Miles Johnson said in July 2017. Less than a week later, attorney Todd Tracy announced the John Eagle Collision lawsuit.
Johnson on Friday was looking into our request for an update on the repair procedure release date.
Liability aside, a shop having to "wing it" when it comes to body repairs on Hyundai vehicles seems likely to present other quality and efficiency issues, no matter the shop's skill.
SCRS and I-CAR are trying to collect examples of such "real-world challenges" so as to document the need for American repair procedures.
"To help illustrate the need for information, SCRS and I-CAR are working to collect and present specific examples that illustrate the real-world challenges created when there is an absence of documented repair procedures," the trade group wrote Wednesday.
Share your Hyundai stories and technical questions here on I-CAR's Repairability Technical Support portal. Shops can upload files like estimates and photos as well.
"I-CAR is currently collecting data to provide real-world feedback on the information that is needed to repair Hyundai vehicles, in pursuit of complete, safe, and quality repairs," I-CAR wrote. "To help I-CAR provide a clear picture of industry needs, please submit any Hyundai collision repair questions."
More information:
Share your stories and unanswered Hyundai collision repair questions
Hyundai portal on I-CAR Repairability Technical Support
Featured image: The 2019 Hyundai Veloster appears at the North American International Auto Show on Monday, Jan. 15, 2018. (John Huetter/Repairer Driven News)
Share This: