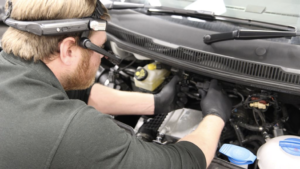 Augmented reality manufacturer RealWear announced Monday that Volkswagen Commercial Vehicles' technicians at 10 United Kingdom Volkswagen Van Centres would pilot the company's innovative headgear — a device which might have benefits for collision repairers as well.
"We have now started our augmented reality trial to help us deal with repairs and customer issues," Cordwallis Volkswagen Van Centre service director John McNally said in a statement. "I strongly believe that the technology will help us to work better as a network and will definitely improve our customer services in the near future.
"We have introduced our customers to the concept and have received extremely positive feedback on the use of this technology. We can already see substantial benefits and are expecting to see continued success when the program is rolled out nationally."
The HMT-1 brings to mind Google Glass, but RealWear says the "wearable" is "faster, safer and smarter than either a tablet or smart glasses" and can handle "extremely noisy, dusty or even dangerous environments."
As the device is hands-free, a technician can be wrenching while operating the device. One could also display an OEM repair procedure in one's field of view and refer to it without ever having to move away from the vehicle. An OSIsoft video shared by RealWear describes the visual as like having a 7-inch tablet at arms length.
"HMT-1 is the first and only AR-enabled wearable device on the market that offers remote mentor video calling, document navigation, guided workflow, mobile forms and industrial IoT data visualization," RealWear wrote in a news release. The device can help technicians complete "complex repairs by augmenting images, wiring diagrams and adding repair suggestions into their view while walking them through the necessary diagnostic steps," according to the manufacturer.
Volkswagen Commercial Vehicle technicians will be able to speak directly to the Technical Support Centre as well.
"The new devices allow our team of Technical Support Agents to support our network with a virtual visit which is as close as possible to the agent being in the centre," Volkswagen Commercial Vehicles service operations manager Paul Anderson said in a statement. "Factors such as time out of the office, speed to booking and travel time are stripped out leaving only the value of having our technical support agents virtually in the Van Centre to support the diagnostic process. There's clearly an environmental benefit in this approach, too."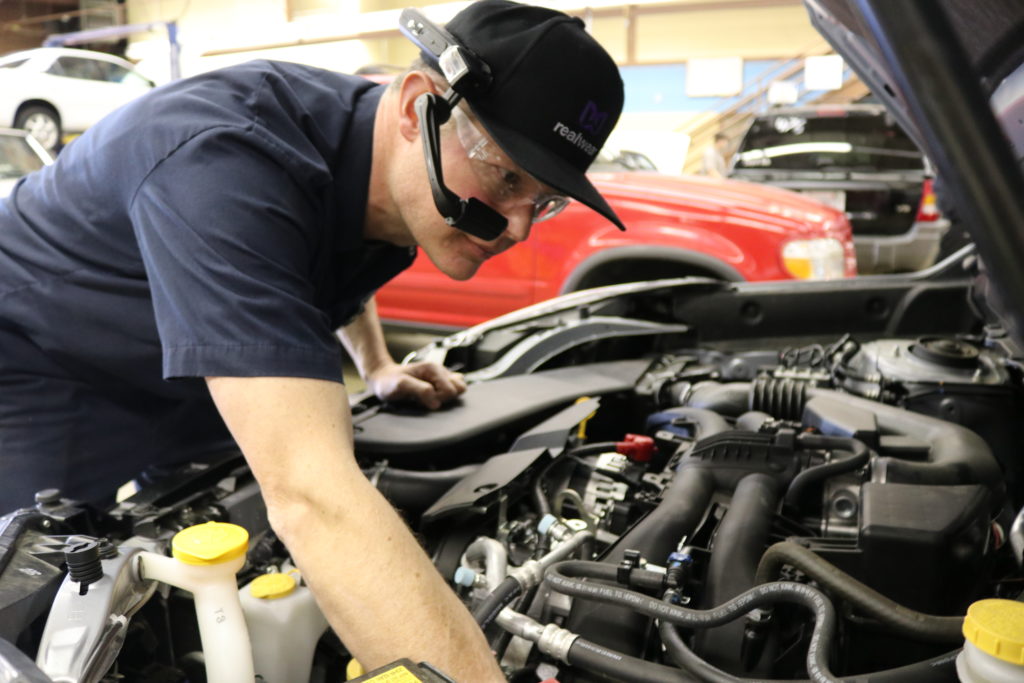 It seems as though such technology could add a little additional convenience for a technician communicating a supplement to an insurer through traditional means or a newer system like Allstate's Virtual Assist. There'd be no need to drop what you're doing and pick up a phone or compose an email if you've already got a camera and phone strapped to your face.
"The RealWear HMT-1® device is solving one of industry's major dilemmas by bringing the right information to every frontline worker in real time, reducing downtime and improving productivity," RealWear CEO Andy Lowery said in a statement. "We will work closely with Volkswagen Commercial Vehicles to ensure a successful pilot and rollout to allow them to give the best support to their customers."
RealWear said the pilot has paired the HMT-1 with "existing digital services such as screen-sharing of diagnostic equipment and remote control of vehicle functions" for a "powerful tool." One can see such a combination being attractive to the collision repairers who work with remote companies such as AirPro and asTech for their own diagnostic needs.
"We believe this has future benefits beyond this application to support one-to-many coaching and providing a fast-link back to the Van Centre for Mobile Service Technicians," Anderson said in a statement.
More information:
"Volkswagen Commercial Vehicles Test Drives RealWear's Hands-Free HMT-1 Augmented Reality Wearable Device for Speeding up Maintenance and Repairs"
RealWear, April 16, 2018
Images:
Augmented reality manufacturer RealWear announced Monday that Volkswagen Commercial Vehicles' technicians at 10 United Kingdom Volkswagen Van Centres would pilot the company's innovative headgear — a device which might have benefits for collision repairers as well. (Provided by RealWear)
RealWear indicates this is an example of its HMT-1 augmented reality headset being used at an auto school. (Provided by RealWear)
Share This: