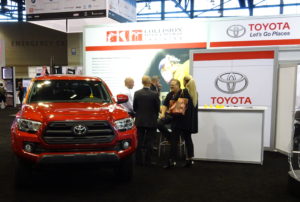 Knowledge is power, and it might also mean a free OEM scan tool and TIS subscription.
Toyota and the Society of Collision Repair Specialists announced Tuesday that auto body professionals who attend all three parts of the OEM Collision Repair Technology Summit on Thursday, Nov. 1, at SEMA will be entered to win a technology and repair procedure package.
"We believe collision repairers that prioritize access of OE information should be rewarded," Toyota wholesale parts and certified collision manager Eric Mendoza said in a statement. "At Toyota we work hard to provide repairers with the tools they need to be good partners in our shared goal of returning our customer's vehicle back to them in the same condition that made the customer want to own the vehicle at the start. We also recognize that the SEMA Show, and SCRS' OEM Collision Repair Technology Summit, are valuable resources for repair professionals to connect, and we want to encourage more in the industry to attend and take advantage of those programs."
One lucky winner will receive "a complete setup to access Toyota, Lexus, Scion OE Repair Information and OE Diagnostic Tool; with software access good for one year," SCRS wrote in a news release Tuesday. The repairer will receive a laptop; MongoosePro MFC2 Interface; and a year's Techstream Professional Diagnostic Subscription, which will allow the shop to access both OEM repair procedures and run the scan tool.
They'll be drawn from the pool of repairers whose badges SEMA scanned and confirmed were in attendance at the 9-10:30 a.m., 11 a.m.-12:30 p.m. and 3-5 p.m. OEM Collision Summit sessions Thursday. Registration onsite is possible. You must be an employee of a collision facility to win.
The 9-10:30 a.m. session, "The Rules – and Challenges – of Structural Repair on Modern Architecture," will feature Dan Black, FCA advanced body development service engineer and collision repair manager; Robert Hiser, Auto/Steel Partnership advanced high-strength steel repairability lead and General Motors body structure service engineer; Shawn Hart, Audi curriculum designer and collision instructor; and Mike Kukavica, Porsche aftersales technical training collision repair technology instructor. Ron Reichen, owner of Precision Body and Paint and a former SCRS chairman, and Danny Gredinberg, Database Enhancement Gateway administrator, will moderate.
"During the open and interactive session, panelists will explore how modern vehicle architecture and design specifically influence repair facility processes," the SEMA session description states. "From research of advanced substrates and mixed-material designs to joining processes and equipment necessities, the program will fully explore the range of considerations necessary to perform structural collision repair.
"With automakers intentionally designing flows of energy through structural components and away from occupants, understanding how to anticipate and identify signs of energy travel through the vehicle and the possible impact upon the repair process is also critical for technicians and owners alike."
"The Evolution of OEM Networks and Expectations" from 11 a.m.-12:30 p.m." forum will feature General Motors customer care and aftersales collision manager John Eck, Volvo certified collision program manger Kenneth Park, Mercedes collision business manager Ben Cid and Nissan collision network growth and strategy manager Mark Zoba.
It'll be moderated by Assured Performance technical compliance Vice President Aaron Clark and Reliable Automotive Equipment President David Gruskos.
"In this 90-minute panel discussion, representatives of General Motors, Mercedes-Benz USA, Nissan Group of America and Volvo Cars USA will share details of their distinct program structures and elaborate on how the expectations have evolved to their present state," a SEMA course description states.
"As vehicle architecture and technology advance, so do the expectations of those performing repairs. Specialization and commitment to repair procedure adherence become increasingly more paramount, and many automakers have shifted their models of creating OEM collision repair networks to ensure that consumers have vetted options if collision repair services become necessary."
"The Future Impact of Telematics, Technology, Transportation and the Collision Industry" from 3-5 p.m. will feature CCC OEM general manager and Senior Vice President Andreas Hecht, Verisk telematics Vice President James Levendusky, Enterprise Holdings technology innovation Assistant Vice President Derik Reiser and Subaru telematics cross-car line planning manager Charlene Wehman. It'll be moderated by John Ellis of Ellis & Associates.
"In this session SCRS has brought together thought leaders with OEM, technology, claims and fleet backgrounds to explore how the future of automotive technology inside the vehicle will change external interactions in the event of a loss," a SEMA course description states. "Whether communicating with individuals or associated organizations, there is a great deal of development in the area where technology interfaces and telematics data will impacting collision repair business models."
SCRS on Tuesday also acknowledged 2018 OEM Summit sponsors AkzoNobel, BASF, CCC, General Motors, PPG, Sherwin-Williams and Spanesi.
Sign up for all three parts of the OEM Summit here at $85 per class, or, for the best deal, buy the Full-Series Pass for unlimited Repairer Driven Education access. The full-series pass, which costs $400, grants the repairer access to every RDE class, all three sessions of the OEM Summit, the Sky Villa afterparty, and the brand new IDEAS Collide TED-style event Friday, Nov. 2.
Don't forget about another SCRS-related giveaway at SEMA.
Spanesi Americas and SCRS will give away a Spanesi 14500A Inverter spot welder valued at more than $28,000 to a lucky winner. The drawing will be held Friday, Nov. 2, at 1 p.m. at the SCRS booth (North Hall No. 11173).
To enter the drawing, visit the SCRS booth at SEMA and collect a "report card" mapping out companies that sponsored the Repairer Driven Education series. Then visit each sponsor's booth and ask them for a stamp. After you've collected stamps from all of them, drop your entry off back at the SCRS booth before the deadline. See the full contest rules at www.scrs.com/rde.
Details and registration: www.scrs.com/rde. Other information about SCRS: 1-877-841-0660, info@scrs.com or www.scrs.com.
More information:
"WIN OE Repair Information and Calibration Tools From Toyota by Attending SCRS' OEM Summit at SEMA"
Society of Collision Repair Specialists, Oct. 30, 2018
Toyota TIS OEM repair information site
Toyota Techstream Lite information
Featured image: The Toyota booth at NACE 2017 is shown. (John Huetter/Repairer Driven News)
Share This: