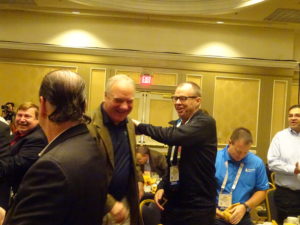 Collision repairers and other industry leaders received some of the sector's most prestigious awards and the AMI presented diplomas to Class of 2018 graduates on Wednesday during the Collision Repair Red Carpet Awards Breakfast.
"This is not an SCRS event," said Aaron Schulenburg, executive director of the Society of Collision Repair Specialists, which organizes the breakfast with support from the Automotive Management Institute and BodyShop Business. "It's a collision industry event for every organization that wants to recognize greatness in this industry."
Here are all the winners from the 2018 event and assorted color from the presentations. Special thanks to BodyShop Business and Thomas Greco Publishing for the assist on the list of winners.
Automotive Management Institute
Training Provider of the Year, Collision Repair: Mark Claypool, Optima Worldwide
AMI President Jeff Peevy said when AMI started hosting online courses in 2016, Claypool "stepped up." And when other forms of learning such as webinars and articles were allowed to gain AMI credit, Claypool "stepped up" again, Peevy said. He said he thought all of Claypool's BodyShop Business articles were approved to provide AMI credit.
Recognition for Outstanding Dedication, Commitment and Personal Leadership: Bob Keith, Assured Performance; Tony Passwater, AEII
Class of 2018 diplomas: Ken Brown, Bruce Burrow, Maria Carrillo, Robert Byron Gottfred, Wesley Jackson, Kandie Jennings-Molloy, Scott Kaboos, Tony Passwater, Carl Preston Riggenbach, John Shoemaker, Kenneth Thayer
Automotive Service Association
Phoenix Award: Chuck Sulkula, National Auto Body Council (retired)
"This is quite nice," Sulkula said. He said that it's what is done together that makes the industry great.
Regardless of one's "side" or memberships, "we're all a part of this industry," he said.
BodyShop Business
Executive of the Year (single-shop): Louis Giordano, Giordano's Collision.
Giordano has owned three shops, started in his father's facility at age 14, and has been a member of the Long Island Auto Body Repairmen's Association since 1970, BodyShop Business publisher Sean Donohue said.
Executive of the Year (multi-shop): Vartan Jerian, Caliber/H&V Collision Center
Jerian was one of the first in the Albany, N.Y., capital region to introduce lean production, Donohue said. Following the sale of his shop to Caliber, Jerian works as the company's director of operations.
Collision Industry Electronic Commerce Association
Company of the Year: NuGen IT
Outstanding Dedication: Andrew Bober, ARMS Business Solutions
CIECA board Chairman Clint Marlow (Allstate) said Bober "single-handedly" developed a process for Business Message Suite messages to transfer to mobile devices.
Outstanding Contribution: Joanna Cohen, Car-Part.com
Outstanding Leadership: Leslie Redfield, Genpact; Darrell Amberson, LaMettry's Collision (tie)
"We couldn't get it down past two," Marlow said. Ultimately, CIECA decided to give it to both of its finalists.
I-CAR
Russ Verona Memorial Award: Jeff and Jeannie Silver, CARSTAR Mundelein
I-CAR CEO John Van Alstyne said the Silvers have "a long legacy of service" and were chosen because of factors like their dedication to training, promotion of the industry to schools and industry involvement. CARSTAR Mundelein has been Gold Class since 1996 — a Verona winner must be Gold for five years in a row — and has hired students to work there, he said.
Jeff Silver Award: Rick Cope, Cope Collision
Van Alstyne said Cope is a strong proponent of continuing education, and his shop has been Gold Class since 2007.
Board of Directors Chairman's Award: Clark Plucinski, Collision Repair Education Foundation
National Auto Body Council
Award of Distinction: Kevin Thomas, Town East Ford
NABC board member Debbie Teter (Garmat) said Thomas' shop had a "strong culture" and CSI often over 95 percent. It's gone from $5.4 million in sales in 2007 to $14.6 million in sales last year.
Body Image Award: Moppert Brothers Collision
Society of Collision Repair Specialists
March Taylor Memorial Fund Kina'ole Award: Petra Schroeder, Axalta (retired)
Affiliate Association Award: Mississippi Collision Repair Association
Featured images: Collision repairers and other industry leaders received some of the sector's most prestigious awards and the AMI presented diplomas to Class of 2018 graduates on Wednesday during the Collision Repair Red Carpet Awards Breakfast. The Automotive Management Institute also recognized Class of 2018 graduates. (John Huetter/Repairer Driven News)
Share This: