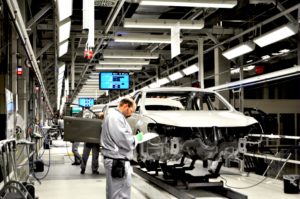 Volkswagen OEM repair procedures can give precise instructions for applying seam sealer — including a dictate to "replicate stock visual appearance and layer thickness," a Collision Advice webinar demonstrated earlier this fall.
The webinar showed OEM paint instructions for front body weld sealant on a 2015 Jetta. (Corrosion protection is discussed within paint procedures, according to Collision Advice CEO Mike Anderson.)
"When repairing, the seam sealant is to be returned to replicate stock visual appearance and layer thickness," Volkswagen wrote.
Matching factory appearance is not contained within estimating service labor times for seam sealer, according to Anderson.
The OEM instructions might even state how much sealer must be applied. One passage mentioned in the show regarding coarse seam sealer on the Jetta dictates "the projection must be a total 8 mm" and be 2 mm high.
"That makes it easier for me to bill," Anderson said.
Another section on fine seam sealing mentions a projection at least 3 mm in diameter and 0.5 mm high.
The repair procedures also can describe precisely where Volkswagen wants seam sealer on its vehicles, based on the webinar, and one section even gives measurements of 100 mm and 140 mm for two of these targets.
These dictates can demonstrate to an insurer why the repairer needs to use an entire tube of sealer, Anderson said.
Underbody protection
Other collision repair procedures besides seam sealer might have a Volkswagen mandate to preserve factory aesthetics and function. The webinar webinar also highlighted a similar instruction on underbody and stone chip protection.
"The underbody and stone chip protection structure must be restored back to its original layer strength and appearance during a repair," Volkswagen wrote in a separate 2017 paint general information document tied to multiple makes.
Volkswagen was saying "'We're expecting it to match,'" Anderson said.
He also advised the audience that those labor times did not include the time to match the factory appearance either.
Anderson said gravel guard instructions also state a repairer must sometimes sand the texture so it doesn't appear "too aggressive."
"So there may be a lot of labor required for your technicians," he continued.
More information:
Volkswagen OEM repair procedures site (erWin)
Collision Advice YouTube channel, Sept. 30, 2018
Featured image: Volkswagen's Chattanooga, Tenn., factory paint shop is shown in 2012. (Provided by Volkswagen)
Share This: