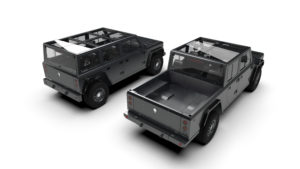 Startup OEM Bollinger Motors this fall reported it had reached the "final stages" of its aluminum, electric "sport utility truck" the Bollinger B1 and now planned an aluminum electric pickup known as the Bollinger B2.
Both the B1 and the B2 are all-wheel drive and have what Bollinger called an "All-Aluminum Body," though a 2017 news release for the B1 mentioned a "high-strength, low-alloy (HSLA) steel rollover structure" and "up to four occupants wrapped in a steel passenger safety cage."
We asked about the startup's plans for collision repair, including if it intended to have a certified auto body shop network and OEM repair procedures. Spokesman Tom Morr wrote in October that founder Robert Bollinger's "underlying philosophy with the flat panels is to simplify manufacturing and repair."
He later followed up later in October to state: "The company is currently interviewing vendors, including a national service provider that will work with body shops to facilitate repairs. We'll let you know when that agreement is finalized."
The trucks won't have airbags, according to Bollinger Motors.
"We are engineering the B1 and B2 to safety standards that exceed federal regulation using seat belts," the company states on its website. It plans to have the vehicles be legal in the U.S., Canada, Europe EU and ECE countries, Australia and New Zealand.
Bollinger is taking reservations for both and hasn't yet locked in MSRP prices. However, the Verge reports the B1 could start at $60,000 and has 20,000 pre-orders.  One can see the appeal to fleets of bare-bones trucks that could haul stuff around all day without ever consuming a drop of gas and with the minimal maintenance Tesla CEO Elon Musk said is required by an electric vehicle. However, the price might have to come down a bit.
The B1 "SUT" has a curb weight of 4,800 pounds and an estimated 200-mile battery range. The B2 is 5,000 pounds and is also projected to have a 200-mile range. You can charge either in 10 hours with a 220-volt outlet.
The B1 can handle a 5,201-pound payload and tow 7,500 pounds, according to Bollinger. The B2 allows a 5,000-pound payload and can tow 7,500 pounds. A patented passthrough lets the B1 handle 40 2x4s if you want, and the B2 can also handle 72 sheets of 4×8 plywood if you remove the back seats, according to Bollinger.
More information:
"Bollinger Motors Announces All-Electric B2 Pickup Truck"
Bollinger via PR Newswire, Oct. 10, 2018
"Bollinger Motors Reveals B1 – World's First All-Electric Sport Utility Truck"
Bollinger via PR Newswire, July 27, 2018
Images:
The nearly completed electric, aluminum Bollinger B1 "sport utility truck," left, and the planned Bollinger B2 pickup are shown. (Provided by Bollinger Motors)
The frame of the electric, aluminum Bollinger B1 "sport utility truck" is shown. (Provided by Bollinger Motors)
The electric, aluminum Bollinger B1 "sport utility truck" is shown. (Provided by Bollinger Motors)
The planned electric, aluminum Bollinger B2 pickup is shown. (Provided by Bollinger Motors)
Share This: