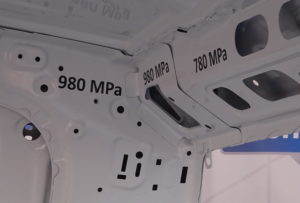 The Steel Market Development Institute last month estimated OEMs revealed more than 65 vehicles containing advanced high-strength steel at 2018 auto shows nationwide, a report with ramifications for collision repair.
World Auto Steel, whose members include many of the same companies as the SMDI's parent American Iron and Steel Institute, defines advanced high-strength steel as anything with a yield strength of more than 550 megapascals and including ultra-high-strength steels with tensile strengths (which is normally what OEMs discuss in repair procedures) of 780 MPa or more. (Generally, the minimum tensile strength to count as AHSS appears to be 590 MPa.)
"AHSS was represented in the composition of every vehicle segment and size, including the popular SUV, CUV and truck markets," the trade group wrote in a news release Dec. 17, 2018.
A SMDI survey revealed 75 percent "regard safety as the most important factor when buying or leasing a vehicle," according to the organization. Steel allowed OEMs to meet safety guidelines, it argued.
"As vehicles evolve to become stronger, safer and more durable, high-strength steel continues to be the material of choice for automakers," SMDI automotive market Vice President Jody Hall said in a statement. "Occupant protection is enhanced by using high-strength grades of steel in critical vehicle areas such as the frame and body. We are seeing more vehicles debut with predominantly steel structures because it is a proven, trusted and cost-effective material for automakers and consumers alike."
OEMs using higher-strength steels to cut mass and protect occupants in crash tests can mean shops face restrictions on heat — including heat merely in the vicinity of the steel — and sectioning. If a shop isn't reading repair procedures, there's likely a higher risk of a botched repair and unsafe vehicle than there would be with mild or lower-megapascal high-strength steels.
The AHSS rounded up some vehicles it considered noteworthy for their steel, drawing upon news releases and media coverage to mention steel highlights. We've covered many of these vehicles throughout the year, but we felt the roundup's tidbits were worth reporting or repeating. Find out more about the vehicles with the links below and with OEM repair procedures.
About 65 percent of the 2019 Jeep Cherokee is high-strength steel. "Hot stamped-, high-strength- and ultra-high-strength steel are used to construct a strong, lightweight, solid vehicle architecture," Jeep wrote in a news release.
The 2020 Toyota Corolla will have a new crash protection design and use more ultra-high-strength steel. It also should sport 60 percent better torsional rigidity.
The 2019 Ram 1500's frame is 98 percent made out of high-strength or stronger steels. Learn more about the truck's steel from this FCA and Gestamp presentation at the 2018 Great Designs in Steel.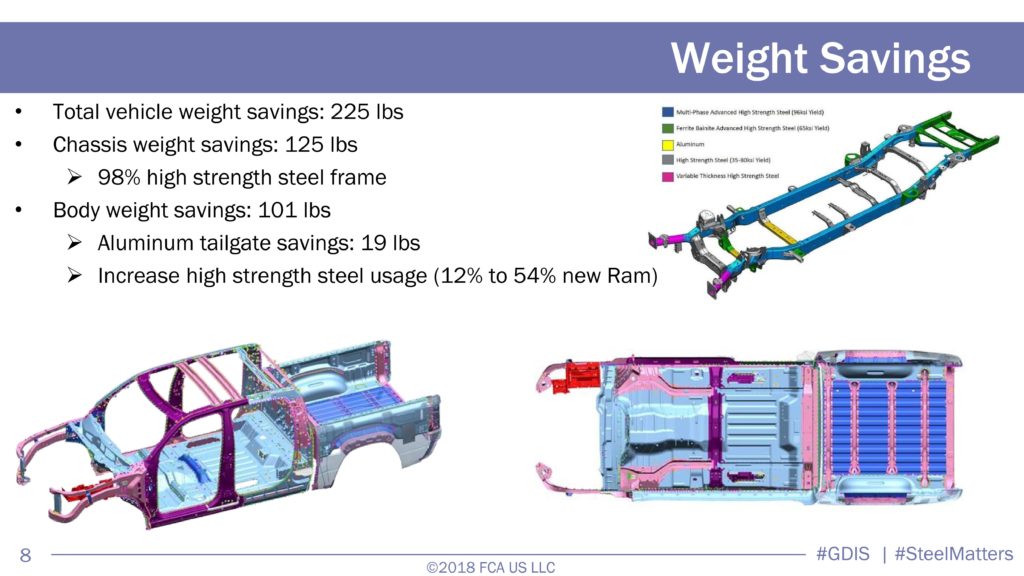 Subaru built 56 percent of the next-generation 2019 Forester body out of high-strength steels ranging from 440 megapascals to gigapascal-plus metal in areas like the B-pillar and frame rail.
The 2019 Kia Forte "strengthens its bones" for its third generation and has a body made up of 54 percent advanced high-strength steel, according to the automaker.
Mercedes wrote that the 2019 Mercedes G-Class shed 375 pounds, in part because of "a new mix of materials comprising strong, high- strength, ultra-high-strength steels."
"The rigid body shell is now made of a variety of steel grades," Mercedes also wrote in the news release, describing the A- and B-pillars as made of "high-strength steel due to their load-bearing function."
The 2019 Volkswagen Jetta: Volkswagen spokesman Mark Gillies wrote in an email that the Jetta is 35 percent ultra-high-strength hot-formed steel, 12 percent ultra-high-strength steel, and "39 percent extra high strength steel." A Volkswagen diagram of the next-generation European 2018 Tiguan Gillies provided in 2017 defines its hot-formed ultra-high-strength steel as greater than 1,000 megapascals, other ultra-high-strength steel as less than 1,000 MPa, and "extra-high-strength steel" as less than 420 MPa but a minimum of 220 MPa. Presumably, those VW metal definitions extended to the Jetta as well.
The 2019 Acura RDX is more than 50 percent high-strength steel, the OEM stated. The SUV also notably has a world-first inner-outer door ring made out of ultra-high-strength steel. Find out more about the vehicle with Honda's 2018 Great Designs in Steel presentation.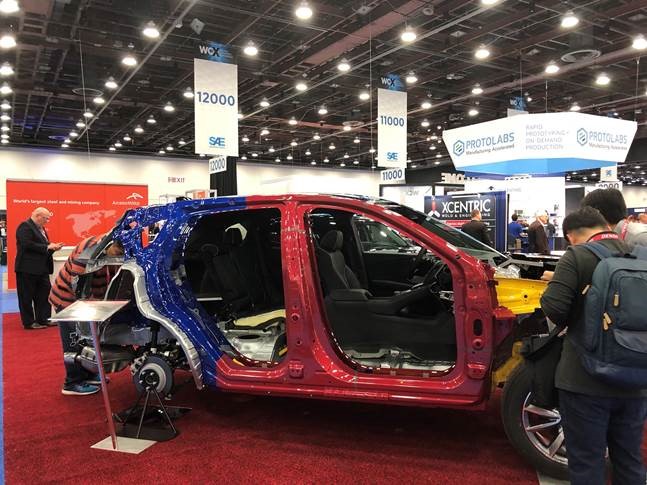 Motor Trend reported that the 2019 Hyundai Santa Fe was "made up of 67 percent high-strength steel, an increase of 14 percent over the outgoing Santa Fe Sport" and had "45 percent more structural adhesive, increasing it from 266 feet to 386 feet."
Chevrolet increased the strength of the 2019 Chevrolet Silverado frame itself for 10 percent better rigidity and 88 pounds of weight savings.
"Eighty percent of the frame is made of high-strength steel varying from 2 to 5 millimeters in thickness, and every millimeter is optimized for performance using a variety of processes, including hydroforming, roll forming, conventional stamping and tailor-rolled blanking," Chevrolet wrote in a news release. "As a result, frame sections, gauges, grades, processes and materials strategically vary to maximize strength, durability and stiffness without adding unnecessary mass."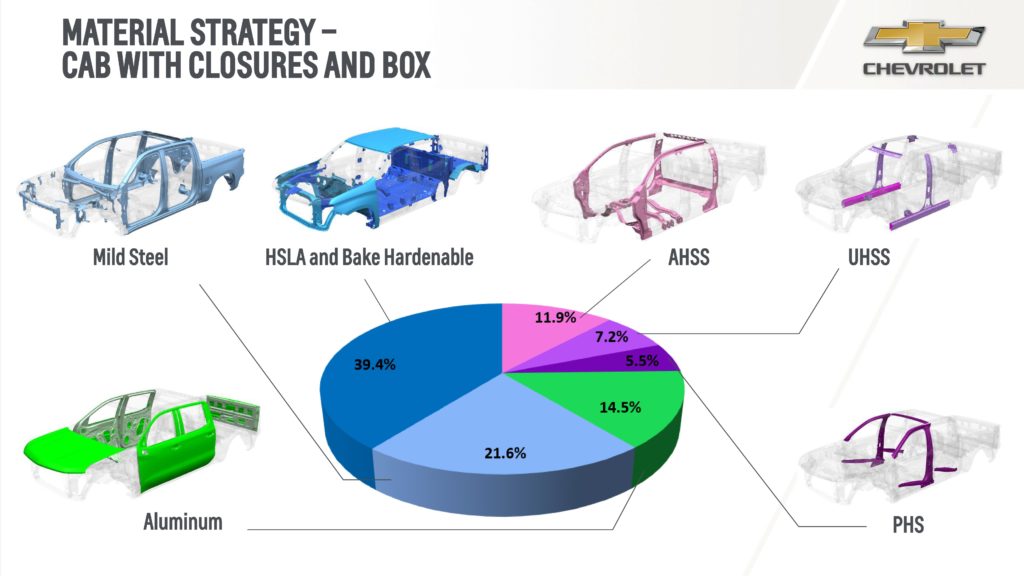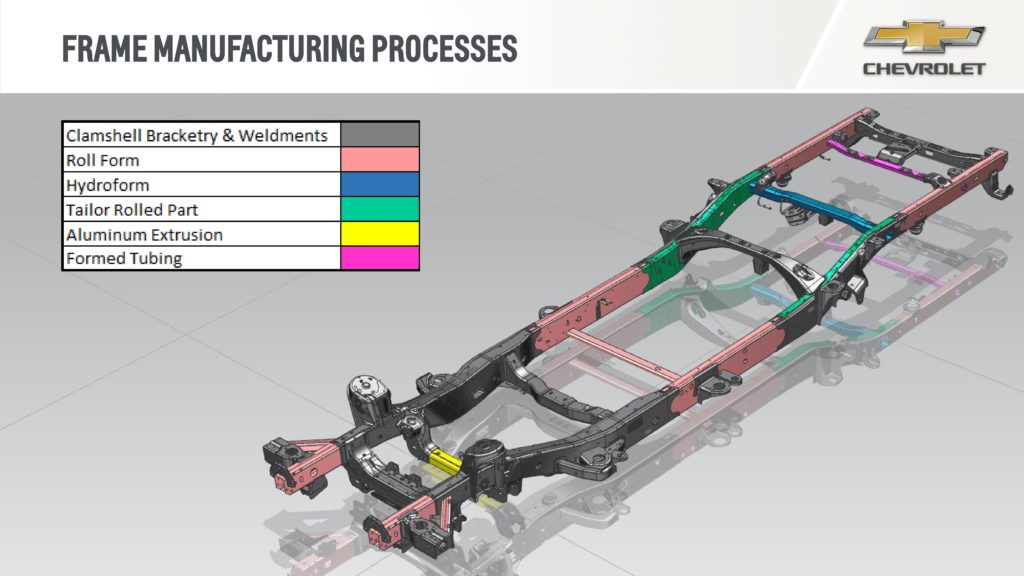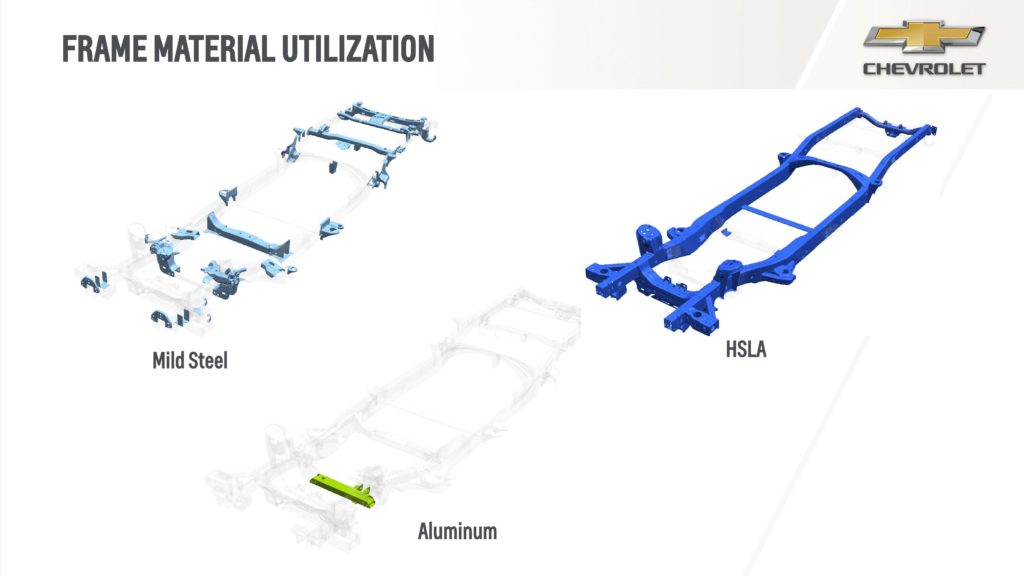 Chevrolet also increased the yield strength on the Silverado's high-strength steel bed floor from 340 megapascals to 500 MPa "for optimal strength and mass."
Get a great perspective on the 2019 Silverado's steel with this 2018 Great Designs in Steel presentation and our photo gallery from I-CAR's SEMA exhibit.
Just because SMDI cited these vehicles' advanced high-strength steel designs doesn't mean repairers won't encounter aluminum on some of the models. The 2019 Chevrolet Silverado and Mercedes G-Class, for example, carry extensive exterior aluminum. Investment in tools, equipment, space and training might be necessary to avoid issues like corrosion.
More information:
"Newly Unveiled Steel Intensive Vehicles Make An Impression In 2018"
Steel Market Development Institute, Dec. 17, 2018
"Advanced High-Strength Steel Technologies in the 2019 Chevy Silverado"
Chevrolet via Steel Market Development Institute, May 16, 2018
"Hot Stamped Steel One-Piece Door Ring in the All-New 2019 Ram 1500"
FCA and Gestamp via Steel Market Development Institute, May 16, 2018
"2019 Acura RDX World's First Inner & Outer Door Ring System"
Honda via Steel Market Development Institute, May 16, 2018
Images:
A 2019 Chevrolet Silverado cab in the I-CAR booth of SEMA 2018 shows information about its steel tensile strengths. (John Huetter/Repairer Driven News)
The 2019 Ram 1500 relies heavily on advanced high-strength steels. (FCA and Gestamp 2018 Great Designs in Steel slide provided by Steel Market Development Institute)
ArcelorMittal designed what it called the "world's first inner and outer door ring system," an ultra-high-strength steel design collision repairers will encounter for the first time next year on the next-generation 2019 Acura RDX. (Provided by ArcelorMittal)
Chevrolet used a significant amount of advanced high-strength or stronger steel in its 2019 Silverado. (Chevrolet 2018 Great Designs in Steel slide provided by Steel Market Development Institute)
Chevrolet increased the strength of the 2019 Chevrolet Silverado frame itself for 10 percent better rigidity and 88 pounds of weight savings. (Chevrolet 2018 Great Designs in Steel slide provided by Steel Market Development Institute)
A 2019 Chevrolet Silverado repair is demonstrated in the I-CAR booth of SEMA 2018. (John Huetter/Repairer Driven News)
Share This: