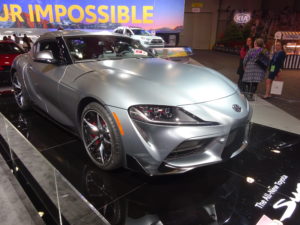 The 2020 Toyota Supra — which the OEM calls first U.S. edition of the sports car in 21 years — will roar onto streets with a mixed-material body design involving a number of aluminum and high-strength steel parts and a rear hatch made from a polypropylene composite.
Toyota senior manager for sports cars and crossovers Benjamin Haushalter gave us a rundown of the car following its reveal Jan. 14 at the North American International Auto Show. The 2020 Supra will go on sale in the first half of 2019 with an base MSRP of $49,990, according to Toyota.
Top Speed reports that the 1998 Supra with a manual transmission weighed "a hair over 3,200 pounds," with a turbo automatic transmission version "at just over 3,400 pounds."
The preliminary curb weight of the 2020 Supra is 3,397 pounds, including the turbo engine with an automatic transmission.
"Uncommon for its day, the MKIV (1998 Supra) also featured an aluminum hood, front crossmember, upper control arms, and all sorts of engine bits all in an effort to shave weight," Automobile magazine wrote in 2015.
The fifth-generation Supra goes beyond that, with a hood, inner and outer doors and a "big aluminum shear panel" beneath the engine cradle all made from aluminum, according to Haushalter. The car's "front crash box" — which Haushalter defined as the bumper reinforcement beam and "the structure it bolts on to" — was made of the nonferrous metal as well, he said.
Finally, he said the front suspension and some underbody "bracing" parts are all aluminum, as is the engine cradle.
"The front suspension subframe and control arm mounting points are extremely rigid to yield precise cornering characteristics," Toyota wrote in a news release. "Aluminum control arms reduce unsprung weight, resulting in superior agility and efficiency."
The rear suspension is aluminum and steel, according to Toyota.
"The multi-link rear suspension with a five-arm construction consists of lightweight aluminum to reduce weight while steel is employed in key areas for added strength and durability," the OEM wrote. "The rigid rear subframe, and the bracing that connects it to the body structure, helps ensure extremely precise wheel control."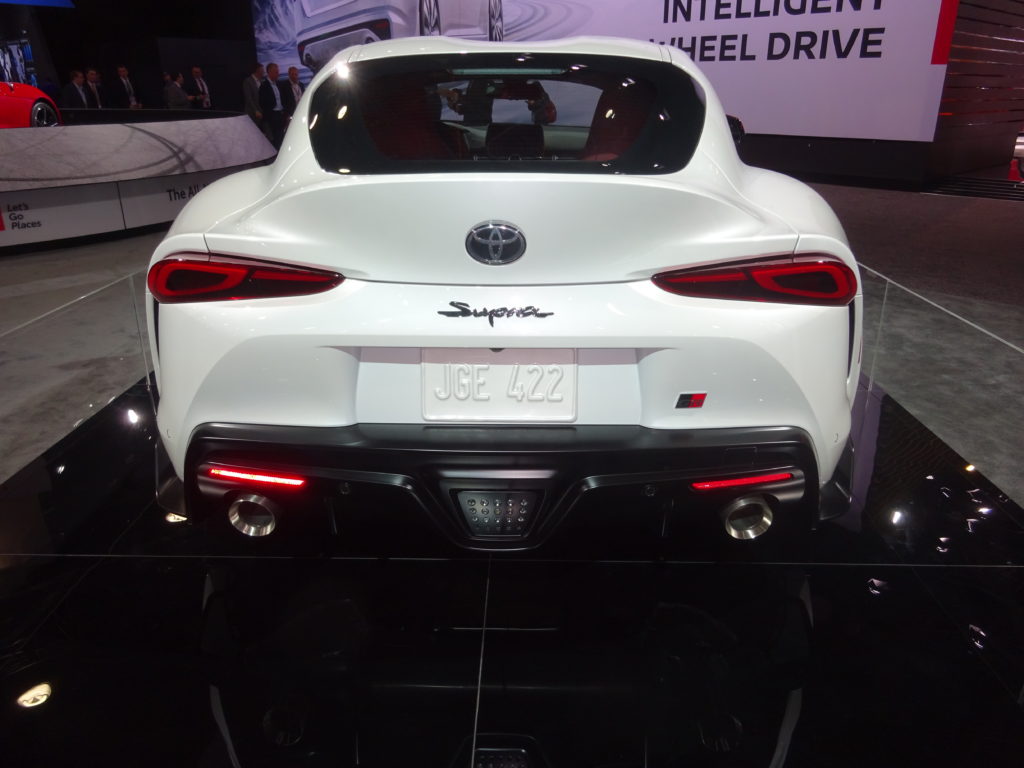 Toyota described the 2020 Supra as having "a particular kinship" with the prior-generation Supra and the 1967 Toyota 2000 GT, sharing the trait of what it called a "sophisticated chassis."
Haushalter said the 2020 Supra also had a number of "high-strength steel" parts throughout the body, in too many areas to mention. We asked if we were correct in assuming Toyota was using more of the higher strengths of steel — the ultra-high-strength-type metal, and he agreed.
"Toyota GAZOO Racing had a specific vision when developing Supra," Toyota wrote. "High structural rigidity, a low center of gravity and 50:50 weight distribution were paramount to Toyota's goal of achieving neutral cornering balance. For example, Toyota identified nine areas of the vehicle's rear structure to be reinforced to increase rigidity."
More body features
Other body-related details possibly of interest to collision repairers:
• The car has a "double-bubble roof design," which Toyota said "reduces drag by shaving the roof center to reduce the projected frontal area without sacrificing occupant headroom."
• The front end has "a prominent central grille section flanked by large air intakes," according to Toyota. The back of the vehicle finds an integrated spoiler and a "trapezodial rear bumper shape," the OEM wrote.
• The headlights and backup lamps are LED. "The six-lens LED headlights integrate both daytime running lamps and turn signal functions to create a distinctive lighting signature for the new Supra," Toyota wrote. "The rear combination lamps feature a simple structure with the turn, tail, and stop functions integrated into the distinctive main ring shape."
• As for you painters out there, Toyota reports that the car will come in "bold Renaissance Red 2.0, Nitro Yellow and Downshift Blue." Optional colors are "Phantom Matte Gray," which Toyota says uses "a matte finish and a hint of blue to create a metal-like texture"; "Absolute Zero White, Tungsten Silver, Turbulence Gray and Nocturnal Black."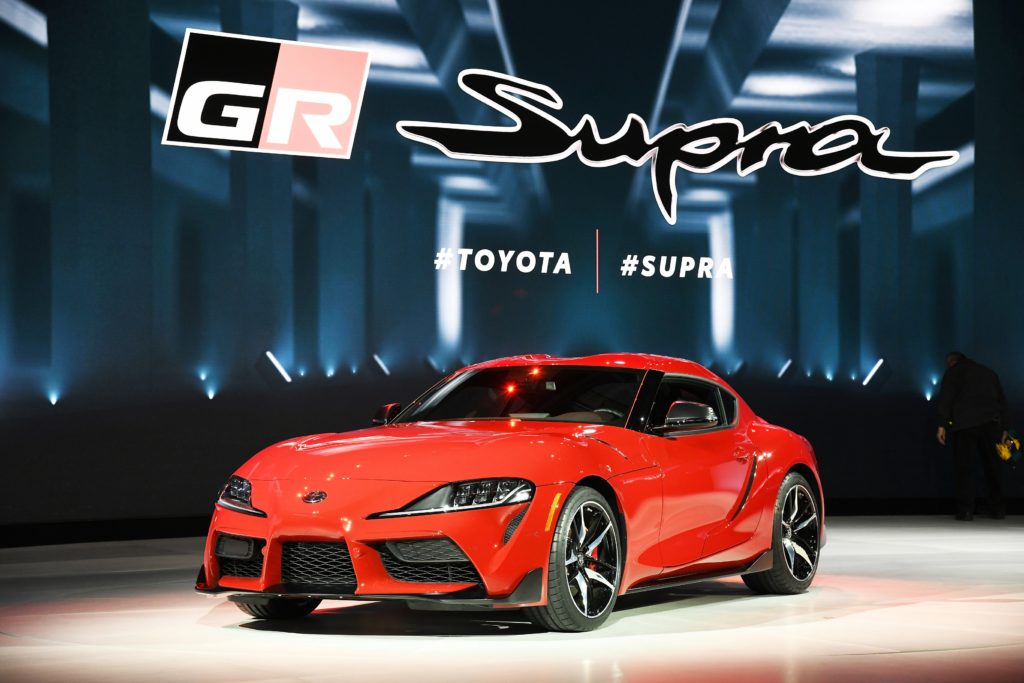 • A full-color head-up display is available as an option. It's unclear if it projects upon the window or another surface.
• Meet those Toyota specs, for the OEM reports the car "delivers a 50:50 weight balance while optimizing front-to-rear aerodynamic balance." You'll have to keep it that way.
Other tech to watch
Mechanical and technical items also possibly of note to body shops:
• The Supra is rear-wheel drive. It has "(h)igh-performance wheel hubs" on the front suspension and larger rear wheels than front wheels, all fitted with performance Michelin Pilot Super Sport tires.
• The rearview mirrors can auto-dim, the windshield wipers work with a rain sensor, and a lot of ADAS comes standard or optional.
"Standard active safety features include forward collision warning, automatic emergency braking with pedestrian detection, lane departure warning with steering assist, automatic high beam and road sign assist," Toyota wrote. "Additional active safety and convenience features available are adaptive full speed cruise control, blind spot monitor, rear cross traffic alert and rear end collision warning."
• Heeding whatever calibration and scanning Toyota says is necessary could be crucial beyond just the vehicle's ADAS. The OEM describes Sport driving and adaptive variable suspension modes and an active differential, for example.
More information:
"A Legend Returns: 2020 Toyota Supra Makes World Debut"
Toyota, Jan. 14, 2019
Images:
The hood and doors of the 2020 Toyota Supra are among many aluminum parts of the vehicle, according to Toyota. (John Huetter/Repairer Driven News)
Toyota built the 2020 Supra's rear hatch from a polypropylene composite. (John Huetter/Repairer Driven News)
The 2020 Toyota Supra uses substrates including steel, aluminum and a composite. (Provided by Toyota)
Share This: