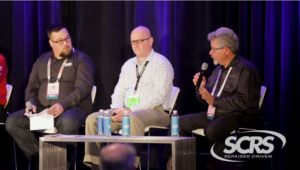 Collision repairers can learn more about the structural auto body work right from the OEMs themselves in a new Society of Collision Repair Specialists video posted Wednesday.
The film covers the first of SCRS' three OEM Collision Repair Technology Summits at SEMA 2018.
"The Rules – and Challenges – of Structural Repair on Modern Architecture" on Nov. 1, 2018, featured Dan Black, FCA advanced body development service engineer and collision repair manager; Robert Hiser, Auto/Steel Partnership advanced high-strength steel repairability lead and General Motors body structure service engineer; Shawn Hart, Audi curriculum designer and collision instructor; and Mike Kukavica, Porsche aftersales techical training collision repair technology instructor. It was moderated by Ron Reichen, a former SCRS chairman and the owner of luxury-certified Precision Body and Paint, and Database Enhancement Gateway Administrator Danny Gredinberg, who has held Mercedes and Porsche structural credentials.
"From research of advanced substrates and mixed-material designs to joining processes and equipment necessities, the program explores the range of considerations necessary to perform structural collision repair," SCRS wrote of the panel in a news release Wednesday.
The video is available for free on SCRS' YouTube channel SCRSCollision, and it might be a great tool for educating customers and insurers on why a particular repair needs to be handled in a particular way. (Especially if the customer owns one of the OEMs' brands.)
"With an ever-increasing focus on vehicle design with intentional flow of energy through structural components, and away from occupants, understanding how to anticipate and identify signs energy travel through the vehicle, and impacts that it may have in the repair process are critical for technicians and owners alike," SCRS wrote.
We've covered some of the content from the excellent panel over the past couple of months. Check these articles out, and then refer to the video for even more information on the topic:
Here's some other highlights:
00:14: Black presents on energy flow and steels in the next-generation Chrysler Pacifica RU platform.
07:00: Hart talks about the materials in the next-generation Audi A8, including a carbon fiber bulkhead that introduces complexity and time to the repair.
11:06: Hiser presents research on steel joining in the aftermarket.
21:13: Kukavica shows off "something cool": video of Porsche's carbon fiber wheels for the 911 Turbo S Exclusive Series.
27:38: Discussion on the costs of repair from the OEM's perspective.
31:55: Panelists talk about joining dissimilar substrates.
36:50: How to inspect vehicles which were built with energy flow as a consideration.
50:51: The question of body shops having to specialize.
53:28: The black box nature of adhesives in the aftermarket.
1:05:43: The possibility of OEM collaboration to help the aftermarket.
1:14:12: Mixed-material designs and clean rooms.
More information:
"SCRS Presents: The Rules – and Challenges – of Structural Repair on Modern Vehicle Architecture"
Society of Collision Repair Specialists YouTube channel, Feb. 20, 2019
"SCRS Video Release: The Rules and Challenges of Structural Repair on Modern Vehicle Architecture"
SCRS, Feb. 20, 2019
Featured image: From left, Database Enhancement Gateway Administrator Danny Gredinberg and Mike Kukavica, Porsche aftersales techical training collision repair technology instructor, listen as Robert Hiser, Auto/Steel Partnership advanced high-strength steel repairability lead and General Motors body structure service engineer, speaks Nov. 1, 2018, during the SCRS OEM Collision Repair Technology Summit. (Screenshot from Society of Collision Repair Specialists video)
Share This: