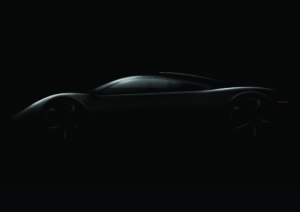 Some interesting news Wednesday out of Road & Track regarding McLaren F1 designer Gordon Murray's plans to develop an affordable superlight sports car.
Road & Track reported the car would weigh less than 1,873 pounds, cost less than £40,000 ($52,629 early Wednesday afternoon) for a base model and use the aluminum and carbon-fiber iStream Superlight format announced in 2018.
"I'll tell you what it is. It's a Lotus Elise, but usable every day," Murray told Road & Track. "You can get in and out. It's got a roof. It's got air-conditioning that works, sound system, sat nav, airbags…
"It's a market segment that's not just underpopulated, it's virtually empty at the moment."
Based on Road & Track's coverage, the vehicle appears to be the one pictured above, which was teased in 2017.
'iStream superlight' employs high-strength aluminium sections in place of the steel used in iStream and iStream Carbon," Gordon Murray Automotive wrote in 2017. "Its additional weight reduction over the current process delivers a body-in-white structure approaching 50% of the weight of stamped metal, while achieving new levels of rigidity, durability and platform flexibility. iStream superlight is the ultimate development of iStream technology and promises to be the lightest and most efficient process for body-in-white manufacturing for decades to come."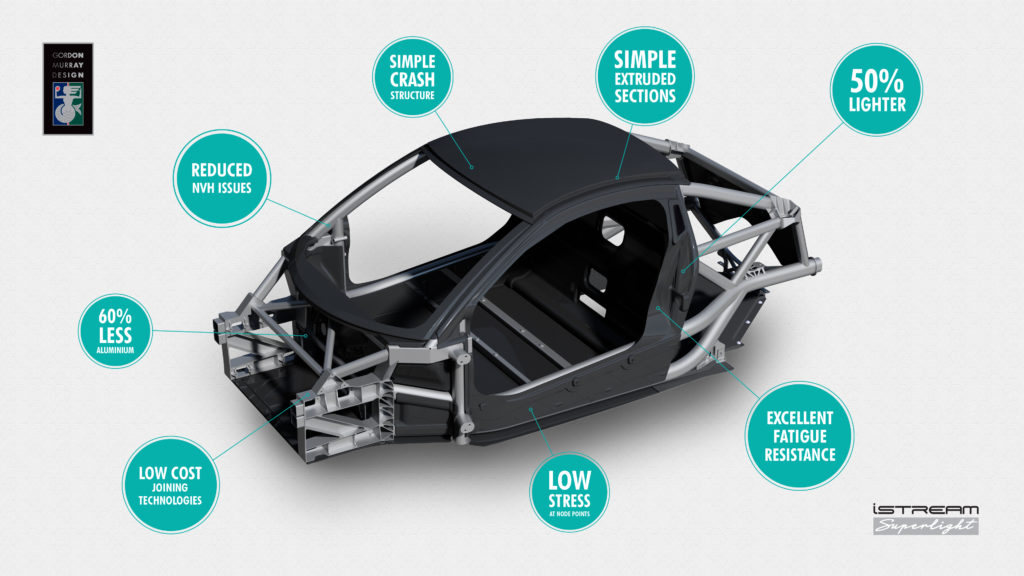 According to Road & Track, Murray will build the car, codenamed T.43, to show off iStream and potentially attract licensees. It reported that Murray has developed the low-cost iStream platform to produce teeny city cars and sports cars.
"But alongside that, we develop the two volumes, which have got all the engineering work," Murray said, according to Road & Track. "So, already the torsional stiffness and static bending, the crash events, the factory design to make 5000 to 10,000 a year, the business plan, imports, everything done."
This could be a way for new or established OEMs to develop new niche or even higher-run brands. After all, Forbes reported Elon Musk told Joe Rogan the original Tesla Roadster was originally supposed to be a Lotus with an electric powertrain, though it didn't work out that way.
The kind of cost Murray's talking here suggests the platform could be accessible to consumers and make carbon fiber more realistic to OEMs. This could potentially bring such advanced construction into body shops more quickly than would be expected.
Murray's firm in 2018 wrote in a news release that the aluminum and carbon-fiber iStream Superlight platform "can be adapted to suit every segment of vehicle from sports cars and ultra-efficient electric city cars to SUVs and light commercial vehicles." It proclaimed that the platform brought "Formula One-derived construction and technologies to mainstream car production."
"The new iStream Superlight approach to vehicle manufacturing is a paradigm-shifting innovation for the global automotive industry," Murray said in a statement. "It is a breakthrough that will deliver the lightest chassis technology for decades to come. The Gordon Murray Design team has created a unique, adaptable and cost-effective way for manufacturers around the world to dramatically improve vehicle performance and efficiency."
Gordon Murray Design said the iStream Superlight's skeleton is aluminum tubing, while its panels are honeycomb carbon-fiber, saving up to 50 percent of the weight of "conventional stamped steel" body-in white.
The firm said the lightness of the aluminum construction allowed the body-in-white to be built for an amount "cost neutral" to stamped steel. The aluminum "iFrame" provides the attachment point for the vehicle's "hard points (i.e. suspension, steering etc.)."
More information:
"Gordon Murray's Affordable 215-HP Sports Car Will Weigh Less Than 1900 Pounds"
Road & Track, March 6, 2019
"New Gordon Murray Design technology cuts vehicle body weight in half"
Gordon Murray Design, Sept. 11, 2018
Images:
Road & Track coverage March 6, 2019, indicated this vehicle teased in 2017 by Gordon Murray Design will be a sub-£40,000 sports car made with the iStream Superlight platform. (Provided by Gordon Murray Design)
McLaren F1 designer Gordon Murray's firm last week announced a new iteration of its iStream system, declaring the design capable of cutting body weight by "up to 50%." The design, known as the iStream Superlight, is shown in this infographic along with what the firm described as its advantages. (Provided by Gordon Murray Design)
Share This: