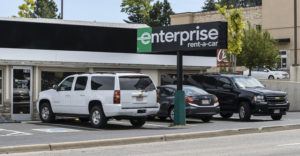 Enterprise Holdings on Wednesday announced it would start offering a vehicle-subscription service "in the next month."
The service would allow participants to swap out vehicles up to four times every month. It will launch in three states but is slated to expand.
"That means Enterprise is closely evaluating every possible option, from vehicle-subscription services and award-winning digital apps to autonomous technology and artificial intelligence," Enterprise Holdings operations Executive Vice President Randal Narike said in a statement. "We will be starting in three states, to allow sufficient time to study vehicle-subscription services and consumer preferences. When it launches throughout the U.S., the service will be fully vetted and specifically designed to meet evolving consumer needs."
Enterprise said it would provide more details on cost and geography after another announcement next month.
Subscribers will pay "one monthly fee" and "select from six different vehicle classes – full-size and premium sedans, small and mid-sized SUVs, and small and medium trucks – representing more than 20 makes and models," Enterprise wrote in a news release Wednesday.
The subscription will include "extra conveniences like physical damage and liability coverage, maintenance, registration, roadside assistance and Sirius radio (when available)," Enterprise wrote.
The company also declined for the moment to answer how collision and comprehensive coverage would be handled.
"Our new vehicle-subscription service will offer consumers another innovative mobility alternative, without the long-term financial burden or commitment typically associated with traditional leases or purchases," Narike said in a statement.
Enterprise's subscription could certainly be an interesting competitor to leasing or even outright ownership.
Here's a little context: According to Experian, 28.76 percent of new vehicles were leased in the fourth quarter of 2018, up from 28.28 percent the prior year. The average new lease payment was $448, up from $430, and the average lease term fell slightly from 36.33 months to 36.12 months.
The average new car payment rose $30 to $545, and the average loan term fell 0.33 months to 68.73 months.
Under leases and traditional ownership models, the motorist would pick the body shop and manage the repair. But it's conceivable Enterprise might for "subscribed" vehicles choose to manage the repair and pick the shop. Supplanting some leased/owned vehicles with subscribed ones could shift repairer market shares in an area.
Enterprise declined to answer a Thursday inquiry about collision repair facility selection, deferring again to the launch next month.
More information:
"Enterprise Holdings Announcing New Vehicle-Subscription Service Program"
Enterprise, April 24, 2019
Experian fourth-quarter 2018 market conditions presentation
Featured image: A Fort Collins, Colo., Enterprise Rent-A-Car is seen Aug. 25, 2013. (RiverNorthPhotography/iStock)
Share This: