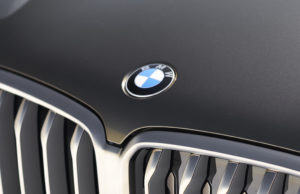 BMW last month announced new products and spending meant to support or develop dealership technicians, and at least one of the efforts will be available to independent collision repairers.
BMW on June 11 announced "TIS 2.0," the "all-new" version of its Technical Information System OEM repair procedures website.
"It was developed by BMW NA with feedback from technicians and can be accessed by BMW Center and MINI Dealer personnel on any mobile device, putting all technical data for every BMW and MINI model at every technician's fingertips," BMW wrote in a news release. "The ease and availability of this information directly on a mobile device improves efficiencies by eliminating the need for technicians to stop work, and log onto a desktop to look for information."
Independent collision repairers are able to access BMW repair procedures already; the OEM is a signatory to the Right to Repair memorandum as a member of the Alliance of Automobile Manufacturers. A BMW spokesman confirmed that the aftermarket would be able to use the new TIS 2.0.
"TIS 2.0 is available," BMW technology and innovation communications manager Justin Berkowitz wrote in an email. (Emphasis his.) "To meet the needs of each individual repairer, access is offered on a daily, monthly, or annual basis."
Unfortunately, independent body shops and mechanics won't have access to the other pieces of technology BMW revealed June 11. Nevertheless, it's worth examining the tech as a possible example of what another OEM or aftermarket provider might offer.
BMW said it had created TSARA, a new case-reporting system that would "speed repair and maintenance processes by an average of 70 to 75 percent." BMW said its features included "intuitive and user-friendly interfaces, faster case-entries and multimedia support." BMW also announced the rollout of "TSARAVision Smart Glasses," a headset granting technicians augmented reality support during repairs. Berkowitz confirmed that neither was available to the independent aftermarket.
The Google Glass-esque system allows a BMW expert to walk a technician through a repair using a hands-free video link.
"The expert can project step-by-step technical bulletins and schematic drawings onto the display inside the technician's glasses, as well as take screen shots and enlarge images for better visibility, BMW wrote. "The technician can open and view documents via voice instructions while working on the car.
"This information exchange is far more efficient than sending electronic forms and photos or explaining complex technical issues over the phone."
The glasses are RealWear HMT-1 Smart Glasses — the same kind used in a United Kingdom Volkswagen van technician pilot announced last year. They were to have been rolled out to all 347 BMW centers by the end of last month and carry Ubimax Augmented Reality software.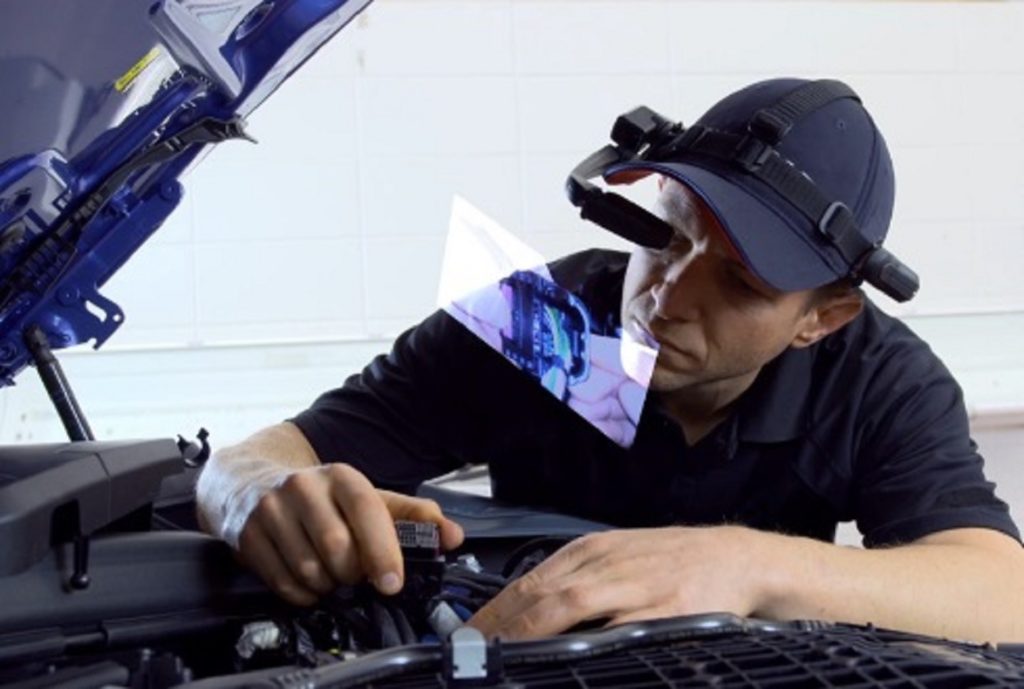 Ubimax quoted a Los Angeles BMW shop foreman whose shop likes the glasses so much it used them as an advertising point:
The shop foremen at Nick Alexander Imports in Los Angeles who is using Ubimax Frontline on smart glasses from Realwear is very positive about this new and disruptive After-Sales Service tool. Already after a short period of use he confirms the solution proving to be a valuable asset: Henry Gelb, Shop Foreman at Nick Alexander Imports in Los Angeles says: "It is very easy to connect with BMW through the glasses and it saves time. In one session, we were able to eliminate a lot of back and forth emails and phone calls. Any time a car can be fixed faster, it promotes efficiency and productivity." Gelb further said his center is so impressed with the glasses that he is sharing their availability with customers on the center's Facebook page. Training to use the smart glasses is easy, Gelb agreed and said anyone who has a smart phone would easily adapt to using the glasses. The shop foreman encourages everyone to embrace the technology. He concludes about the new solution: "Having a valuable tool like this in your arsenal when dealing with difficult-to-diagnose cars will be well worth it."
While collision repairers won't be able to use the glasses or TSARA, they can still seek help from BMW on a tricky repair question. BMW paint and body technical specialist David Sosa in February drew industry attention to the existence of PUMA, a means for collision repairers to have BMW engineers answer questions for cases which fall outside of OEM repair procedures.
PUMA involves the shop submitting photos, measurements and information about an unusual piece of damage to the OEM. The system is available to all shops — not just the independents who've taken BMW training or BMW dealers with collision operations — but they have to submit the inquiries through a dealer, Sosa said.
Another recent BMW announcement might indirectly affect collision repairers. The OEM June 26 announced the grand openings of new Atlanta, Ga., and Spartanburg, S.C., technician training centers and additional capacity at Woodcliff Lake, N.J. and Ontario, Calif., sites.
"As vehicle technology becomes increasingly complex, the need for highly trained and skilled technicians becomes critical to providing the premium level of service our customers demand", BMW aftersales Vice President Claus Eberhart said in a statement. "These new facilities will not only ensure that our technicians will have the ability to maintain and service both current and future generations of BMW vehicles, but also the opportunity to have a successful career in the automotive industry."
BMW said this $56 million effort would improve the OEM's training capacity by 50 percent and assist programs like BMW's Service Technician Education Program. The 16-week program gives postsecondary vo-tech students hands-on "BMW technical education." All but 5 percent of the nearly 5,200 STEP graduates since 1997 were offered a "well-paying" BMW dealership job.
As noted above, there might be some ramifications here for independent collision repairers. BMW demonstrating to parents, students and educators that "well-paying" jobs exist in automotive repair and encouraging such jobs might help promote the trade. Independent shops also will face either a recruiting opportunity or a greater source of competition from the body and paint technicians emerging from the new Southeast facilities.
According to BMW, the $10 million Spartanburg site next to BMW's factory "includes two technical training workshops as well as four paint and body training rooms." A new $17 million, 53,000-square-foot Atlanta site features "technical training, STEP/Apprentice training, Motorrad and body and paint dealer training."
More information:
"BMW of North America Introduces Smart Glasses and New Technician Communication Systems at U.S. Dealerships to Reduce Repair Times and Improve Customer Satisfaction."
BMW, June 11, 2019
"BMW of North America Expands Investment in Technician Training with the Openings of Two New Facilities, Expansion of Two Others."
BMW, June 26, 2019
Images:
A BMW logo on an X6 is shown. (Provided by BMW)
BMW has announced the rollout of "TSARAVision Smart Glasses," a headset granting technicians augmented reality support during repairs. (Provided by BMW)
Share This: