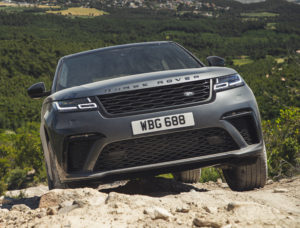 The average repairable vehicle's headlight price has climbed from $307.73 in 2015 to $418.36 so far in 2019, and the increase proves even more dramatic when one looks at late-model vehicles, according to Mitchell data posted in June.
The average current-or-later-model year vehicle's headlight rose from $499.20 in 2015 to $773 so far in 2019, according to data collected by Mitchell.
"Headlamps account for 2.4 percent of all parts replaced on repairable estimates in 2019 YTD, so the increase in prices that the industry is experiencing is a significant contributor to the rise in repairable severity," Mitchell wrote in a June 7 mPower report.
OEM and remanufactured headlights saw the largest gains in price, with the average headlight cost on an estimate growing more than $100 between 2016 and today. The average OEM lamp rose from $619.75 in 2016 to $783.08 now. Recycled and aftermarket lamps grew in the $70 range.
Luxury OEMs made up the top 10 manufacturers when it came to highest average headlight cost this year. But the highest growth in headlight cost between 2015-19 was actually seen in mainstream FCA and General Motors brands, notably Dodge with a 137.80 percent bump.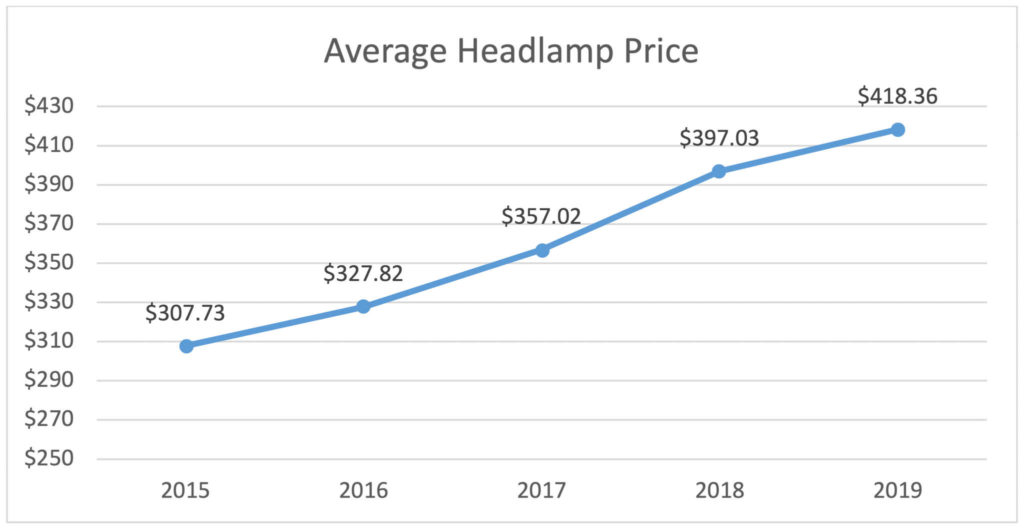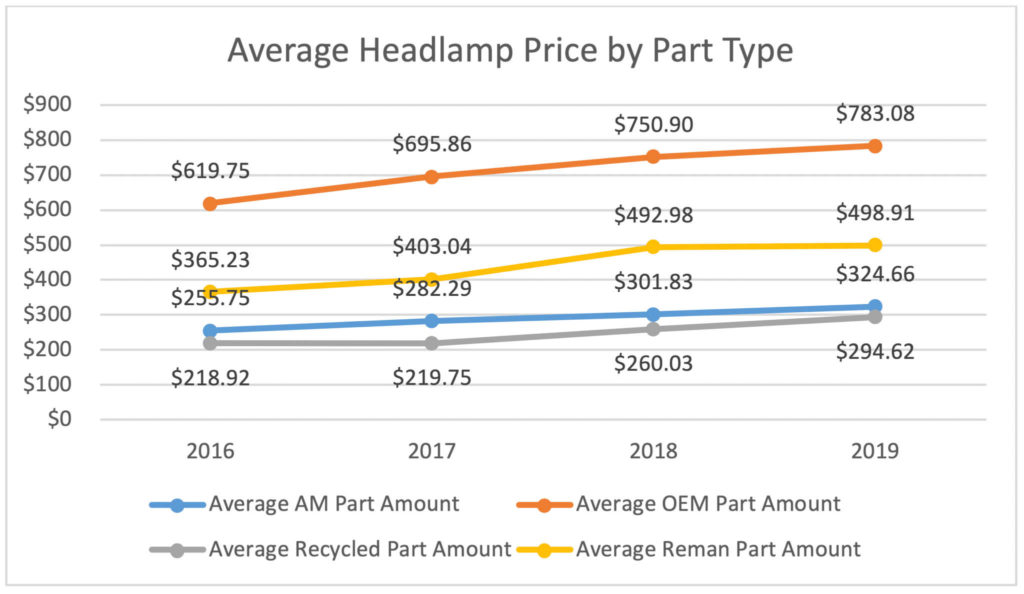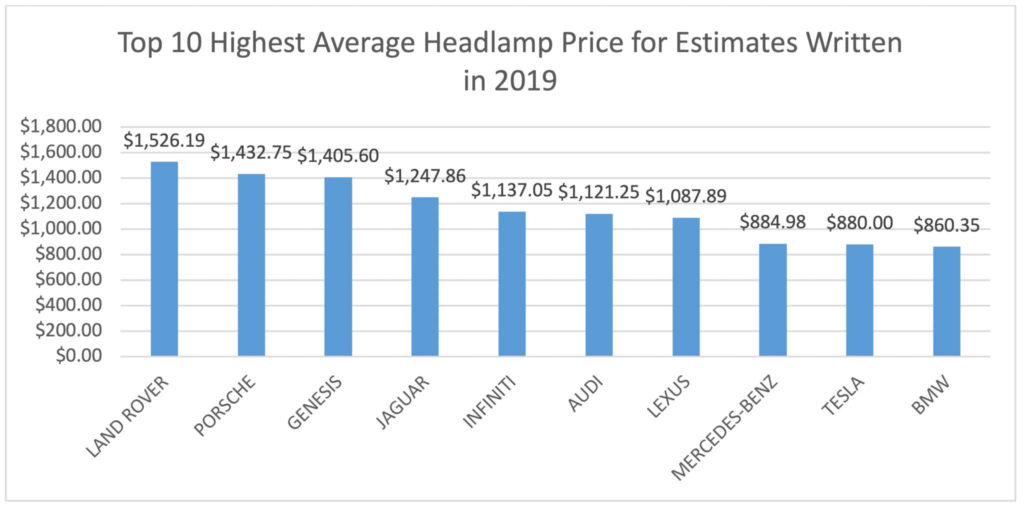 Mitchell suggested the gains stemmed from more automakers shifting to LEDs — it noted the popular Corolla and Camry offer them standard for the 2019 model year — and from more advanced innovations.
The Insurance Institute for Highway Safety in 2018 observed that 45 percent of models it studied offered at least the option of automatic high beams, which adjust themselves from high to low beams and back again whenever an oncoming vehicle is detected. Mitchell referenced this stat and the ability of some headlights to automatically curve themselves around corners in its June 7 post.
The technology could get even more interesting, though it might not end up costing insurers and consumers more on at least one vehicle.
Higher-end lighting available on the 2020 Cadillac XT6 includes two matrices of LEDs which can be incorporated into an "advanced headlamp system" in areas where the technology is legal, according to XT6 engineering manager Joel Hoffman.
The standard XT6 headlights have the automatic high beam ability. But should a customer possess the higher-end XT6 illumination, the LED matrices could take this even further. The lights can control themselves to only dim a pattern in the shape of the vehicle in the other lane and even move that lower-beam portion to follow the other car.
The technology is legal in Canada, but NHTSA hasn't yet approved it, Hoffman said at the 2019 North American International Auto Show. Asked if GM could enable the system through an upgrade immediately if NHTSA gave its blessing, he said "the ability is there," but the OEM would have to figure out how to market it.
More information:
"Blinded by the Light: The Impact of Advances in Headlamp Technology on Auto Claims"
Mitchell, June 7, 2019
Images:
The headlights of a 2020 Land Rover Velar are shown. Land Rover's headlights were the most expensive on average found in 2019 Mitchell estimates, according to the information provider. (Provided by Mitchell)
The average repairable vehicle's headlight price has climbed from $307.73 in 2015 to $418.36 so far in 2019, according to Mitchell data posted in June. (Provided by Land Rover)
The average OEM and remanufactured headlight rose by more than $100 between 2016 and 2019, according to Mitchell data posted in June. (Provided by Mitchell)
Luxury OEMs made up the top 10 manufacturers when it came to highest average headlight cost this year, according to Mitchell data posted in June. (Provided by Mitchell)
Share This: