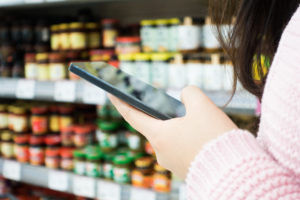 Implementing a means of keeping customers in the loop through text messages and educating them with photo evidence might prove as successful for collision repairers as it's been for a large national mechanical repair franchise.
Christian Brothers Automotive this year will have converted all its 200 locations to the autotext.me system, establishing brand consistency and bringing some locations into a formal texting platform for the first time. A representative offered us a chance to interview technology solutions Vice President David Domine about the conversion, and his perspective might offer some insight for collision repairer owners and managers evaluating software and workflows.
Domine said the idea originated in late 2017. Just less than half of the franchisor's 200 locations had a platform for text updates to customers at all, and a mix of systems existed within the pool of shops with such a process in place.
The experience had been "very hit or miss," Domine said. In fall 2018, the company decided to standardize with autotext.me for digital vehicle inspection reports and texting and commit as a brand to telling customers, "'This is what you can expect,'" he said. In addition to that consistency, a single system allowed for centralized training and support and consolidating what had been multiple add-ons to their shop management system, according to Domine.
Christian Brothers provided a "pretty long runway" with a deadline of the end of 2019, allowing some of its facilities under existing two-year text system contracts to make the most of the agreements and not break them.
Domine said the shops using the digital vehicle inspection reports have experienced a "good impact." The digital inspections collect photos, videos and diagnoses in a document accessible via a hyperlink texted to the customer, Domine said.
Facilities using such a system are experiencing higher average numbers of repair tickets and higher repair dollar values per ticket, according to Domine.
While Christian Brothers had a minimum photo threshold, it hadn't yet pinpointed a clear point at which the volume of photos becomes overkill. "It's kind of funny," Domine said.
Some shops might provide 10 images per digital vehicle inspection report, while others exceed 20 or 25, he said.
The photo portfolio might include car parts with no problems at all. Customers want photos of those components too, according to Domine.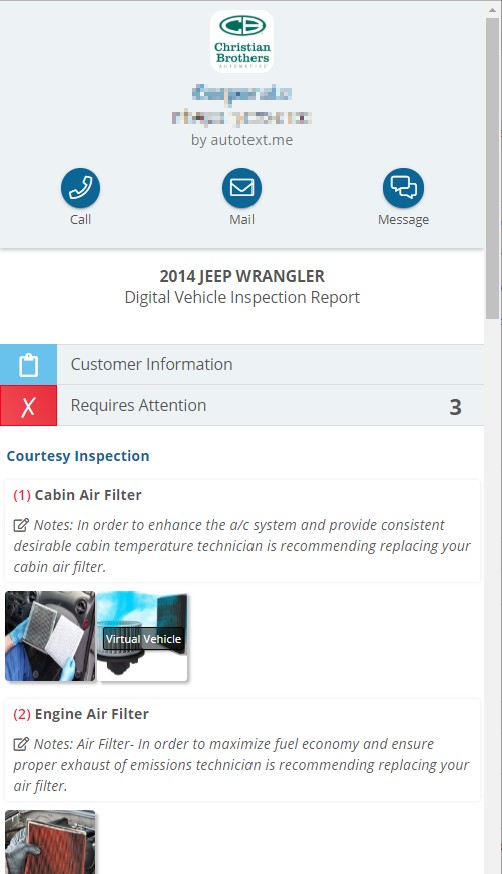 Just like a collision repairer, "we will absolutely take pictures of all four corners," he said. Christian Brothers will photograph items like the tires or the instrument cluster as well.
Domine said there's a "level of trust" a shop creates when the customer comes out and sees the problem, such as "'this bearing is loose.'" To create something close to that experience is a "game-changer," he said.
Photos can be annotated to help make a point about what the customer's seeing, he said.
The more photos a customer sees of their vehicle "increases that level of trust," according to Domine.
He said it's also nice for Christian Brothers see a picture of the actual car in its records instead of a generic image.
Despite the short repair cycle at a mechanical operation like Christian Brothers, text messages updating a customer about the vehicle's status are welcomed by the patron, according to Domine.
Domine said that if a customer drops off a vehicle at 7 a.m., "they kind of want to know" by 10 a.m. that the mechanical shop hasn't forgotten about it. The system Christian Brothers uses automates this process; if a vehicle is assigned to a technician, for example, the customer gets a notification. Domine described the texts as "relatively generic" but providing some "peace of mind."
This would seem to reinforce the significance of keeping a customer informed during a collision operation that typically takes far longer.
CCC in 2016 reported discovering that keeping customers informed is a more important CSI factor than cycle time, a consideration which 2019 "Crash Course" data suggests continues to hold true today.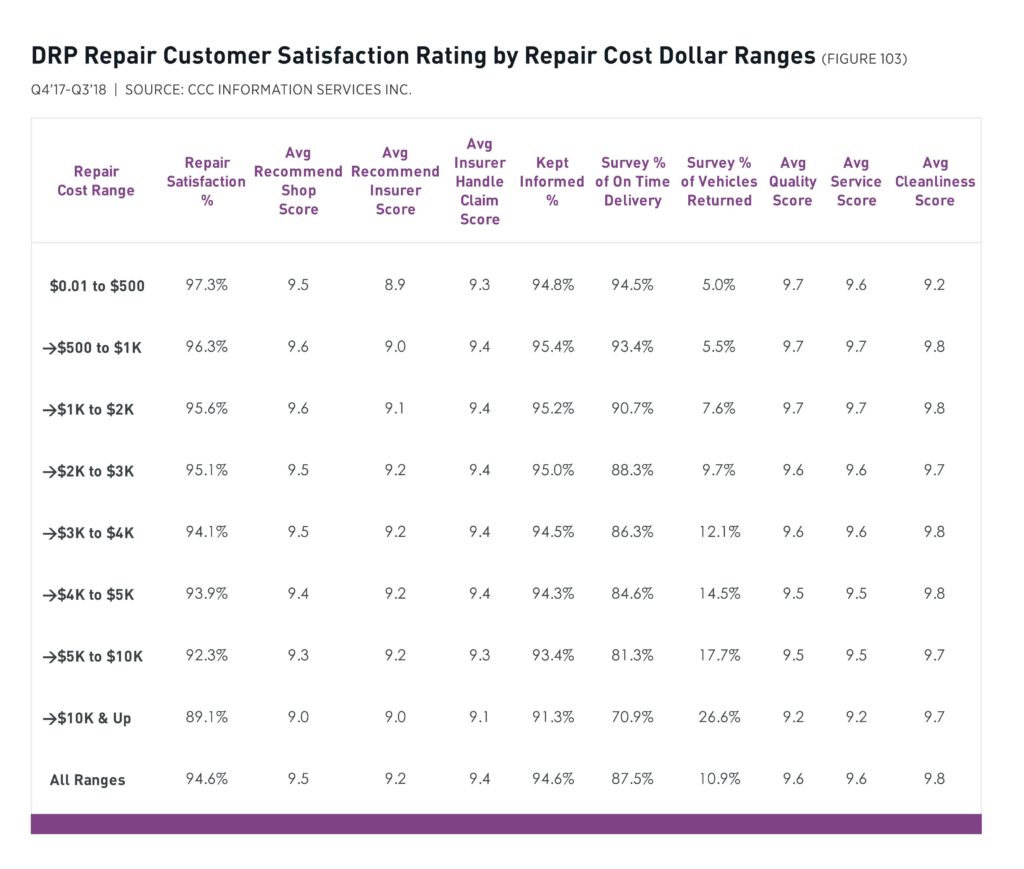 The information provider in its 2016 also noted that its own UpdatePlus platform saw customers overwhelmingly choosing to receive text messages instead of email: Two-thirds preferred texts. Customers also were twice as likely to reply to a text than an email, CCC wrote in its 2016 "Crash Course."
Most customers say yes when asked if they'd be interested in text notifications, Domine said.
Over on the auto insurance satisfaction side, "we absolutely agree with that," JD Power property and casualty lead David Pieffer said in 2018 when we referenced the CCC notification-CSI findings. He said he's found some carriers with longer cycle times but who set expectations and keep the customer informed still do well with customers. It "truly negates the need for speed," he said.
California recently changed regulations to allow consumers to authorize work electronically rather than with a physical signature. In a discussion about such authorization, Domine said customers with trust are indeed more likely to approve work via text messages.
However, Christian Brothers still follows up with a phone call to verify the consumer is truly on board with the entire scope of the work described. He noted a new shop management system might allow a consumer a means of a la carte reviewing and electronically approving or denying various operations suggested by the shop, he said.
Asked for advice on what shops examining such customer information systems should consider, Domine said Christian Brothers researched what was available for a while. He recommended also looking on YouTube for video demonstrations, and then brainstorming what your shop could do with it and the "dream list" for the customer experience.
Features, value and training support were Christian Brothers' three overarching criteria in picking a provider, he said.
The ability to capture photos and generate the digital estimate changed the company's SOP, but the process ultimately was "very, very similar" to what technicians were doing now, according to Domine. For example, a visual examination in a company checklist would still happen but include snapping a photo as well.
Domine said owners could expect "inherent pushback" from staff that the work would take longer. He also said Christian Brothers worked to eliminate excuses by making sure technicians had tablets to take photos or were permitted to use their own phones.
Domine said Christian Brothers sends notifications about four times during a day. "Customers love it," he said.
Domine recalled his own consumer experience at a shop at which one service adviser would use a similar system, while the other wouldn't.
"I was always so frustrated" if he got the adviser who eschewed the process, Domine said. He called it "very, very comforting" to get such a text.
Images:
Providing text-message updates and digital vehicle inspections to consumers might be as good a strategy for a collision repairer as a vice president suggested it had been for the large mechanical chain Christian Brothers. (xijian/iStock)
An example of a digital vehicle inspection used by Christian Brothers. Redaction by Christian Brothers. (Provided by Christian Brothers)
CCC in 2016 reported discovering that keeping customers informed is a more important CSI factor than cycle time, a consideration which 2019 "Crash Course" data suggests continues to hold true today. (Provided by CCC)
Share This: