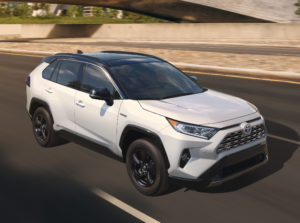 The mixed-material 2019 Toyota RAV4 now on sale is 4 percent lighter than its predecessor, Novelis said earlier this year.
Toyota in November 2018 touted high-strength steel in the next-generation vehicle for cutting upper body weight. But Novelis in April revealed that it supplied lightweight aluminum parts for the next generation of the popular crossover, including the hood, fenders and liftgate.
"Novelis is proud to expand our partnership with Toyota as the company takes the RAV4 to the next level of safety, performance and style," Novelis North America President Marco Palmieri said in a statement April 16. "We are confident that the unparalleled quality and strength of Novelis aluminum will help Toyota exceed the high expectations of new and loyal RAV4 owners."
Novelis said it used Advanz 6HS-s600 and 6HS-e600, describing the aluminum alloys as "heat treatable" and "specifically designed and optimized for high strength requirements, offering a balance of formability and strength."
The company said it also invented a new thermomechanical manufacturing process at the Oswego, N.Y., plant supplying Toyota.
The RAV4 was the No. 4 vehicle in the country in 2018 at 427,168 units, according to Good Car Bad Car. It's the No. 1 vehicle in America that isn't a truck, Novelis pointed out.
The fact that the top three vehicles — the F-150, Silverado and Ram — have mixed aluminum and steel in their latest generation already meant a repairer lacking aluminum training and equipment would potentially be kissing a massive chunk of business goodbye. The No. 4 RAV4 going partly aluminum would seem to further tighten the screws.
Aluminum precautions
Chemistry and physics don't care that the Silverado, Ram, and RAV4 aren't as aluminum-intensive as the F-150. Aluminum and steel dust are still going to do what they're going to do, and you likely need similar training and equipment to counter it.
Hopefully, shops already geared up back when the aluminum F-150 hit the scene in 2014-15. If not, it's kind of getting to the adapt-or-die point.
Toyota's collision repair manual on the 2019 RAV4 includes a document listing precautions for working on aluminum alloy panels.
Aluminum corrodes galvanized steel's zinc and exposes steel to corrosion, while regular steel and iron corrode aluminum.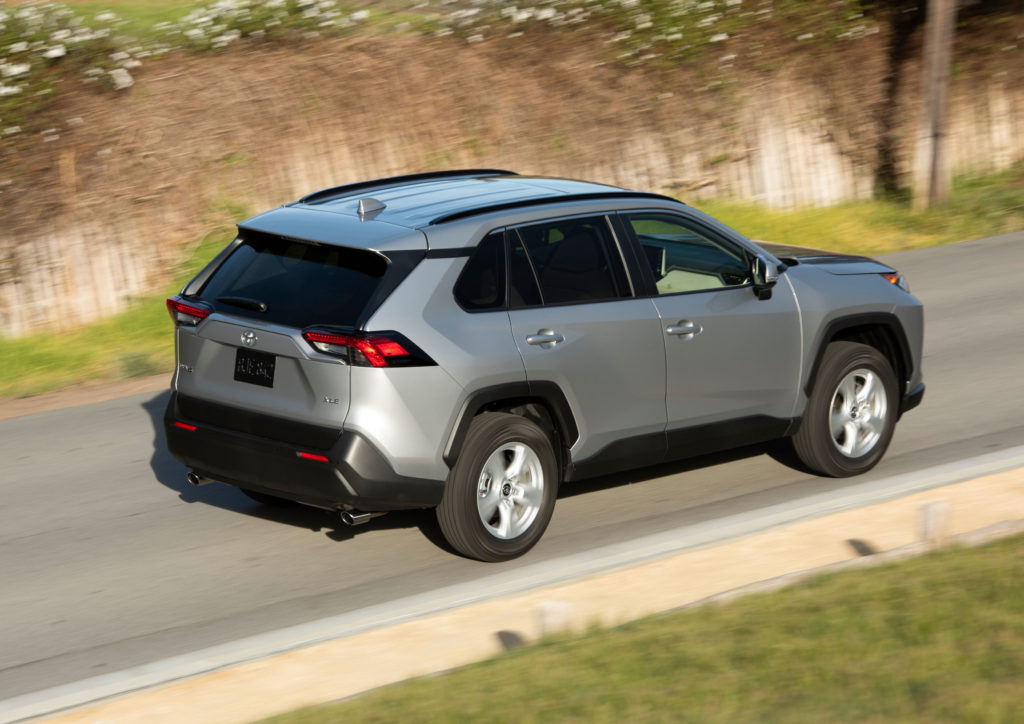 Toyota warns that "Tools and materials in contact with the substrate of the aluminum alloy panel should be separated from those used for steel panel repair or cleaned and used once sterile.(hammers, dollies, sandpaper, etc.)"
It also says not to allow iron particles from steel into the aluminum area.
Toyota also warns of the risk of aluminum dust explosions and advises keeping the environment clean, not using an air blower, not welding near the aluminum and using an appropriate container or mechanism to collect the dust, such as an antistatic broom or explosion-proof collector. The OEM also suggests whoever disposes of the dust should be grounded and treat it like industrial waste.
The OEM also suggests a variety of personal protective equipment because aluminum, while nontoxic, "is very light" and prone to get into lungs and eyes.
Novelis said its aluminum helped offset Toyota adding 45 pounds of weight for safety features including ADAS.
The 2019 RAV4 upgraded an already standard Safety Sense-P ADAS suite on the 2018 RAV4 to a standard Safety Sense 2.0, so it's unclear if Novelis calculated the 45-pound figure by comparing the 2018 and 2019 RAV4s or a 2019 RAV4 to an older RAV4 without any Safety Sense tech at all.
Regardless, it's an interesting metric on how additional technology contributes mass that might need to be offset through vehicle body lightweighting.
Body and soundproofing
Moving into the body itself, Toyota said the 2019 RAV4's unibody was 57 percent more rigid than the 2018 RAV4. The OEM's TNGA-K platform's lower powertrain and the high-strength steel in the upper body mentioned above moved the vehicle's center of gravity lower, according to Toyota.
Toyota also ramped up soundproofing on the 2019 RAV4, a decision with potential ramifications for collision repair.
"The high-strength TNGA platform is the first defense against noise intrusion," the OEM wrote. "Sound-damping and soundproofing materials have been optimized throughout the vehicle, with a particular focus on minimizing noise in the frequencies that interfere with conversation in the cabin.
"Holes and gaps between parts have also been filled in with sound-damping material for an even greater reduction in road noise intrusion. As one example, the floor silencer pad is now one large piece, and its surface area is increased from 60 percent coverage to 92 percent."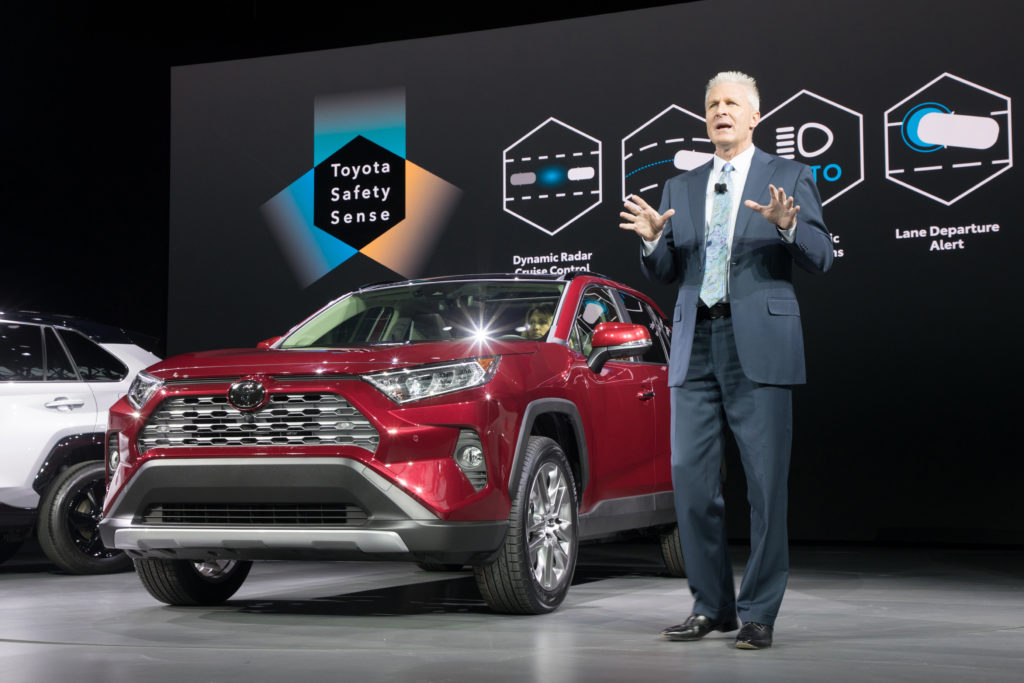 Other tech to watch
Other items possibly of interest to collision repairers:
• Headlights and taillights are "Multi-LED," even on the base LE.
• The fuel tank is "saddle-style" rather than just on one side.
• Steering and suspension: The power steering system is rack-mounted instead of column-mounted.
Optional all-wheel drive comes with a Multi-Terrain Select feature on gas models. It also can adjust to save gas by using "the world's first ratchet-type dog clutches to stop the rear-axle driveshaft's rotation."
Limited gas and Adventure models with all-wheel drive get a "new, segment- and Toyota-first, Dynamic Torque Vectoring All-Wheel Drive with Rear Driveline Disconnect." It can direct engine torque to both or one rear wheel.
All RAV4s have hill-start assist and trailer sway control standard.
• ADAS: Safety Sense 2.0 adds "Lane Tracing Assist," which keeps a better eye on the road during an adaptive cruise control freeway trip, and "Road Sign Assist," which recognizes and points out road sides to the driver. Blind spot monitoring and rear cross-traffic autobraking come standard on the XLE and higher trims; it's an option for the LE base trim.
"Intelligent Clearance Sonar" is an option on the XLE and higher trim; it's standard on the Limited RAV4. It's kind of like rear autobraking but at slower speeds.
• Cameras: A "panorama backup camera with customizable dynamic grid lines" is an option on the RAV4. The Limited trim can have an optional "Bird's Eye View Camera with perimeter scan, overhead 360-degree view, and curb view."
The rearview mirror on the Limited gas trim and the Limited and XSE hybrid trims also can be switched to an image from a wide-angle camera in the rear of the vehicle for a wider field of view.
• The RAV4 hybrid remembers how you've been driving. "Predictive Efficient Drive (PED) essentially reads the road and learns driver patterns to help optimize hybrid battery charging and discharging operations based on actual driving conditions," Toyota wrote. "The system accumulates data as the vehicle is driven and 'remembers' features such as hills and stoplights, for example, and adjusts the hybrid powertrain operation to maximize efficiency. Operation is transparent to the driver."
More information:
"Toyota Selects Novelis as Aluminum Supplier for 2019 RAV4"
Novelis, April 16, 2019
"All-New 2019 Toyota RAV4 Breaks the Mold for the Segment It Created"
Toyota, Nov. 20, 2018
Images:
The 2019 RAV4 has aluminum fenders and an aluminum hood and liftgate from Novelis. (Provided by Toyota)
Jack Hollis, Toyota division group vice president and general manager, appears at the debut of the 2019 Toyora RAV4 at the New York Auto Show. (Provided by Toyota)
Share This: