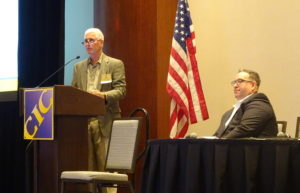 A Collision Industry Conference committee trying to produce industrywide parts definitions announced last week it had split into subcommittees after failing to reach agreement.
The two working groups on Nov. 5 offered the CIC audience their competing visions of how to explain parts which before might have fallen into vague and problematic categories like "Opt-OEM" or "Alt-OE." The session then saw a debate which illustrated why such a deadlock was occurring.
Committee Co-Chairman Ken Weiss noted the "big brouhaha" at a 2016 CIC over what the term Opt-OEM meant, agreeing it was a "catchall bucket" being used for multiple part types. He'd been trying to address the issue, which he said came to a head when California said it didn't recognize terms like "Opt-OEM, alternative or surplus." He wound up being made the CIC Parts and Materials Committee chairman.
Weiss (SSF Imported Auto Parts) brought Aaron Schulenburg (Society of Collision Repair Specialists) on as co-chairman following their discussion at the January CIC. Schulenburg's SCRS had also investigated which automakers had official "Opt-OE" programs in 2015 after the trade group became concerned with the vague "Opt-OE" concept creeping into estimates. CCC "Crash Course" parts data show the term arising in 2007.
However, Weiss and Schulenburg's Parts Committee ultimately found factions "constantly jockeying" to control the direction of the work, with the conversation "defensive" on both sides, Schulenburg said.
He said it was fair to say talks "were going nowhere."
Schulenburg said near the end of the CIC session Nov. 5 that they felt it was important to honestly communicate the challenge to the industry. Both sides had defined their perspective, he said.
Weiss' Working Group I produced six part categories, broadly classified along the lines of OEM, Tier 1-built parts identical to the OEM's, and aftermarket.
Schulenburg's Working Group II used just two: OEM and non-OEM.
Both groups' categories only apply to new, replacement parts for the customer's market. As Weiss put it for his group, that was a difficult enough task by itself. Classification of recycled, refurbished and remanufactured parts would be handled later, he said.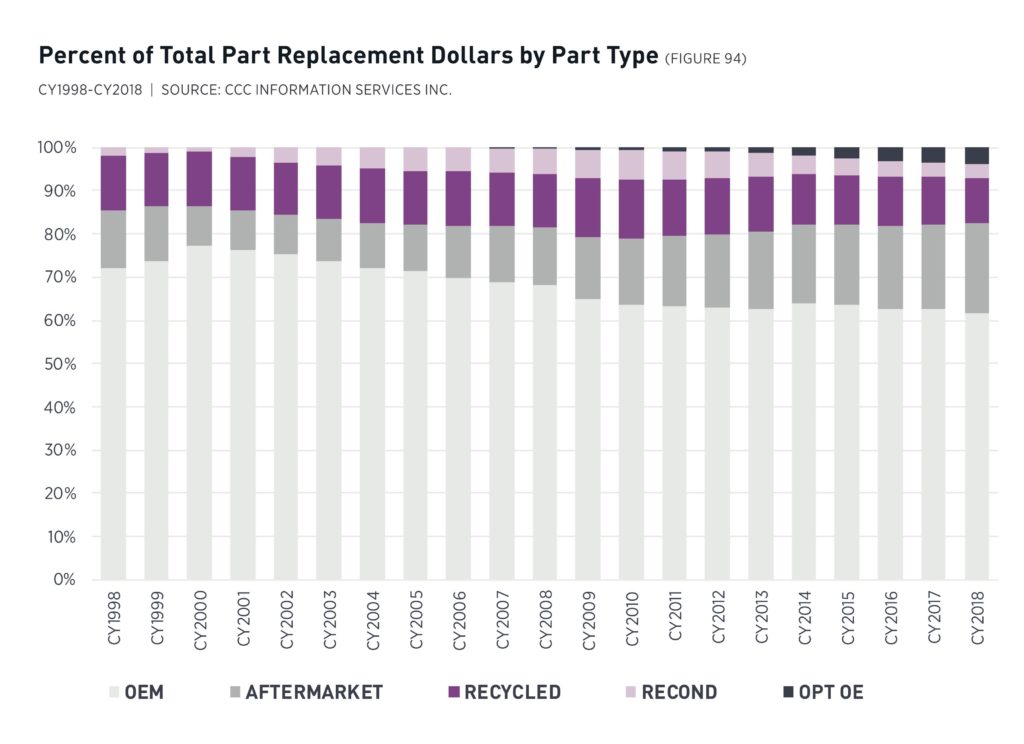 Working Group I: Six categories
Parts and Materials Committee Working Group I drew representatives of "Shops, Suppliers, Insurers & Info Providers," according to a slide presented to the CIC Nov. 5. That working group generated six part descriptions Weiss described as focused on business-to-business communications.
When auto body shops and adjusters saw an electronic parts listing, they would "have all the facts," he said. The shop could understand the part and communicate it to consumers.
However, the group also wanted to respect customer parts choice and to address state laws and regulations, Weiss said.
The terms also supported the mechanical service and repair industry concept of shops explaining parts and consumers choosing from them, according to Weiss. He said upon starting at SSF, he learned that there were "additional parts definitions that this industry hadn't even recognized yet" — the mechanical side seemed to have definitions that collision didn't.
Here's how those six categories stand, according to Weiss and his slides.
OEM Dealer: New vehicle manufacturer part, in that manufacturer's packing, from that manufacturer's supplier and carrying that manufacturer's warranty.
OEM Non-Dealer: A new vehicle manufacturer's part in the original packaging. However, it's sold by a third-party supplier and carries a third-party warranty — sometimes "greater than the vehicle manufacturer's warranty," Weiss said.
Tier One- OEM: A new part made by the vehicle manufacturer's supplier, with identical specifications and engineering to the version provided the automaker. It carried the OEM brand, such as a "BMW logo," according to Weiss. However, it would be sold in the Tier 1 company's packaging, by a third-party supplier, carrying a third-party warranty. Weiss gave the example of a "Bosch part" in a "Bosch box."
Tier One- OEM with Branding Differences: A "nuance" of the Tier One- OEM category, according to Weiss. It's a new part built by the vehicle manufacturer's supplier, with identical specifications and engineering to the one provided the automaker. "However, there are branding differences," Weiss said, offering the example of a part identical to an official Mercedes part except for the Mercedes brand etched into the original's housing. It's sold in the Tier 1 manufacturer's packaging, by a third-party supplier, with a third-party warranty.
Aftermarket Certified: An aftermarket manufacturer's part certified by a separate entity other than the manufacturer, such as by CAPA or NSF. It's sold in aftermarket packaging by a third-party supplier and carries a third-party warranty.
Aftermarket Non-Certified: An aftermarket manufacturer's part lacking certification from a separate entity. It's sold in aftermarket packaging by a third-party supplier and carries a third-party warranty.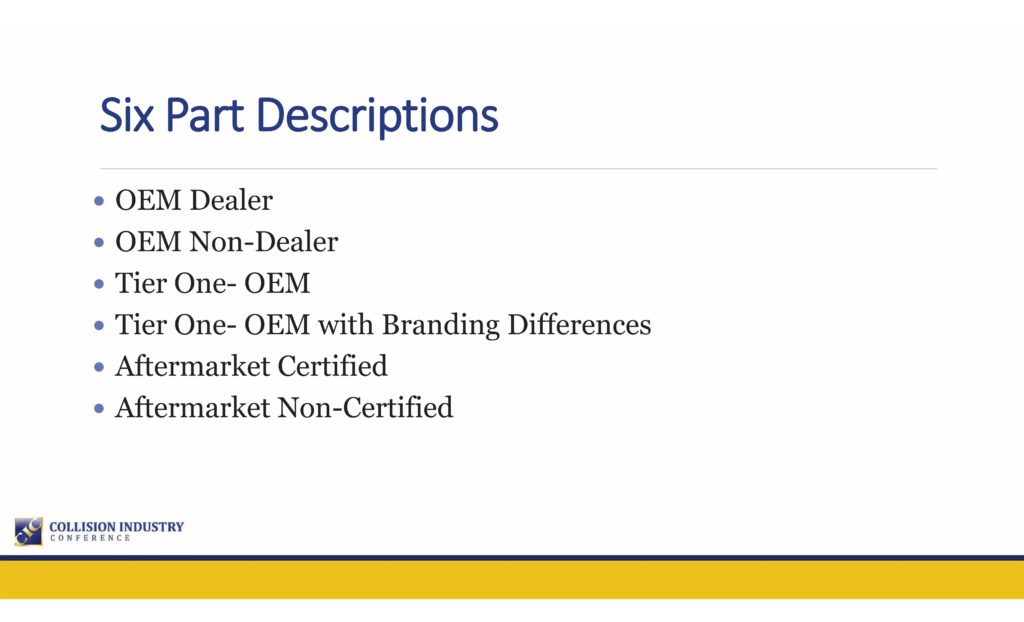 Weiss said the group considered but rejected a seventh category: "Aftermarket Tier One," defining it as a part a Tier One supplier to an OEM makes that might not be identical to the OEM, perhaps "reverse-engineered."
"We can't find any designation that would differentiate this part from any other aftermarket," Weiss said. Hence, the working group cut the term, he said.
He said the group deliberately didn't classify any of these more broadly as OEM, aftermarket or non-OEM — terms which he said could vary by state, insurance company or platform. Instead, they decided to use attributes.
Weiss also said the idea of "policing suppliers" who misclassify parts was brought up in meetings, but wasn't his group's objective.
However, he said he felt part procurement platforms could improve. Besides adopting his group's descriptions, Weiss called on them to list the part manufacturer's name — not just the supplier's. Some companies have a "very well-respected name," and that means something to the buyer, he said.
Working Group II: OEM or non-OEM
Schulenburg said he created a second subcommittee comprised of OEMs and all of the committee's repairers who weren't invited to participate in Working Group I.
Unlike the other working group, the committee focused on business-to-consumer communications rather than B2B messaging. They ultimately divided all parts into two categories: OEM and non-OEM.
According to a Working Group II slide, an "OEM" part had to meet the following criteria:
New part in the Vehicle Manufacturers' (also referred to as OEM) authorized and official packaging, manufactured directly by the OEM or their approved, contracted supplier, distributed exclusively through the original equipment manufacturer's official, authorized distribution network in the market specified by the OEM, warranted, updated, and supported exclusively by the OEM.
Everything else was deemed "Non-OEM."
"That's super-clear for a consumer to understand," Schulenburg said. Being non-OEM didn't mean a part was bad, wrong or "unacceptable," and thousands upon thousands were legitimately chosen and sold annually, he said.
From a repairer's perspective, what is communicated to a consumer and what they should take away from the literature the shop provides "should be crystal-clear," he said.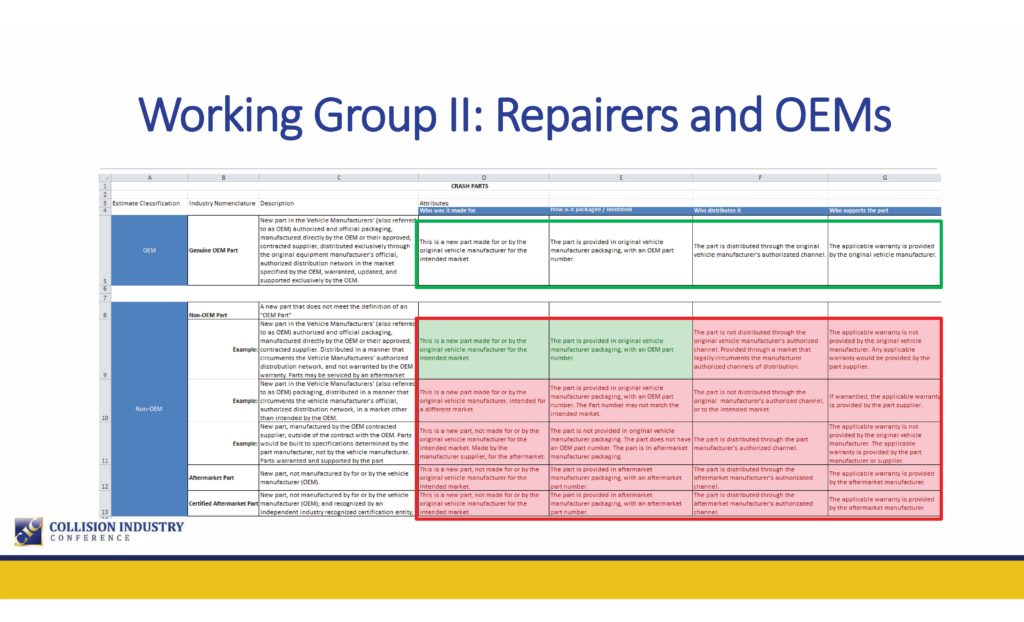 Clarity is necessary for a consumer who doesn't understand the industry and is caught between parties like the shop, insurer, part manufacturer and OEM, he said. As long as the customer understood which parts were OEM and supported by the vehicle manufacturer and which weren't, "then that's OK," he said.
Schulenburg said Working Group II also felt its approach was consistent with what California was trying to accomplish.
However, while Working Group II focused B2C instead of B2B, Schulenburg also observed that the Collision Industry Electronic Commerce Association's 2019R1 V5.9.0 definition of "New OEM" was basically identical to his working group's. CIECA, a neutral inter-industry association, develops the back-end digital standards so all the various' stakeholders' software can communicate.
The "OEM" part definition can be deconstructed into four attributes, Schulenburg said. A slide listed them as "Who it was made for," "How is it packaged/ Identified," "Who distributes it" and "Who supports the part." Matching the group's OEM definition 4 for 4 means a part is OEM.
He said the toughest component class to classify as OEM or Non-OEM was an part made for the vehicle manufacturer for that market but not distributed within the authorized OEM channel. But if the OEM didn't warranty or recognize the part, it was hard in the eyes of the committee to call it OEM, Schulenburg said.
Schulenburg said his group originally tried to name each type of part as Weiss' did, but found it too difficult. However, he said describing a part using the four attributes could yield examples of various Non-OEM parts.
California
The California Bureau of Automotive Repair had since at least 2016 been telling shops that they couldn't use vague terms like "Opt-OE," but nobody really seemed to be paying attention until they rewrote regulations in 2018 to drive that point home.
Automotive repairers in arguably the nation's most important market are governed by Business and Professions Code 9884.9, which says they must identify parts as "new, used, rebuilt, or reconditioned." They must also comply with 16 California Code of Regulations §3353: "Each new replacement crash part listed in the estimate shall be an original equipment manufacturer (OEM) part unless specifically identified as a non-OEM aftermarket crash part."
The BAR had seen a trend of parts being labeled with nebulous terms like "LKQ" or "Alt-OE," and a BAR official said in September 2018 such a label "does not meet the requirement" of telling customers what kind of parts are actually being installed.
Using vague terms like "Opt-OEM" would also be an unfair claims settlement practice, California Department of Insurance general counsel and Deputy Commissioner Kenneth Schnoll wrote in October 2018 to the California Autobody Association. The trade group had sought a legal opinion on the behavior.
"Accordingly, because insurers are required to follow the same standards as auto body collision repair shops in connection with repair estimates, insurers are also prohibited from using any description of any replacement part other than new, used, reconditioned, rebuilt, an OEM crash part, or a non~OEM aftermarket crash part," Schnoll wrote.
In January, the BAR muddied the waters by recognizing an OEM part sold by a third party and unwarranted by the automaker as "OEM."
However, the agency in April was considering a regulation which would further define an "OEM crash part" as one "recognized by the specific vehicle manufacturer as its own part or obtained through a distributor authorized by the vehicle manufacturer." It was supposed to have discussed the matter at a workshop last month, but that language didn't appear in the draft text before the board Oct. 17, and Mark Guess of the BAR said then it had been tabled.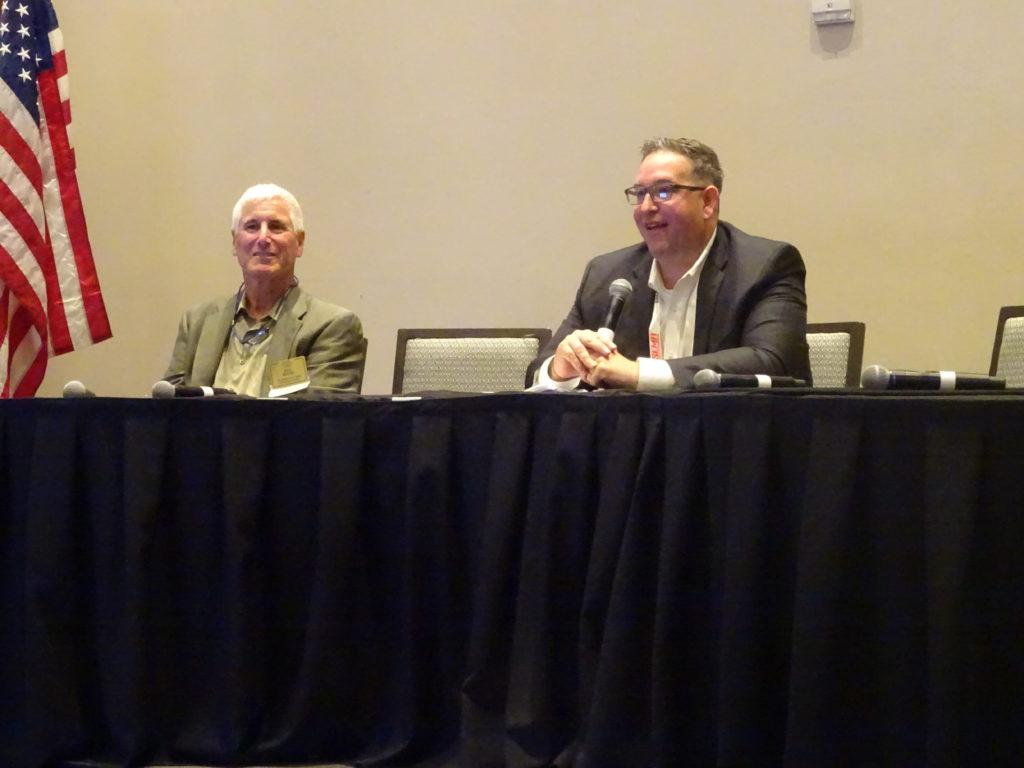 Discussion
Asked if the OEM/Non-OEM split created a large bucket of parts that a consumer understood but a body shop didn't, Schulenburg said he felt there were ways to work out the B2B element, but consumer understanding was more important. He said no offense was met, but after looking at the Working Group I categories, "I'm more confused than I am clear."
Weiss said he thought both groups settled on attributes because "attributes are facts." Going that route rather than assigning labels might be the solution, even it was more difficult for a customer
However, California's determination that an OEM part sold through a third-party supplier was OEM might have meant that ship had sailed, he said. "One large state" said warranty had nothing to do with part type, Weiss said.
Schulenburg said much professional experience disagreed with California. And just because California got it wrong didn't mean CIC shouldn't try to correctly define it for the other 49 states, he said; perhaps California would rethink its position then.
Asked why an OEM part distributed through a third party wouldn't be consider recycled, Weiss said it wasn't technically recycled. It was acquired by a business to resell, he said.
More information:
"Parts & Material Committee Update" slides
Collision Industry Conference, Nov. 5, 2019
Images:
Collision Industry Conference Parts and Materials Committee Co-Chairmen Ken Weiss (SSF Imported Auto Parts) and Aaron Schulenburg (Society of Collision Repair Specialists) presented competing visions of parts classifications at the Nov. 5, 2019, CIC. (John Huetter/Repairer Driven News)
CCC data shows "Opt-OE" parts growing as a proportion of part spending over the past decade. (Provided by CCC)
Collision Industry Conference Parts and Materials Committee Working Group I drew representatives of "Shops, Suppliers, Insurers & Info Providers," according to a slide presented to the CIC Nov. 5. That working group generated six part descriptions focused on business-to-business communications. (Provided by CIC)
Collision Industry Conference Parts and Materials Committee Working Group II drew shops and OEMs and generated two broad part categories focused on business-to-consumer communications. (Provided by CIC)
Share This: