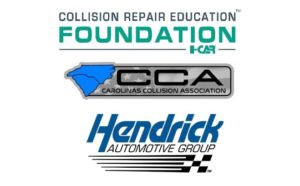 CREF announced May 4 the Carolinas Collision Association pledged to raise $250,000 worth of products for North and South Carolina trade schools.
The announcement comes less than three months after the Collision Repair Education Foundation announced its own "Part of the Solution" initiative aimed at collecting physical donations from dealerships.
The efforts offer a way for repairers, dealers and vendors short on liquidity to still help out trade schools — who might have been hurting before the COVID-19 response disrupted America — by donating supplies or parts slated to be discarded. The latter can still offer students substrates to practice upon, after all.
"While many businesses may not be in a position to contribute monetary donations as they navigate through these times, they may be able to help by donating needed items to collision programs," CCA Executive Director Josh Kent (Elite Sales and Marketing) said in a statement. "If there is an expectation from the industry that graduating collision students have the proper skills and technical education to be productive entry-level staff, the industry needs to help ensure instructors have the resources to provide that quality technical education. The Carolinas Collision Association members and industry contacts will work hard over the summer to gather as much support as possible to help our states collision school programs."
According to CREF development director Brandon Eckenrode, many instructors will take "whatever they can get," and even parts removed from vehicles would be welcomed.
"Parts are the most frequent need reported by schools with collision repair education programs, including fenders, hoods, bumper covers and a variety of other parts," CREF wrote of its "Part of the Solution" dealer outreach. "Without access to these parts, many students are learning on vehicles and parts that are at least a decade old, but with the frequent advances in technology, this leaves student unequipped for a successful career after graduation.
"Recognizing that most dealers trash thousands of dollars' worth of parts monthly, the Foundation developed the "Part of the Solution" initiative in order to connect local schools with these dealers and dealer groups."
According to CREF, more than 500 schools nationwide need parts "that can be donated at little to no cost to the donor facility." See if a campus near you needs help here.

CREF reports North and South Carolina combined include more than 40 schools in need of "Part of the Solution" donations. This seems to suggest the CCA's help will be needed throughout both states as well.
The CCA's $250,000 effort includes tax-deductible donations of "spare parts (fenders, bumper covers, etc), tools, equipment, paint, consumables, and other types of items that will assist instructors who face limiting program budgets."
The organization plans to collect these items over the summer and give them to the trade schools when school resumes in the fall.
"I commend the Carolinas Collision Association for coming together to help their local collision programs as this type of support is needed now more than ever," Eckenrode said in a statement. "This will be quite the 'back to school' gift for the collision instructors and students and a wonderful way to start off the new school semester."
Repairers, vendors and others who want to donate supplies, parts and other items to Carolinas schools can contact Kent at oregon.josh.kent@gmail.com or Eckenrode at Brandon.Eckenrode@ed‑foundation.org.
At least one major dealer chain has signed on for the national "Part of the Solution" effort.
"Hendrick Automotive Group is excited to partner with CREF's initiative to provide students with current vehicle parts to practice OE repair procedures on that will better prepare them for today's Collision repair environment," Hendrick Automotive Group collision and service operations corporate director Roger Mesiemore said in a statement.
Other dealerships interested in joining Hendrick to be "Part of the Solution" can contact Eckenrode as well.
More information:
"Part of the Solution" list of schools in need of dealer parts
"CREF Invites Dealers to Become Part of the Solution with New Initiative – Over 500 Collision School Programs Requesting Parts"
Collision Repair Education Foundation, Feb. 11, 2020
Donate to Collision Repair Education Foundation
Carolinas Collision Association webpage
Images:
The Collision Repair Education Foundation, Carolinas Collision Association and Hendrick Automotive Group logos are shown. (Provided by CREF, CCA, Hendrick)
The Collision Repair Education Foundation announced in February 2020 a "Part of the Solution" effort aimed at collecting spare parts donations from dealerships. (Provided by CREF)
Share This: