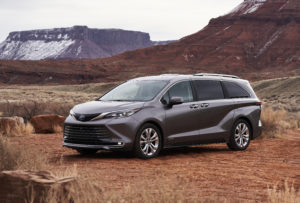 Toyota last month revealed the next-generation 2021 Sienna would carry a quieter, more rigid body platform and a standard hybrid powertrain.
"This is an all-new vehicle from the ground up, including a new chassis platform as well as a new electrical platform," chief engineer Monte Kaehr said in a statement May 18. "The development of the fourth generation Sienna was a huge undertaking but we always worked towards one single mission—to make the best van yet."
Toyota debuted the broad TNGA concept on the 2016 Prius and has continued to expand it throughout the fleet since then. In March 2015, Toyota described the overall idea:
Toyota has developed new platforms through innovative improvements to its vehicle underbodies and suspensions. Additionally, repositioning and lowering the center of gravity of powertrain components has contributed to achieving attractive, low-stance designs, responsive handling, a high-quality drive feel, and collision performance that offers safety and peace of mind. By rethinking body structure, Toyota plans to first increase overall body rigidity by as much as 30 to 65 percent, and then further improve rigidity by joining body components using laser screw welding technology. Toyota will begin rolling out its new platforms with the launch of a midsize front-wheel-drive vehicle this year, followed by specific new platforms for front-wheel-drive compact and large vehicles, as well as for rear-wheel-drive vehicles. Toyota expects approximately half of its vehicles sold worldwide in 2020 to feature the new platforms. (Emphasis added.)
Toyota gave few details about the execution of this platform on the 2021 Sienna, which contains the TNGA-K variant of the architecture. Asked for more information about the Sienna's body, spokesperson Nicky Hamila wrote in an email, "We won't have this info until closer to launch at the end of 2020."
However, Toyota did say the platform provided the Sienna with "exemplary collision protection" and a better and quieter ride.
"To give the Sienna driver confidence to compete with all the SUVs on the road, a natural and intuitive connection between the driver and the vehicle is achieved with the optimized geometry of TNGA-K Platform combined with a trailing-arm multi-link rear suspension and increased body rigidity," Toyota wrote.
"… Like all Toyota vehicles built on the new TNGA-K Platform, the 2021 Sienna benefits from a multitude of measures that bring library quiet to the cabin. In particular, Toyota engineers focused on reducing noises in the frequencies where conversation takes place.
"The high-strength TNGA-K Platform resists noise intrusion and curbs vibration through the steering, floor and vehicle structure. Extensive, strategically placed noise insulation and body sealant further keep outside noises where they belong – outside."
This suggests possible new considerations for collision repairers over the 2020 prior-generation Sienna.
Toyota did discuss some other body and exterior elements which would fall within the scope of a collision repair.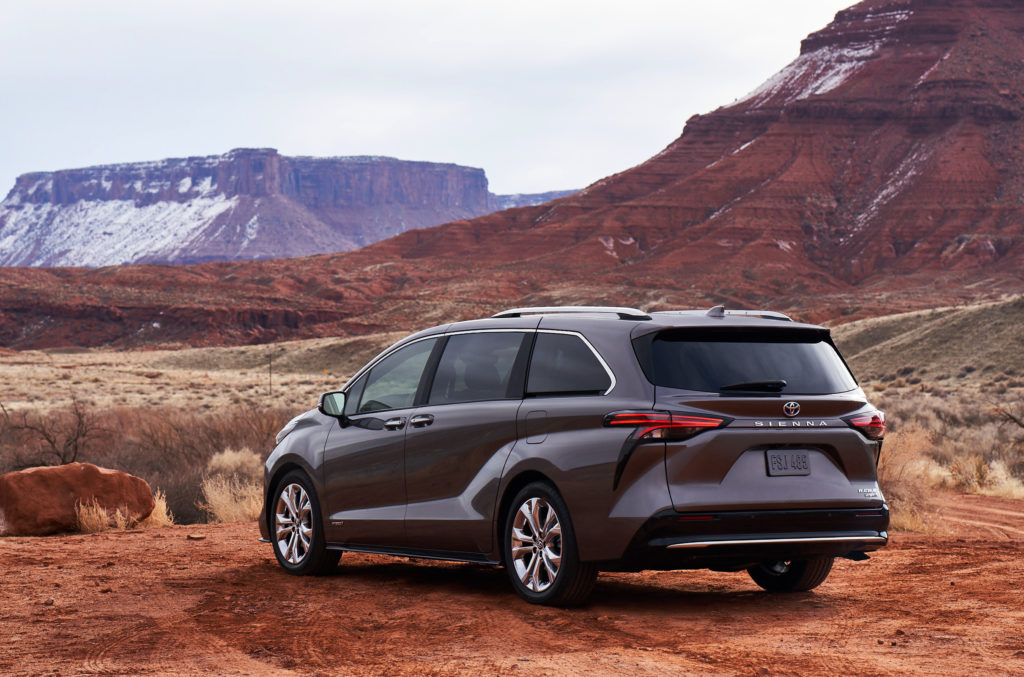 The rear of the vehicle appears noteworthy in this regard.
"There is an integrated black taillight canard that not only looks cool, but also improves aerodynamic performance," Toyota wrote. "The crisp, deeply sculpted tailgate with an integrated spoiler is made possible by a molded resin process."
The taillights themselves flow "seamlessly from the sculpted body to the rear, using thin bands of LED lighting to create a signature impression."
The front of the car doesn't appear to carry LED headlights standard, but it does include "slim, high tech LED fog lights." Similar to the taillights, Toyota called the headlights "stretched around to the sides."
Toyota also called the body itself "boldly sculpted, a fresh departure from the typical, boxy minivan driving on the roads today." This could complicate metal work for shops. The OEM said it pursued a "shoulder-themed body design" and produced "muscular wheel flares."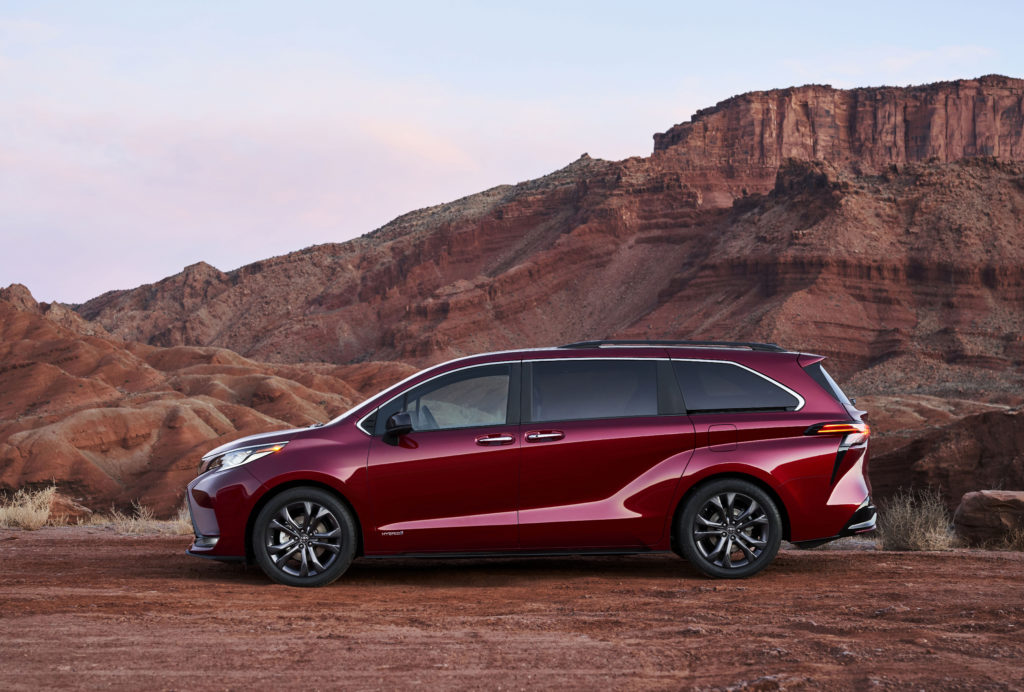 Hybrid
Toyota said the Sienna is estimated to get 33 mpg — "a benchmark for the segment" — with its two-motor, 2.5-liter hybrid powertrain. This setup includes a "variable cooling system (electric water pump and electric thermostat) and a fully variable oil pump."
The hybrid setup also permits all-wheel drive. An electric motor to power the rear wheels instead of a rear driveshaft and transfer case.
Toyota didn't specify the battery construction. If it's lithium-ion, it could carry a greater fire risk to a shop, according to Coordinating Committee for Automotive Repair safety content author Bob McGinn.
Other safety concerns and operational considerations might arise for repairers handling partially electrified powertrains. For example:
Both Ni-MH and lithium-ion batteries can produce shocks of up to 800 volts or more, McGinn said. Contact with anything protruding from the battery also "has to be avoided," he said.
Toyota has historically warned repairers to remove all electronics within 18 inches of the welding point, not the 12 inches required by other OEMs and described as a general rule of thumb by I-CAR.
Storing a Toyota or Lexus hybrid for 30 days or longer is likely to discharge the 12-volt auxiliary battery, an outcome shops can avoid with some preparation described in a fall 2018 Toyota Collision Pros magazine. The magazine also warned repairers against charging a diminished hybrid auxiliary battery at too high a current rate, for it can damage the component.
In other news
Other potential Sienna items of interest:
• The minivan carries "driver and front passenger airbags; driver's knee airbag; passenger seat cushion airbag; front seat side airbags; rear outboard seat side airbags, plus curtain side airbags for all three rows." It's a total of 10 airbags, up from eight on the 2020 Sienna.
• The XLE and higher trims include "kick-open and closed sliding side doors and rear gate" functionality. All trims have dual power sliding doors.
• The Sienna comes standard with the Safety Sense 2.0 advanced driver assistance system suite, which includes features like autobraking, adaptive cruise control with a lane-centering function, lane-keeping, automatic high beams, and road sign detection (it notices certain road signs and displays them on the dash). It also comes standard with blind spot monitors and rear-cross-traffic alerts.
• Toyota described a rear passenger seatbelt reminder and a "rear occupant detection" function which uses door logic to predict if someone might still be in the back. If the latter seems possible, the minivan will display "Attention: Check Rear Seat for Passengers and Cargo." It's unclear if these features are standard or options. However, OEMs have committed to making rear seat occupant reminders standard by 2025.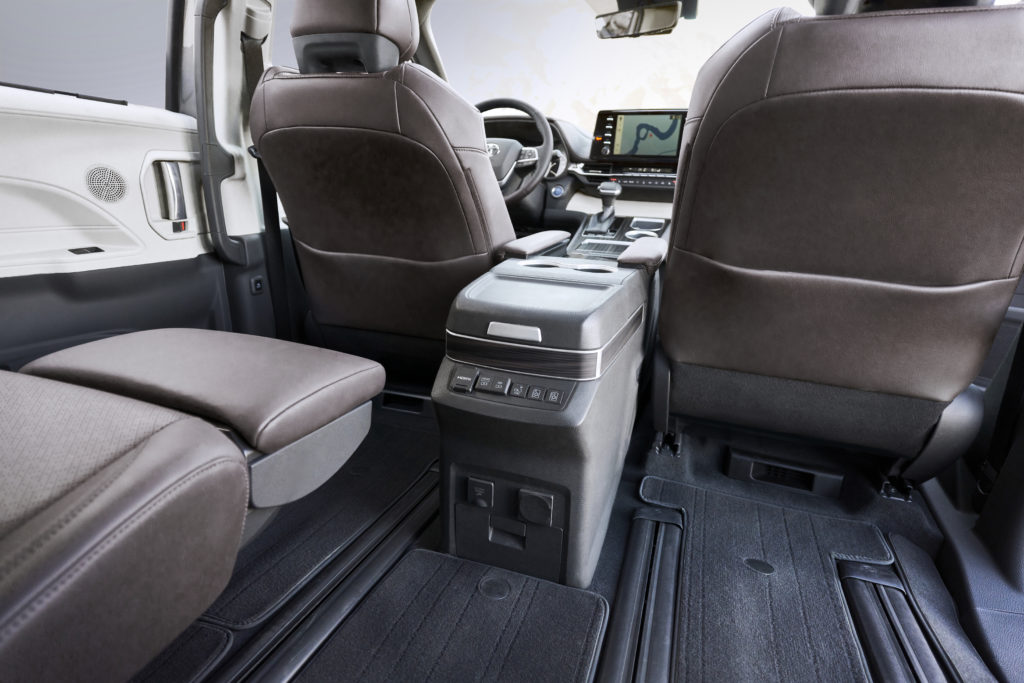 • The driver gets a "segment-first power tilt and telescoping steering column with heated steering wheel." It's unclear if that's standard or an option.
• Front and rear parking sonar is standard on everything but the lowest LE trim.
• All trims but the LE come standard with a "Power tilt/slide moonroof with sunshade."
•Higher-end trims have a wide-angle monitor for the backup camera system.
•An optional feature switches the rearview mirror from a typical mirror to a digital camera feed.
•The Platinum trim includes a "Bird's Eye View Camera with Perimeter Scan" and a "Curb View" that might "help prevent scuffing those beautiful 20-inch wheels." (20-inch aluminum wheels come standard on the XSE and Platinum trims.) It's also got a 10-inch head-up display.
• A refrigerator comes standard on the Platinum trim.
More information:
"Toyota Launches All-New 2021 Sienna to Suit a Variety of Lifestyles"
Toyota, May 18, 2020
Images:
Toyota called the body of the 2021 Sienna "boldly sculpted, a fresh departure from the typical, boxy minivan driving on the roads today." This could complicate metal work for shops. The OEM said it pursued a "shoulder-themed body design" and produced "muscular wheel flares." (Provided by Toyota)
Toyota said the LED taillights of the 2021 Sienna flow "seamlessly from the sculpted body to the rear, using thin bands of LED lighting to create a signature impression." (Provided by Toyota)
Toyota called the 2021 Sienna headlights "stretched around to the sides." (Provided by Toyota)
The interior of a 2021 Toyota Sienna Platinum. (Provided by Toyota)
Share This: