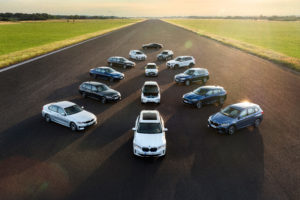 BMW last month said it sold more than 500,000 electrified vehicles worldwide in 2019.
"By the end of 2021, this figure will probably rise to over a million," BMW wrote in a news release Aug. 12.
By 2030, BMW expects to sell 7 million — "two thirds of them all-electric variants."
Vehicles with plug-in hybrid or fully electric powertrains comprise 13.3 percent of new BMW/MINI registrations in Europe, BMW said, citing IHS Market data from this summer. "This corresponds to 1.5-fold of the average share of all brands, which is around 8 percent. The company expects this figure to rise to a quarter by 2021, to a third by 2025 and to 50 percent by 2030."
Vehicles carrying that level of electrification represented about 3.7 percent of BMW U.S. registrations, compared to about 5 percent of all OEMs' registrations combined, according to other IHS Markit statistics shared by BMW.
BMW had a 2.2 percent share of all U.S. electric vehicle registrations, compared to its 3 percent share of the internal combustion engine market.
BMW's news release Aug. 12 provides further evidence that repairers throughout this decade will potentially see many more hybrids, plug-in hybrids and fully electric vehicles from the automotive industry. This could demand new safety equipment and training as well as pose new considerations for repair procedures.
BMW said it is "following the 'power of choice' approach in order to take account of customer needs and legal requirements on the global automotive markets."
It mentioned the X3, calling BMW's "first model available either with highly efficient petrol and diesel engines including 48-volt mild hybrid technology, with a plug-in hybrid drive system or all-electric drive system."
BMW announced the plug-in hybrid 2020 X3 xDrive30e for the U.S. market last year, calling the variant its first plug-in hybrid X3. The driver can get 18 miles of driving off the battery, which is located beneath the rear seats.
In July, BMW showed off the all-electric iX3, which will contain the fifth generation of the OEM's all-electric eDrive powertrain and achieve roughly 285 miles on a charge. (The eDrive will also come to the upcoming i4 and INEXT, BMW said.)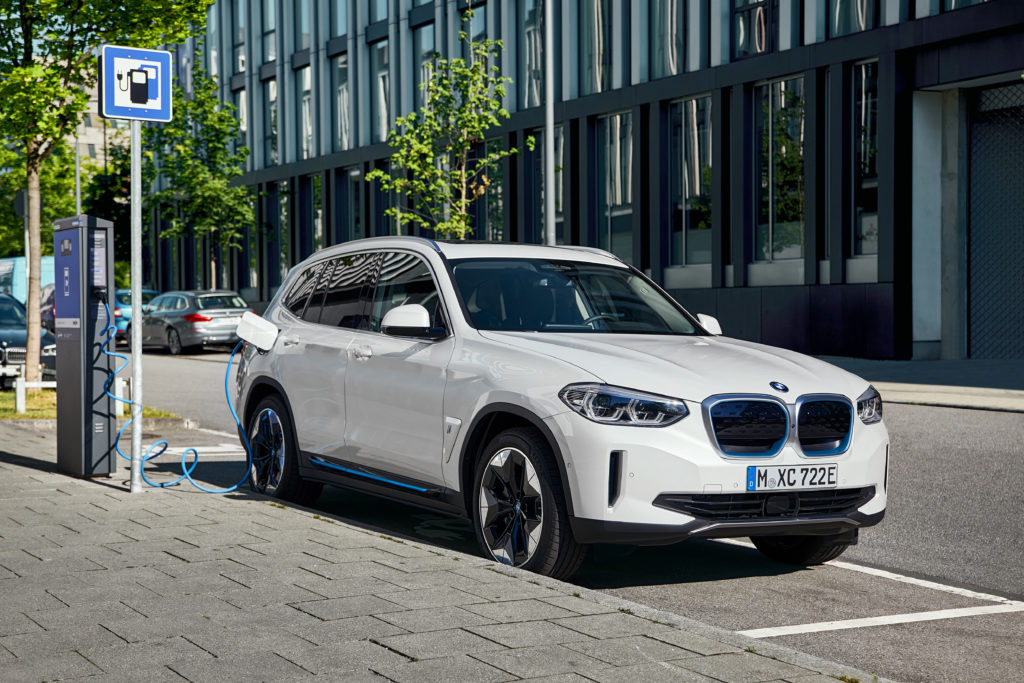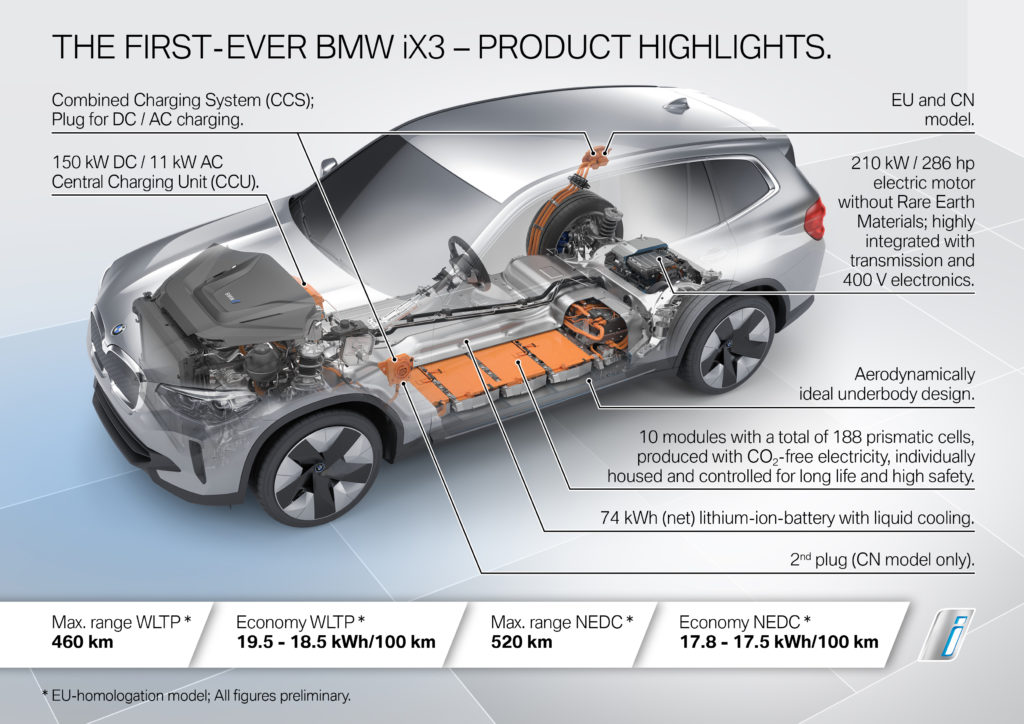 Repairers might notice new aerodynamic elements not found on the gas-powered X3, based on a press release for the European version.
"The underbody of the new BMW iX3 is largely enclosed – with the help of precisely sculpted panelling and air deflectors – due to the positioning here of the high-voltage battery housing," BMW wrote. "Measures including airflow-optimised stiffening ribs, carefully channelled airflow around the front wheels and a rear axle cover enhance aerodynamics. A special cover for the rear struts optimises airflow to the rear diffuser. The all-electric – and therefore exhaust-system-free – drive concept enables a smooth and sealed surface design for the underbody and rear apron, which also has a positive effect on aerodynamics."
Aerodynamic wheels come standard and weigh 15 percent less than previous aerodynamically optimized BMW wheels, the OEM said in the European press release.
BMW said it would use a single production line for both electrified and internal combustion engine powertrains.
"For example, the next generation of luxury sedans of the BMW 7 Series will be offered also as a purely electric model variant," BMW wrote. "Also the high-volume series BMW 5 and BMW X1 will be brought to market not only with conventional internal combustion engines and plug-in hybrid systems, but also with all-electric drive units."
More information:
"More than seven million vehicles with all-electric or plug-in hybrid drive systems by the year 2030."
BMW USA, Aug. 12, 2020
BMW Global, July 14, 2020
Images:
All of BMW's electrified vehicles are shown in this image accompanying an August 2020 news release. (Provided by BMW)
The BMW iX3 (European version) is shown. (Provided by BMW/Fabian Kirchbauer Photography)
Details of the BMW iX3 (European version) powertrain are shown. (Provided by BMW)
Share This: