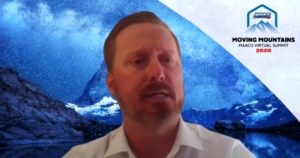 While many companies were "backpedaling" during the pandemic, Maaco bet on advertising — and was rewarded with significant retail work, President Chris Dawson said.
"It proved out to be extremely successful for us in 2020," Dawson said of Maaco's "aggressive" marketing.
Dawson's comments during a Maaco media event Thursday suggest retail work might pose an opportunity for traditional collision operations seeing reduced volume from traditional channels. They followed a recently released SCRS Repairer Driven Education virtual course in which Collision Advice CEO Mike Anderson pointed out the minor $900-$1,200 "gravy jobs" repairers could capture. (The course can be watched here through Aug. 31, 2021.)
Miles driven — a key indicator of crash frequency — remained down 8.6 percent in September, the last month for which Department of Transportation data was available. October repairable auto claims fell 19.6 percent over October 2019, according to the most recent CCC data.
Maaco so far is posting better results in the second half of 2020 than it did in 2019, according to Dawson. He said the decision to get aggressive on advertising "really shrunk the amount of time" franchisees suffered serious losses.
The COVID-19 pandemic economy cut into Maaco's fleet and trade business, according to Dawson. and the franchise chain decided it "we needed to go back to the drawing board" and focus on Maaco's foundation: retail.
"It's easy to get dependent on fleet and trade when those accounts continue to siphon business," Dawson said.
He called it "extremely encouraging" when franchisees recognized they needed to improve and felt they needed to refer back to a Maaco sales process designed for such times.
He called the pandemic was to some degree a "blessing" in that it reminded Maaco of the source of its success and asked "how do we get more aggressive in going back to our roots?"
The franchisees who traditionally handled higher levels of trade and fleet or collision business suffered "a little bit longer" than those with a greater retail concentration, according to Dawson.
Edmunds forecast in September that 3.85 million new cars and trucks would be sold between July 1 and Sept. 30 — down 11 percent from 2019 but not as bad as the dismal second quarter of 2020.
"The last piece of the puzzle for the industry's recovery is fleet sales," Edmunds executive director of insights Jessica Caldwell said in a statement. "Daily rental companies have understandably reduced or delayed orders as Americans continue to stay at home rather than embark upon business or air travel. It will likely take a bit longer for this side of the business to make as dramatic a comeback as its retail counterparts."

Rather than buy new cars, consumers instead are opting to prolong the "shelf life" of their existing vehicles, Dawson said. But they still want their rides to look nice, he said. Maaco has seen a "massive increase" in demand this year for overall paint jobs, according to Dawson.
"I think our consumer base is stepping back and being financially responsible," Dawson said. Rather than spend $30,000-$50,000 for a new car, they're spending $1,000-$1,500 at Maaco for a "whole new look," he said. The result has been "fantastic" for the franchise chain.
Shops can successfully tap this retail market through advertising and online repair ordering, based on Maaco's example.
While other auto body operations were laying off staff and cutting marketing, Maaco opted to promote itself using less expensive marketing options and test customer response, according to Dawson.
The company learned customers were up for "doing a lot of business with Maaco," he said.
Maaco expanded its marketing staff, added operation and marketing resources, and "got very aggressive" with marketing and advertising, he said.
"We saw instant response from our consumers," he said.
Dawson said an online estimating tool for customers "absolutely changed our business."
Maaco had already been developing the paint job cost calculator, and the timing worked out perfectly, Dawson said. The franchisor "got really aggressive" with the tool and brought in "thousands and thousands of incremental cars" because of it, he said.
Dawson said the online estimating option has attracted customers who "range about 10 years younger" and have "a little bit less houshold income" than the average Maaco customer.
They're also "predominantly women," according to Dawson, describing this as part of a broader trend of women spending more time on research than men.
He called it "really enlightening" to see a new customer base interested in the company.
Correction: An earlier version of this story misinterpreted a comment by Maaco President Chris Dawson regarding his interactions with franchisees. He was describing Maaco franchisees expressing recognition of a need for self-improvement. We had misunderstood his statement and erroneously characterized it as a reference to calls for Dawson to improve. The article has since been corrected to reflect the actual message being conveyed.
Images:
Maaco President Chris Dawson speaks during a Dec. 3, 2021, Maaco media event. (Screenshot from Maaco virtual meeting)
A Maaco is shown. (Provided by Maaco)
Share This: