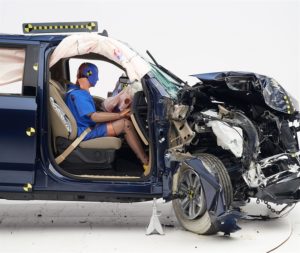 Ford OEM repair procedures indicate SRS components like those depicted in the latest free "On Target" shop newsletter can be tired to an extensive inspection and replacement process following a crash.
The fourth-quarter On Target opens with a discussion of ten supplemental restraint system parts or part sets found on the 2020 F-150. Ford called this collection merely one out of three groups of SRS components it planned to examine in future On Targets.
After seeing the new Ford article, we decided to look up post-collision inspection OEM procedures for such SRS systems. Such OEM-required inspections have been a hot topic lately in the auto body repair world.
We searched the procedures using a generic 2020 F-150 year-model lookup, but auto body professionals can also conduct searches using their customer's VINs.
The Ford OEM repair procedures confirm multiple potential inspections indeed might be required following an SRS deployment.
As a test, we also checked the 2017 Ford Escape repair procedures and found similar if not identical instructions. This seems to suggest repairers should watch for such requirements on other models and years.
Note: None of the discussion here is intended as a substitute for the actual OEM procedures on the F-150, Escape, or anything else. We're just trying to alert auto body shops as to some of the directions that might exist with those repair manuals. You need to do your own research on the Ford instructions starting fresh online on any vehicle (even one you've fixed before) before the repair.
Ford's Section 501-20B "Supplemental Restraint System" section of the 2020 F-150 repair procedures' Body and Paint chapter includes a passage on "Inspection and Repair after a Supplemental Restraint System (SRS) Deployment." (The procedure was last revised Oct. 2, a sign of the need to look up OEM procedures fresh online on every repair.)
"Deployable devices such as airbags, pretensioners and inflatable belt inflators, may deploy alone or in various combinations depending on the impact event," Ford prefaces the post-deployment procedures.
If anything deployable activates, then the shop must replace that device, all impact sensors, and a new restraints control module, according to Ford. Even if nothing deploys, the presence of an RCM code during a scan also automatically triggers this R&R scenario.
"When any deployable device or combination of devices have deployed and/or the RCM has DTC B1193:00 (event threshold exceeded) in memory, the repair of the vehicle SRS is to include the removal of all deployed devices and the installation of new deployable devices, the removal of all impact sensors and installation of new impact sensors and the removal and installation of a new RCM," Ford wrote. (Minor formatting edits.) "Diagnostic Trouble Codes (DTCs) must be cleared from all required modules after repairs are carried out."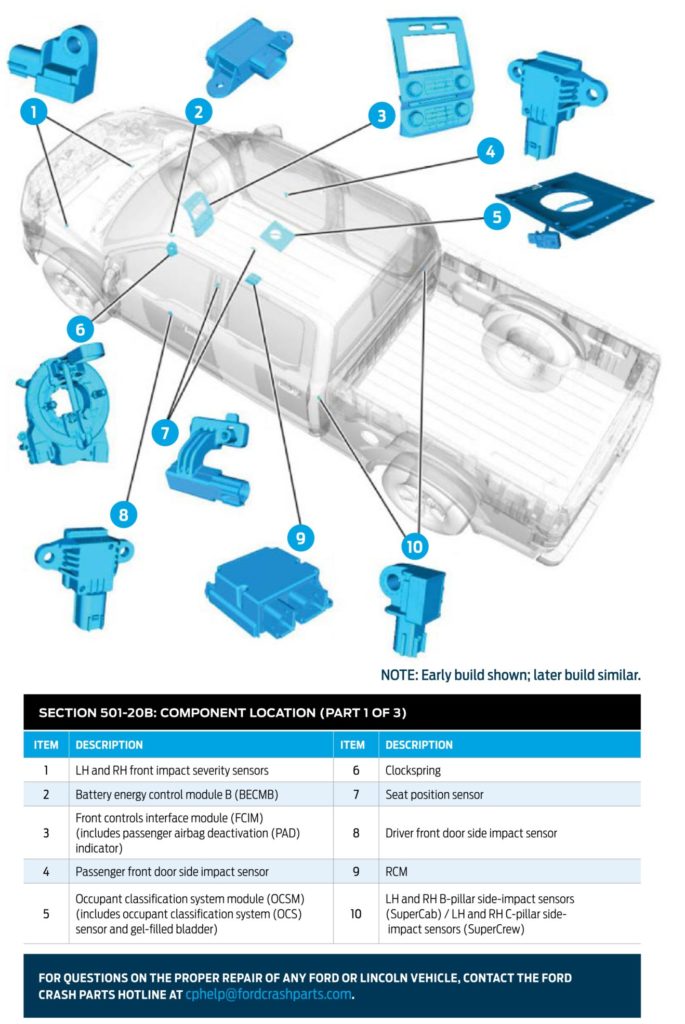 Repairers also need to inspect impact sensor mounting points and hardware and potentially replace more parts, according to Ford.
"When any damage to the impact sensor mounting points or mounting hardware has occurred, repair or install new mounting points and mounting hardware as needed," Ford wrote.
Certain deployments trigger other replacements. For example, if the driver airbag blows, a shop must replace the steering wheel and clockspring. If a seatbelt pretensioner deploys, you're replacing some other seatbelt parts, according to Ford.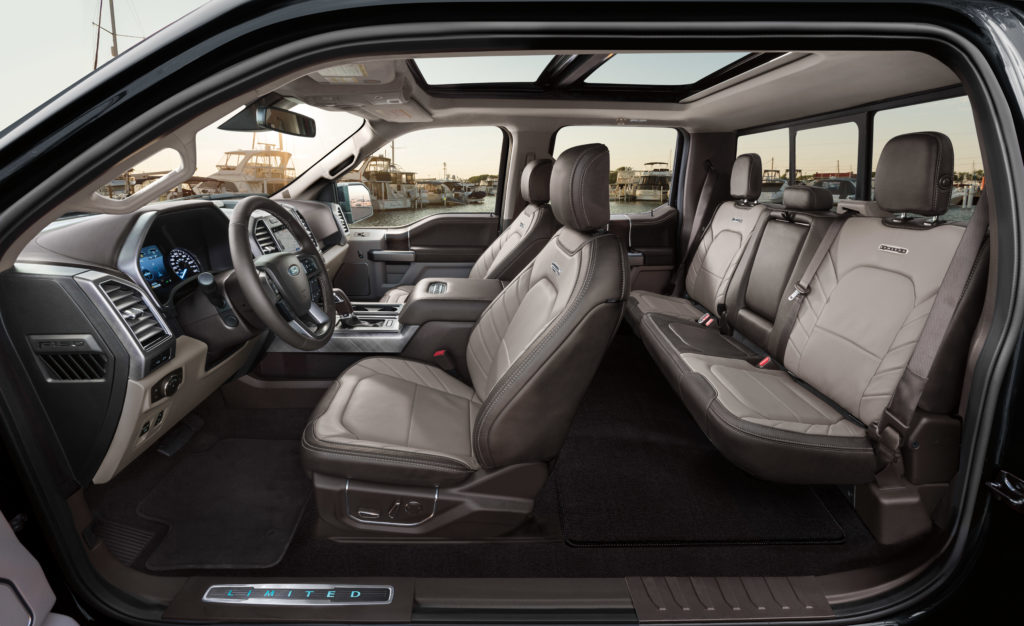 You also must inspect "the entire vehicle" after an SRS deployment, Ford writes, emphasizing certain parts:
Inspect the entire vehicle for damage, including the following components:
• Instrument panel and mounting points
• Instrument panel braces and brackets
• Instrument panel knee bolsters and mounting points
• Safety Canopy® and mounting points
• Seatbelts, seatbelt buckles, seatbelt retractors and seatbelt anchors.
• Seats and seat mounting points
• SRS wiring, wiring harnesses and connectors. (Minor formatting edits.)
Ford also implies a steering column inspection earlier in the document, calling for a replacement adaptive absorption steering column under conditions including "Steering column bearings brinelling or damaged" and "Steering shaft bent, loose or damaged." You're not going to know if these scenarios exist unless you conduct the inspection, it seems.
Ford later in the repair procedures emphasizes another inspection: "Inspect the fuel system for damage or leaks. Repair the system and install new components as necessary."
The official OEM Ford procedures can be found here. Read the new On Target here.
More information:
Ford fourth-quarter 2020 On Target
Ford, Dec. 7, 2020
Ford and Lincoln official OEM procedures
Images:
Featured image: The 2019 Ford F-150 crew cab is shown after a small-overlap passenger-side crash test by the Insurance Institute for Highway Safety. The 2019 F-150's post-SRS deployment repair procedures are similar if not identical to the 2020 F-150 procedures discussed in this article. (Provided by IIHS)
The interior of a 2019 Ford F-150 Limited is shown. The 2020 F-150 interior is similar if not identical. (Provided by Ford)
The fourth-quarter 2020 Ford On Target includes a diagram of some of the supplemental restraint system parts on a 2020 Ford F-150. A Ford key indicates the No. 10 side-impact sensor locations might change based upon the cab configuration of the F-150. (Provided by Ford)
Share This: