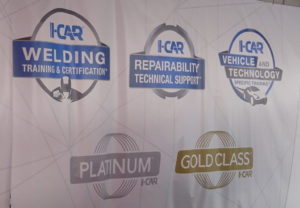 I-CAR last month announced 961 new collision repair industry facilities achieved Gold Class for the first time in 2020, bringing the total number of credentialed shops to 8,880.
Nearly 22 percent of the industry now carries this status, according to I-CAR. "This continued growth is significant as it increases the likelihood of more consumers receiving quality repairs," the educational organization wrote in a year in review released.
As of the end of 2019, 8,359 collision repairers had held Gold Class status, I-CAR said in May 2020. Back in 2015, only 3,667 collision repairer facilities were Gold Class.
The latest Census Bureau data found 32,696 auto body repair companies spanning 35,387 physical locations existed in 2017.
From a consumer and industry well-being perspective, it should be frightening that more than 70 percent of the nation's body shops haven't even proven themselves able to achieve a level of training that some repairers have criticized as too easy. The fact that your shop has Gold Class and the guy down the street doesn't ought to be something a collision repair facility might be able to capitalize upon in its marketing.
And as for those critics, they might want to take a second look at the program. I-CAR ramped up Gold Class and other collision repair credentialing rigor effective Oct. 7, 2019.
Every structural technician must achieve ProLevel 2. This includes the hands-on MIG brazing and spot welding classes. Half of the shop's estimators, nonstructural techs and painters must also reach their respective ProLevel 2 requirements before I-CAR will grant the status. Everyone is expected to keep bettering themselves with more training in subsequent years. Welding credentials now must be renewed every three years instead of five.
I-CAR required all shops lacking Gold Class by Oct. 7, 2019, to meet the tougher standards. So the 961 newcomers in 2020 already ought to be at that level.
As for the legacy Gold Class shops, their time runs out this year. I-CAR will require them to meet the new rules at their renewal date.
Individual technicians aren't considered Platinum until they make ProLevel 3. The prior threshold had been just ProLevel 1.
Techs who were Platinum as of Oct. 7, 2019, must meet the new ProLevel 2 requirements this year and hit the new ProLevel 3 by 2022.
I-CAR in May 2020 said 32,610 technicians held Platinum credentials in 2019. It said 36,861 techs were Platinum in 2020.
According to I-CAR, 36 automaker brand networks and insurer direct repair programs require shops to have Gold Class (some might allow a substitute credential), an increase from 2019.
OEMs recognizing Gold Class as a certified shop benchmark include Stellantis, Honda, Audi, Ford, GM Hyundai, Nissan, Kia, Subaru, Volkswagen and Volvo. Jaguar Land Rover and Tesla's programs also link network shop standards to I-CAR.
Insurers recognizing Gold Class for their direct repair network qualifications include USAA, Allstate, Nationwide, Farmers, AAA and Amica. GEICO and State Farm require I-CAR welding credentials, but they don't demand Gold Class. (I-CAR also notes that esurance recommends Gold Class, but Allstate has expressed planned to wind down and absorb that subsidiary brand starting in 2020.)
I-CAR also reported that the industry used the slowdown caused by the 2020 COVID-19 pandemic response as an opportunity to increase training.
"While delivery of many Live and Hands-On Skills Development™ (HOSD) courses paused during the pandemic, in keeping with I-CAR's Delivery Policies and Procedures, online learning and overall course consumption increased significantly," I-CAR wrote. "As outstanding issues related to the launch of An Even Better I-CAR were resolved in Q1, strong and steady course consumption continued throughout the year."
"Many shops enrolled in I-CAR's training subscription program filled slower periods of business with online training." (Emphasis removed.)
I-CAR said 82,429 collision repairers, insurers, and others completed 818,000 courses online in 2020. It said 57,956 students came from the collision repair industry and 12,847 insurance professionals had enrolled in a course.
"I completed some 220 online courses between March 1 and mid-July," Justin Begley of the Collision Plus refinish parts department said, according to I-CAR. "Once we got I-CAR's unlimited training subscription plan, they just turned me loose and I just dug right in." (Emphasis removed.)
More information:
I-CAR "Train to Gain" Gold Class overview
I-CAR "Train to Gain" Platinum overview
OEM certification network and insurer direct repair programs linked to I-CAR training
Featured image: Various I-CAR training program logos appear in the organization's SEMA 2018 booth. (John Huetter/Repairer Driven News)
Share This: