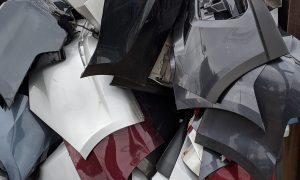 The major plastics recycling company Ultra-Poly has announced significant momentum on an initiative to turn discarded bumper fascias from auto body shops into raw material for manufacturing.
Ultra-Poly sustainability and research and development Vice President Kevin Cronin said in an April 13 interview his company had reached the "semi-commercialization" point with the concept. He said it's collecting fascias from 120 collision repairers near its Pennsylvania headquarters — "120 new best friends."
The work echoes prior research into the concept by the Plastics Industry Association and members including Ultra-Poly. In 2019, the Plastics Industry Association announced its End-of-Life Vehicle Recycling Demonstration Project successfully proved that "valuable" thermoplastic polyolefin ("TPO") could be collected from bumper fascias.
On March 1, the Plastics Industry Association published a case study reporting how Ultra-Poly had successfully tested a means of collecting and recycling bumper fascias from real-world body shops.
"We jumped in with both feet," Cronin said in April. Ultra-Poly has "picked it up and run with it commercially," he said.
The Plastics Industry Association and Ultra-Poly aren't trying to refurbish or resell bumper fascias — something OEMs and some body shops oppose. The plastics industry researched turning fascias into shredded or pelletized stock that could be converted into new plastic products. For now, the bumpers would be turned into non-automotive items like bins, but Cronin thinks it'd be possible to even produce some automotive plastic parts in the near future.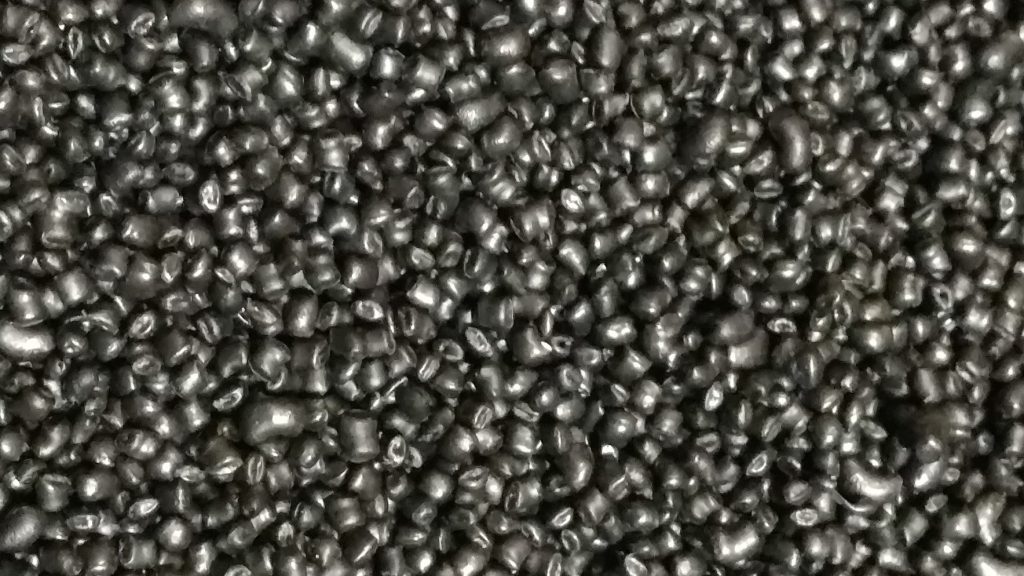 Ultra-Poly's technique recycles bumper fascias into pellets displaying about 85-90 percent of the mechanical performance of new TPO.
Cronin said that raw material can't yet achieve the "home run" of being used to create a brand new fascia. "That is a big, big lift," he said. But the strength of the material is still attractive to a plastics manufacturer.
"This recycled material is currently being used as an additive in compounding for multiple different materials, such as injection-grade polypropylene," the PLASTICS case study reports. "Because of its high impact strength, this material is used for manufacturing bins and totes. Ultra-Poly believes there are more opportunities for this reprocessed TPO material and the potential to create a fully circular economy with automotive manufacturers in the near future."
Cronin said Ultra-Poly sought "more mundane" uses for the material.
"That's important," Cronin said: Mundane items mean sufficient demand exists to make the idea commercially viable for Ultra-Poly. (Pallets and dunnage were other potential uses, he said.)
Ultra-Poly thinks it can collect and process enough bumper fascias this year to keep 1 million pounds of plastic out of landfills. This also means 1 million pounds of plastics that shops don't have to pay to send there.
Ultra-Poly doesn't pay body shops for the bumpers, but it will take them off your hands for free — which indirectly pays a shop by reducing its garbage bill and hassle. Cronin described shops who were hiring day laborers to cut them up, which he said wouldn't be necessary. A shop would simply need to strip the fascia of parts and perhaps "nest 'em up."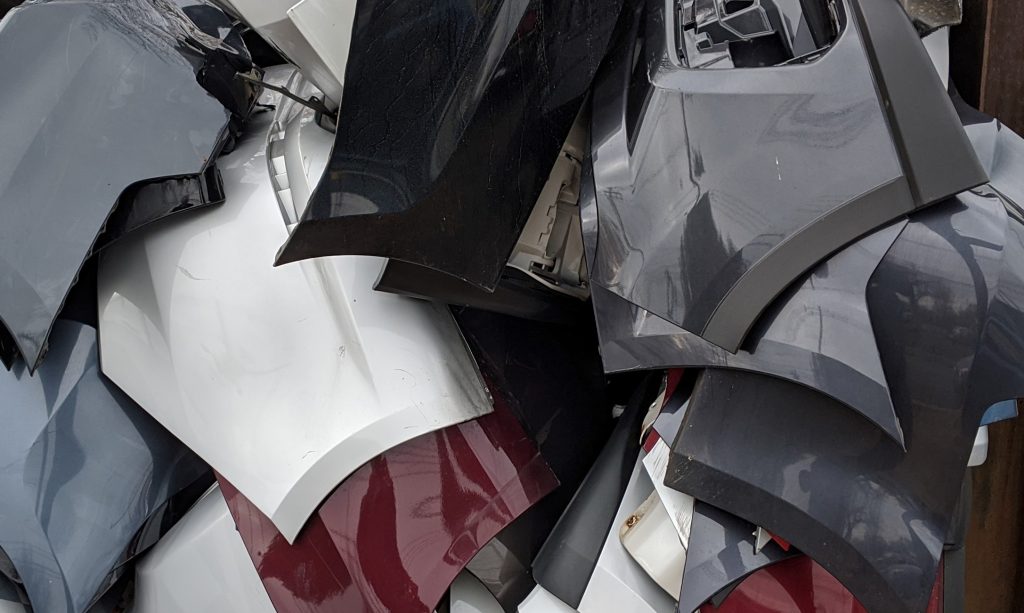 "Ultra-Poly found that body shops are extremely interested in this program due to the size and bulkiness of a car bumper, which is generally disposed of through their waste collection system, often via a dumpster," the case study states. "The space in a dumpster is costly, and adding these bulky bumpers requires more dumpster pickups, each pickup at a cost to the body shop. Additionally, body shops are pleased that bumper fascia is destroyed during the recycling process, ensuring that damaged bumpers will not be 're-manufactured' and potentially sold to their shops as replacement parts for future repairs."
Cronin said Ultra-Poly stresses to shops that the fascias will be "completely destroyed." It's the "last time it will ever be seen" as a bumper fascia, he said.
Cronin has studied the idea since 2008. He said such a program wouldn't have been possible in the past because historically, OEMs used a different, unrecyclable material for fascias. The introduction of TPO fascias made the idea feasible — except that not all OEMs used it. For a long time, a "mixed market" existed, and should one of the unrecyclable versions find its way into a batch of TPO, "it would destroy the whole batch." You'd have to inspect a bale of hundreds of fascias by hand, which meant the idea was "basically a nonstarter."
Today, virtually everyone builds fascias out of TPO, Cronin said. Exceptions exist, but as he described it, it's situations like a Corvette fascia — "very distinctive" and easy to notice and keep out of the mix.
Cronin said it's possible other polypropylene parts could be collected someday. Every plastic part has identification, and repairers could be taught "'This can go in the bin,'" he said. However, this would demand significant precision on the shop's end. "It blows up our economics" to have to sort parts, Cronin said.
"We are collecting locally," Cronin said, describing a 100-mile radius of the company's Portland, Pa., headquarters. He said Ultra-Poly has four routes which collect fascias from about 120 body shops.
Automotive scrapyards aren't feasible since "they don't tend to take the other things out," such as the brackets and trim that a body shop would have removed.
"That's kind of key," Cronin said, describing it as the "key learning" of the process.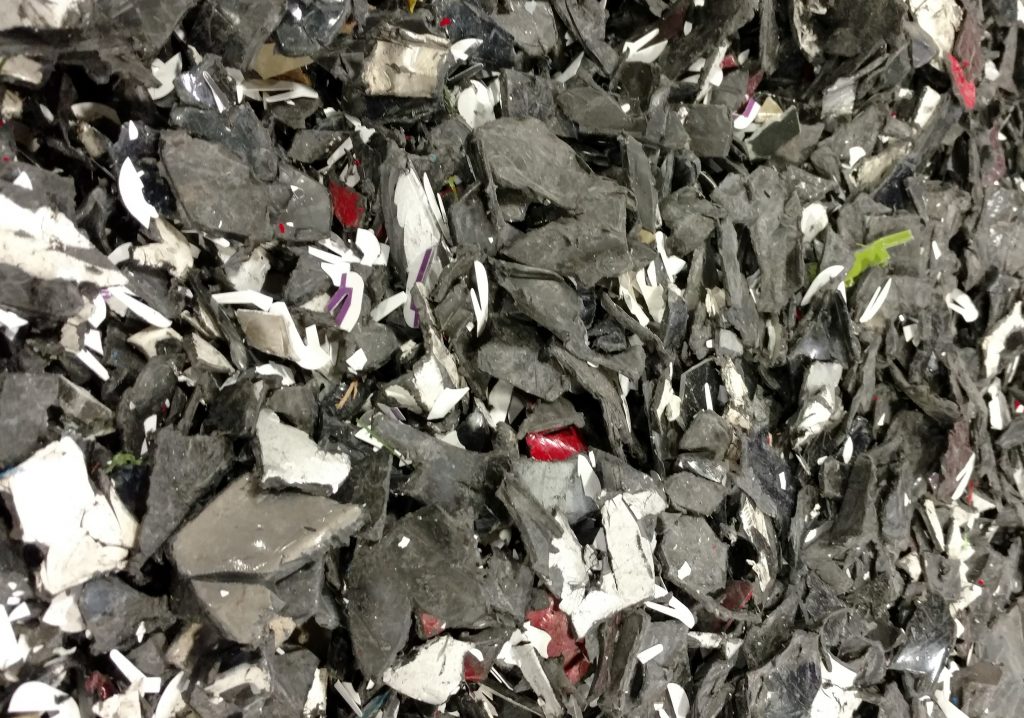 "While there are several reasons that this program is a win-win for both (plastics) recyclers and auto body shops, to ensure participation by the body shops, Ultra-Poly learned that it is critical for bumper pickups to happen consistently and at a regular interval," the case study states. "In Ultra-Poly's case, each body shop is visited monthly, on a set schedule, with an average shop generating 20-30 scrapped bumper fascia per month. Ultra-Poly can collect between 600-800 bumpers per run across multiple routes according to their current plan."
Cronin said Ultra-Poly is sticking to a local footprint to ensure it doesn't scale ahead of its capabilities and wind up overpromising and underdelivering. But the company is optimistic that it can collect at a "pretty significant difference," and it is "slowly expanding this thing."
Cronin said he also believed that in a year or two, it would be possible to make other automotive parts out of the feedstock created by the fascias. For example, a front air dam without a Class A finish, an underbody aerodynamic part not visible to the consumer or a fender liner.
More information:
"RECYCLING PLASTIC CAR BUMPERS COULD PREVENT MILLIONS OF POUNDS OF WASTE"
Plastics Industry Association, March 1, 2021
"Ultra-Poly Corporation Recycles Plastic Car Bumpers with High Degree of Purity"
Plastics Industry Assocation, March 1, 2021
Images:
Bumper fascias at a body shop are shown. (Provided by Ultra-Poly)
Pelletized bumper fascias are shown. (Provided by Ultra-Poly)
Shredded bumper fascias which have also been screened for metal are shown. (Provided by Ultra-Poly)
Share This: