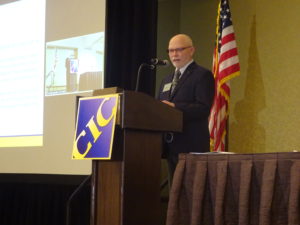 The Collision Industry Conference will again accommodate both in-person and virtual participation at its upcoming meeting, according to a Monday email from the industry summit.
"Due to COVID regulations in Ohio – and limited seating capacity – ONLY current 2021 Gold Pin participants are invited In Person, and Pre-Registration is Required!" the CIC wrote in an email Monday. (Emphasis CIC's.)
However, the organization said it might be able to expand the in-person Cleveland, Ohio, event Thursday, July 15, to a wider audience than Gold Pins if capacity rules change.
CIC offered a hybrid event for its spring meeting last month in Phoenix, Ariz., with Chairman Darrell Amberson (LaMettry's Collision) at the start calling for "a round of applause just because we can."
Ohio Gov. Mike DeWine on Wednesday said he asked the Ohio Department of Health to end most pandemic health rules June 2. He said this would give everyone who wants a vaccine enough time to get one first.
"Measures being removed will include facial covering protocols, social distancing guidelines, and capacity restrictions for indoor and outdoor events," his office wrote in a news release.
But as the CDC noted, the city of Cleveland and the Renaissance Cleveland Hotel hosting the CIC could still have their own rules. So we'll see.
"Fully vaccinated people can resume activities without wearing a mask or physically distancing, except where required by federal, state, local, tribal, or territorial laws, rules, and regulations, including local business and workplace guidance," the Centers for Disease Control's guidance for fully vaccinated people stated as of Sunday. The agency says it generally considers people fully vaccinated two weeks after their second dose of the two-dose Pfizer and Moderna vaccines or two weeks after their dose of the single-dose Johnson & Johnson vaccine.
The CDC and OSHA's views on fully vaccinated people in the context of their own workplace are unclear, however.
Sign up for a Gold Pin membership here. Register to attend the July CIC virtually or in-person here. The event will run from 8 a.m. to 5 p.m. July 15 with a reception at 6:30 p.m.
The CDC says 37 percent of Americans were considered fully vaccinated as of 6 a.m. Monday. The number rises to 47.1 percent for Americans at least 18 years old.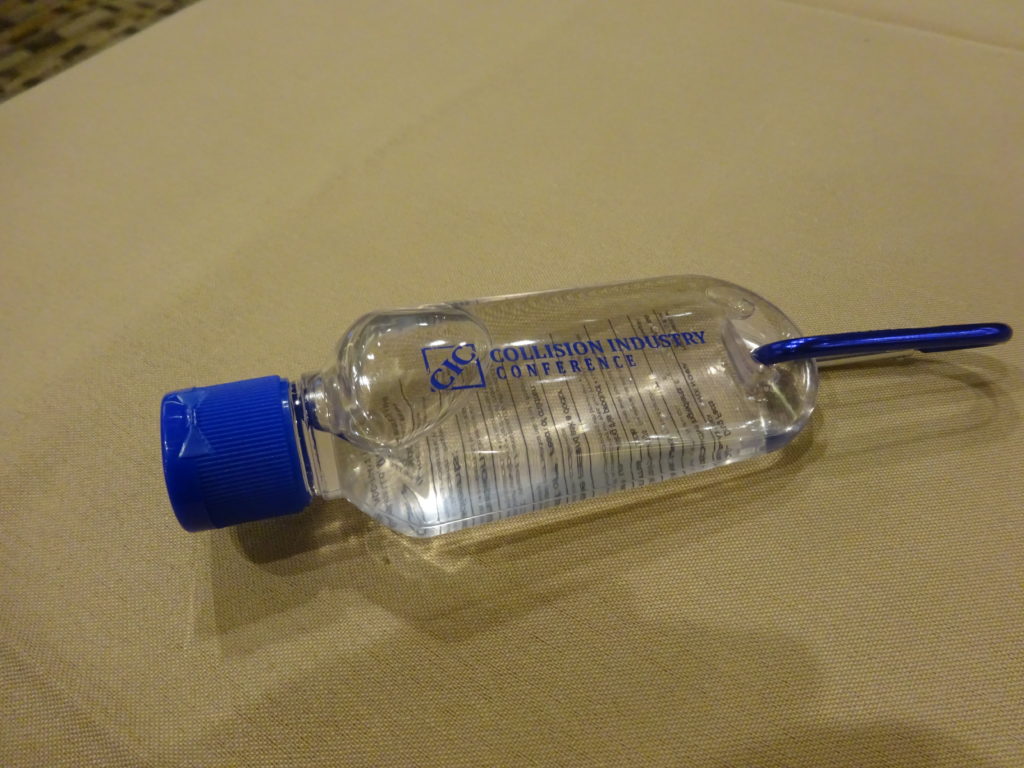 More information:
Collision Industry Conference July 15, 2021, meeting registration
Centers for Disease Control COVID-19 webpage
Images:
Collision Industry Conference Chairman Darrell Amberson (LaMettry's Collision) addresses the in-person and virtual April 21, 2021, Collision Industry Conference. (John Huetter/Repairer Driven News)
A bottle of complimentary Collision Industry Conference-themed hand sanitizer from the April 21, 2021, CIC. (John Huetter/Repairer Driven News)
Share This: