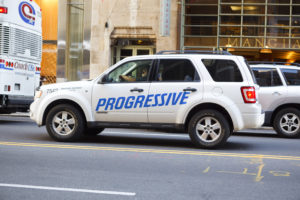 A proposed class action suit has been filed against the Progressive Corporation in New York federal court accusing the insurer of underpaying total loss claims by applying an arbitrary and deceptive valuation adjustment.
The suit claims that Progressive "systemically thumbs the scale" against claimants by applying a so-called "Projected Sold Adjustment" that reduces the base values of the comparable vehicles used to calculate the actual cash value of claimants' total loss vehicles. The negative price adjustment is applied on top of normal adjustments for differences such as trim level, mileage or options. According to the suit, the only explanation for this "Projected Sold Adjustment" appears on the last page of the valuation reports and is a "general, nondescript statement" claiming that the reduction is to "reflect consumer purchasing behavior (negotiating a different price than the listed price)."
Plaintiffs Dominick Volino and John Plotts said Progressive declared their vehicles total losses and promised to pay them actual cash value to buy replacements but that Progressive's use of the "Projected Sold Adjustment" resulted in a lower payout. Volino claims the underpayment was about $585, and Plotts' was underpaid by $802.
Progressive uses the vehicle valuation service provided by Mitchell International. According to the suit, the arbitrary nature of Progressive's Projected Sold Adjustment is demonstrated by the fact that Mitchell's primary competitor in providing valuation reports, CCC Intelligent Solutions, does not apply projected sold adjustments. Instead, CCC uses list prices.
The suit also claims that Progressive does not apply these adjustments when valuing total losses in California, and there is no justification for applying these adjustments in New York while not subjecting California claimants to the same negative adjustments.
In addition to seeking approval for its class action and awarding damages, the suit asks that the court order Progressive to stop using the projected sold adjustment in determining the ACV of total loss vehicles.
While the alleged behavior of Progressive may seem like an unfair claims settlement practice, New York does not allow insurers to be sued directly for unfair claims practices; such remedies are left to the Department of Insurance. Instead, this suit alleges that the insurer violated New York General Business Law § 349, a statute that does allow a private right of action (where an individual or business can file suit) and has been used by body shops in the past to file suits against insurers.
GBL § 349 makes unlawful "deceptive acts or practices in the conduct of any business, trade or commerce," and explicitly provides for a private right of action.
The case, Dominick Volino et al. v. Progressive Corp. was filed in the U.S. District Court for the Southern District of New York.
More Information:
New York General Business Law § 349
http://codes.findlaw.com/ny/general-business-law/gbs-sect-349.html
DOMINICK VOLINO and JOHN PLOTTS v. PROGRESSIVE CORPORATION
Related Story
https://www.repairerdrivennews.com/2017/11/13/eversman-2nd-circuit-ruling-in-n-y-case-to-reverberate-across-the-country/
Images:
A Progressive Insurance vehicle drives along West 57th street in Manhattan on June 2, 2011. (wdstock/iStock)
Share This: