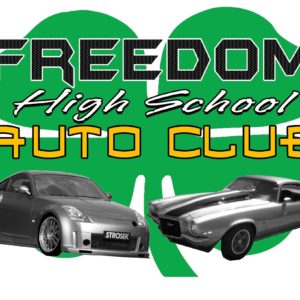 Wisconsin HS teacher wins national award for collision repair program
By on
Announcements
For the fifth straight year, Harbor Freight Tools for Schools has awarded more than $1 million to 18 public high school skilled trades teachers and their programs.
This year with the supply chain snagged, parts and patience in short supply and an ever-dwindling workforce due to Covid, these funds and recognitions mean more than ever.
"Over the past year, we've seen widespread agreement on the need to rebuild our nation's infrastructure and recognition of the skilled trade workers needed to do the rebuilding," said Harbor Freight founder Eric Smidt in a release touting the newest winners of the Tools for Schools Prize for Teaching Excellence.
Harbor Freight said its Tools for Schools program has impacted over 100,000 students.
The trades/categories involved among the winners are: Collision Repair; Electrical; Construction; Automotive & Diesel Technology; Construction & Manufacturing; Welding; Automotive Technology; Machine Tool Technology; Agriculture, Mechanics, Structures & Equipment Repair; Agricultural Mechanics and Industrial Technology.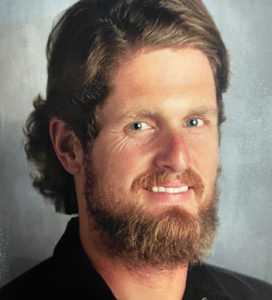 More than 700 skilled trades teachers from 49 states applied for the awards judged by large, diverse and independent panels of experts from industry, education, trades, philanthropy and civic leadership.
Jay Abitz of Freedom (Wisc.) High was the recipient of $50,000 In the Collision Repair category. The school will receive $35,000 for its collision repair program that can be used on tools, other equipment, anything relevant Abitz wants. Abitz will keep the other $15,000 and will use it to help payoff a small business.
"This is the type of impact that only a grant from Harbor Freight can have," Abitz told local CBS affiliate WFRV. "There's nothing else like it. This is like Christmas."
The annual budget for Abitz's collision repair program is $10,000.
Abitz's father, Bob, was Abitz's predecessor at Freedom High for 35 years. He holds a Lifetime Achievement Award from the Wisconsin Technology Education Association.
Abitz holds a master's degree and has multiple certifications in automotive and collision repair.
Freedom High has won a state-record 25 SkillsUSA championships and has multiple top-10 national finishes.
According to the Freedom High website, "Since 1972 FHS has taught collision repair techniques such as panel replacement, metal working, welding, plastic repair, cosmetic repair, and refinishing. Students also experience restoration and custom work emphasizing skills like metal and composite fabrication, rust repair, and custom painting and refinishing."
Abitz was a finalist for this award last year and his program hosts an annual local car show that parades about 150 cars, trucks and motorcycles. During the show, his students give tours of the facilities and share what they've learned to the usual crowd of about 500.
That really helps to spread the interest.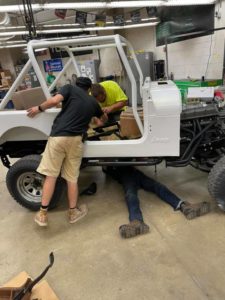 "Students show the tools, materials and equipment they use and explain the learning process along the way," said Abitz in the Harbor Freight release. "Visitors are always impressed and leave wishing they had this opportunity in high school."
His students auctioned off revamped older vehicles at SEMA in 2017 and 2018 and have won seven state championships and finished as the national runner up in the annual SkillsUSA collision repair contest.
Abitz  leads an after-school auto club program that brings together certified mechanics, shop managers, welders, fabricators and other volunteers who work directly with his students.
"Being in the classroom for a living, I do not get the same experiences as working in a shop, so we need the people I describe to keep us in touch with what is going on in the industry," Abitz said. "Many of these volunteers are also FHS alumni, eager to give back to the program that gave them their start.
"It is so cool to see former students come back and share what they have learned out in the world. And as their teacher, it is awesome to see how much they have grown."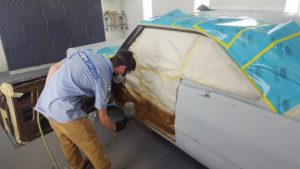 Abitz's students have had their work featured in numerous publications like Popular Mechanics.
Most impressive, though, is that 100 percent of his students enter the workforce, post-secondary education or the military upon graduation.
That's largely because Abitz is demanding.
"In my classes, students are challenged," he said. "They struggle. They are required to figure it out on their own. I give them experiences that will relate to the real world and teach skills like problem solving, working independently as a team and breaking down complex tasks for step-by-step completion.
"My class can frustrate them – seem like work – and can be rewarding at the same time. Life and school is not about what they learn on any given day, but is all about the experiences. I do my best to prepare them for life after high school to be successful people and good employees."
That's exactly what Harbor Freight had in mind when passing out its awards: "These are the teachers who embrace challenges and adapt to better serve each generation of students. Teachers who lead by example with their heads, hands and hearts.
"These are the teachers that change lives every day and we can't wait to see what they'll do next."
To apply for a Harbor Freight Tools for Schools award, go to: https://www.harborfreightgivingback.com/tools-for-schools/ and click Prize For Teaching Excellence.
The application is writing intensive because Harbor Freight wants to ensure all the applicants are serious.
There also is a Donation Request icon on that webpage through which donations to your public high school skilled trades program can be requested.
Images:
Featured: Freedom High Auto Club logo (Freedom High Auto Club/Facebook)
Other images: Jay Abitz (Harbor Freight Tools); Abitz's students work on projects (Freedom High Auto Club/Facebook)
More information:
ASE Education Foundation: Collision industry 'eating our young'
ASE Education Foundation: Get involved with collision schools to help them thrive, survive
ASE Education Foundation updates collision vo-tech program accreditation standards
Share This: