Mitchell and asTech have introduced the MD-OE22, a diagnostic solution that combines asTech's OEM scanning device and remote services with Mitchell's cloud-based ecosystem and collision repair software.
The solution allows technicians to perform proprietary OEM scanning and programming with asTech-powered remote diagnostic tools while accessing scan reports, invoices and a full suite of repair management technologies from within the Mitchell cloud-based platform.
"The MD-OE22 allows U.S. and Canadian repair technicians to search for, identify and resolve diagnostic, electronic and computer-related trouble codes on collision-damaged vehicles from the most popular manufacturers. This includes the newest 2022 models," the companies said in a joint press release.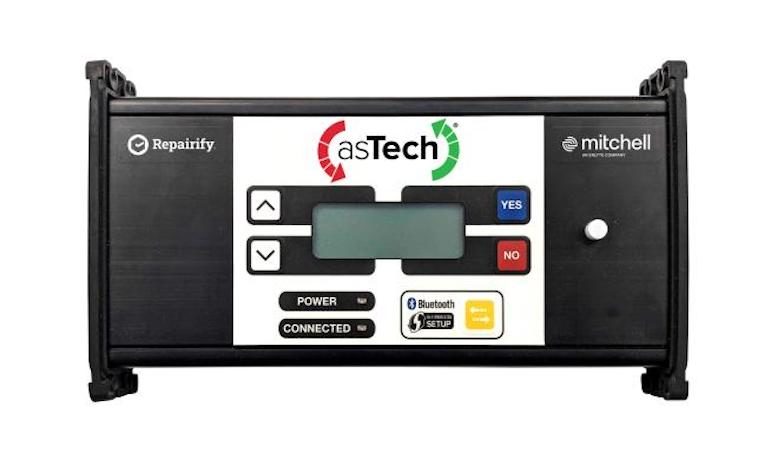 The MD-OE22 is based on asTech's remote diagnostic device, which gives repairers access to more than 1,000 OEM tools and expert advice offered by 400 technicians who are trained by I-CAR and certified by ASE.
All returned information is presented within the Mitchell cloud-based platform.
The MD-OE22  is the first collaboration between two major players in the collision repair industry: Mitchell, a leading technology and information provider for the Property & Casualty (P&C) claims and collision repair industries, and asTech, the leading provider of remote diagnostics solutions and services in the collision industry.
The companies said that the MD-OE22 adds efficiency by centralizing document management on a single platform, and standardizing all scan reporting across the Mitchell product suite, "allowing collision repair facilities to produce consistent, easy-to-understand repair documentation for insurance carriers and vehicle owners."
"The customers that are using Mitchell diagnostic for aftermarket scanning and asTech for for OEM scanning will have the benefit of mutual conductivity, having everything handled for them instantly, automatically in the cloud," Jack Rozint, senior vice president of repair sales at Mitchell, told Repairer Driven News. "No intervention, no going to look in a directory, finding the right PDF and attaching it to the right folder."
"The beauty of the Mitchell diagnostic suite is that we keep everything integrated all the back end, document management automatically seamlessly in the cloud for the user," Rozint said. "And so whether you're doing a static calibration on a Toyota, or you're doing a post scan using a Bosch tool, an aftermarket scan, or you've got a 2022 Audi and you're doing an OEM scan, using asTech, everything comes through a common workflow, and it's all managed on the Mitchell back end through our diagnostics portal."
The asTech OE scan reports are "tied to the repair order and the automatic workflow that Mitchell is providing content shop. It's elegant, seamless, creates incredible time efficiencies," Cris Hollingsworth, president of asTech parent company Repairify Global Holdings, Inc., told RDN.
"The benefit is the efficiency gains," Hollingsworth said. "In a busy collision repair shop, you're answering phone calls from customers, you're answering phone calls from insurance people, you're managing estimates, you're ordering parts … and that management of all those transactions with vehicle repair is extremely complicated." Such complexity, he said, can lead to forgetting to attach a scan document, or attaching it to the wrong folder.
Through VIN coding, "now these transactions are handled seamlessly," he said. "I know if I scanned [a vehicle] with OEM tool, aftermarket tool, or I've done the calibration, I know for sure that that document is in the correct electronic file folder. And I don't have to double check."
Hollingsworth said the new solution can help collision repair shops with reimbursement by providing "more complete data, especially when you're dealing with a carrier, because some carriers actually want those reports in in the reimbursement submission. So you also have all the data that's required in order to service whoever your payer is…. All of that information now is there in a seamless manner for to help drive reimbursement."
Asked whether other collaborations might be in the works between the two companies, Rozint replied, ""At Mitchell, we're very excited about the value that today's announcement can bring to joint customers of Mitchell and Repairify, and we'll continue to look for other opportunities to collaborate on additional solutions."
More information
Images
Featured image: A technician uses Mitchell's cloud-based collision repair management software. (Provided by Mitchell)

The MD-OE22, a joint offering of asTech and Mitchell. (Provided by asTech)
Share This: