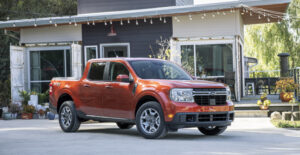 The latest edition of Ford's On Target magazine has arrived on digital newsstands, offering an in-depth look at some of the key exterior components of the new Maverick hybrid pickup, and exploring its new job aid on advanced driver assistance system (ADAS) components involving windshield replacement.
The issue, 2022 – Vol. 1, can be downloaded at no cost at FordCrashParts.com, or through the OEM1Stop website.
Ford reminds repairers that the information presented in On Target is meant as a general guideline, and is not all-inclusive. For more in-depth repair information on this and other Ford and Lincoln vehicles, consult the Ford Workshop Manual, found at Motorcraftservice.com.
2022 Ford Maverick
Ford shares some vehicle-specific details on the new Maverick, the first standard full-hybrid pickup in the U.S. The five-passenger vehicle has been a hit with customers, with nearly 20,000 sold in the first three months of 2022, Ford has reported.
In this issue of On Target, Ford offers a look at the makeup of some of the Maverick's key exterior components, including the front floor, and center and rear floor.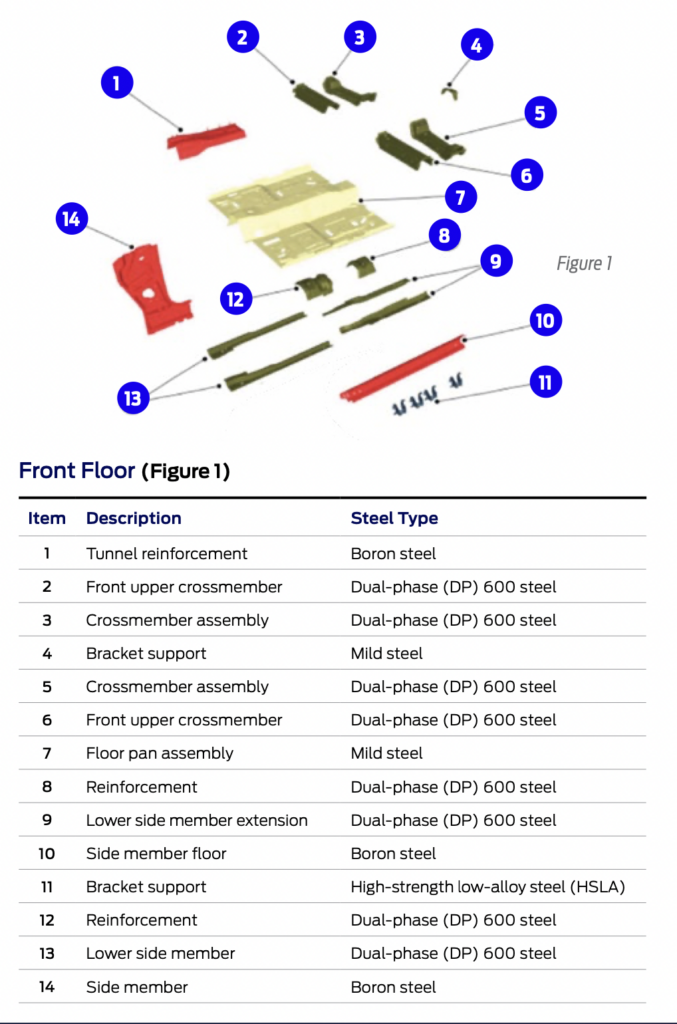 Ford notes that the removable front fenders, hinged doors and hood are all bolted on. The unibody structure and body structure both are constructed of boron, dual-phase (DP) and high-strength (HS) steels, while bodyside outer panels are constructed of mild steel. Roof panel reinforcements are constructed of DP 800, mild and high-strength low-alloy (HSLA) steel.
DP 600 high-strength steel is used for the front frame rails and fender apron assembly, while DP 800 high-strength steel is used for the fender reinforcement tube. The rear frame rails are constructed of boron ultra-high-strength steel.
Mastic pads are used on the floor pan for sound deadening.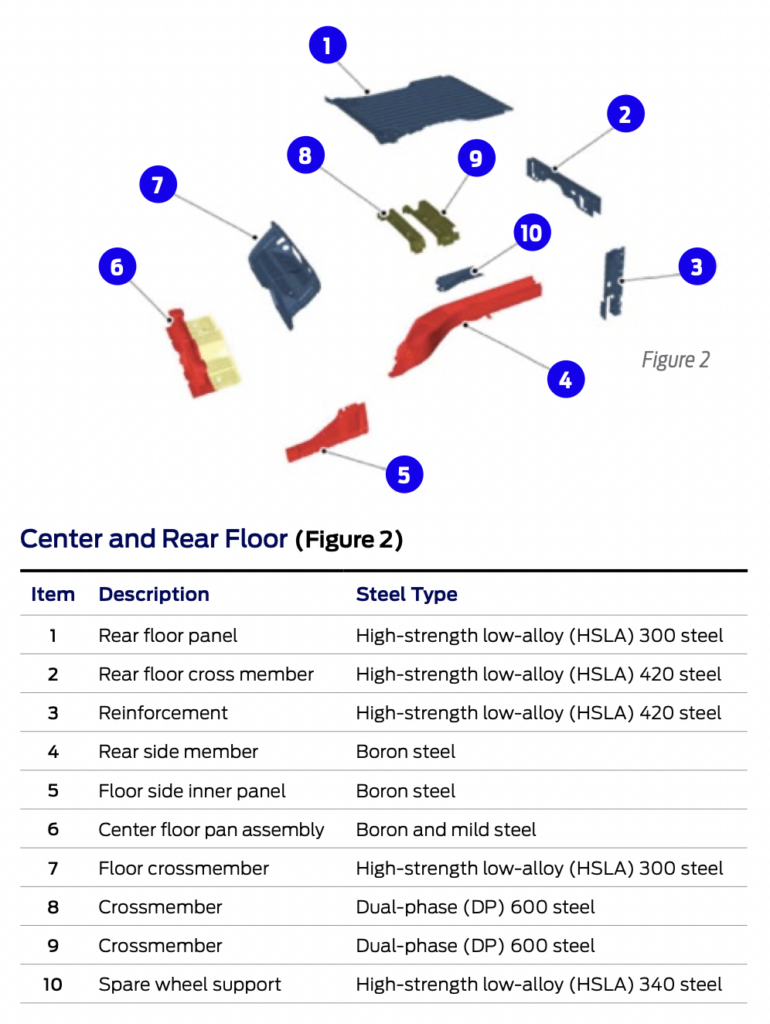 Ford calls special attention to the repair of bumper beams, which are typically constructed of high-strength or stronger class steel. "If the bumper beam shows evidence of a kink or tear it is not repairable and must be replaced," On Target advises. "The use of heat to repair these components is not allowed and will result in weakening the component. Minor damage may be corrected through cold straightening only."
Those looking for more information are directed to Section 501-26: Body Repairs – Vehicle Specific Information and Tolerance Checks, Description and Operation, in the Ford Workshop Manual, found at Motorcraftservice.com.
On Target plans to include more construction details on the Maverick in future volumes.
For more information on the Maverick, or any Ford or Lincoln vehicle, contact the Ford Crash Parts Hotline at cphelp@fordcrashparts.com or visit I-CAR's RTS Portal at RTS.i-car.com.
The Maverick has been selected for the National Transportation Safety Administration's 5-Star Safety Ratings program, but has not yet been tested.
ADAS job aid details
Late last year, Ford created new job aids focusing on repairs involving Ford and Lincoln vehicles equipped with advanced driver assistance systems (ADAS), with and without glass. These were covered in On Target, 2021 – Vol. 4. The current issue takes a deeper look at the job aid on driver assistance systems with glass.
Ford noted that ADAS components "may require additional calibration steps or vehicle programming after the component or related components have been removed, replaced or serviced."
The following information — taken directly from the job aid — covers component descriptions and locations, as well as the required calibration steps of each advanced driving support system.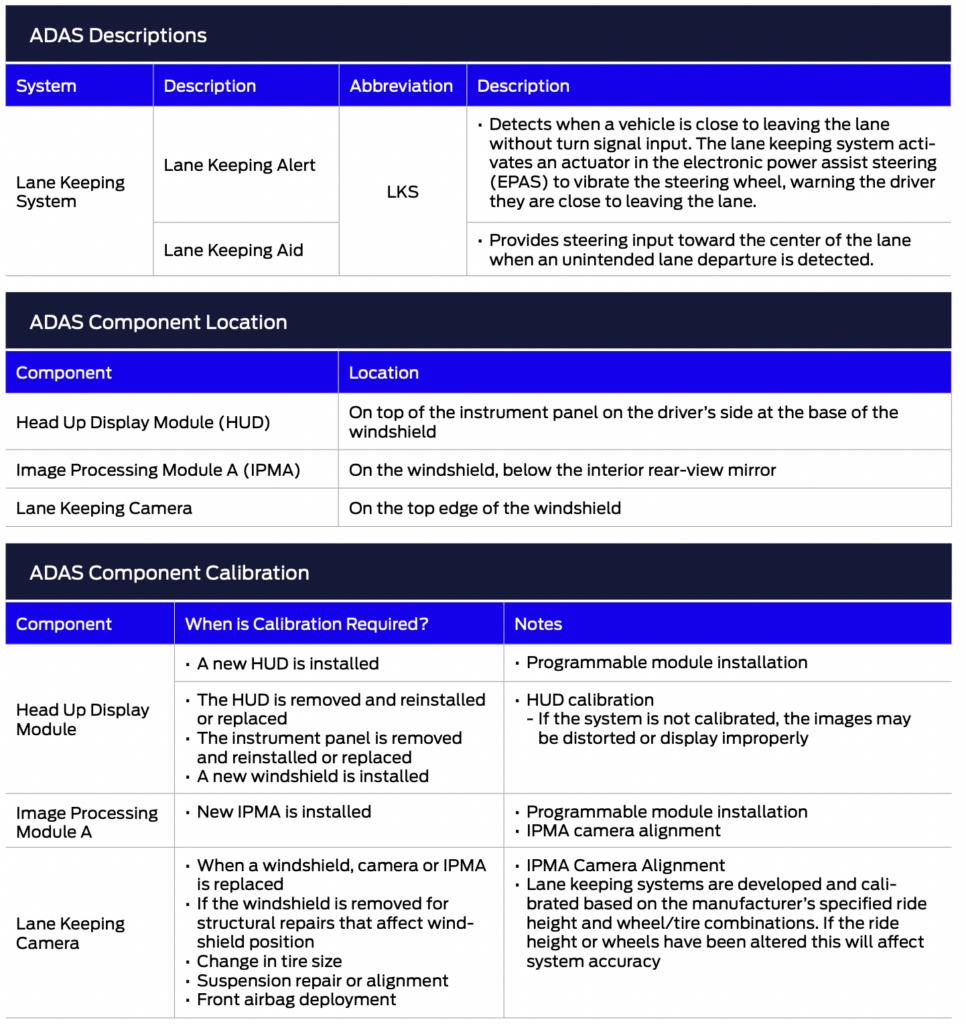 The information in the new job aids is intended for reference only. Repairers are reminded that when servicing or calibrating any ADAS component, the detailed procedures contained in the Ford Workshop Manual (WSM), accessible through Motorcraftservice.com or the Ford Professional Technician Society (PTS) site, should always be followed.
On Target said it plans to provide more updates in future volumes, including details on a recently issued job aid battery electric vehicle (BEV) under-body high-voltage (HV) battery inspections. These job aids — and much more — can be found on FordCrashParts.com.
For more information on electric vehicle repair or ADAS calibration, contact the Ford Crash Parts Hotline at cphelp@fordcrashparts.com or visit I-CAR's RTS Portal at RTS.i-car.com.
Images
Featured image: a 2022 Ford Maverick Lariat Edition. (Provided by Ford)
Share This: