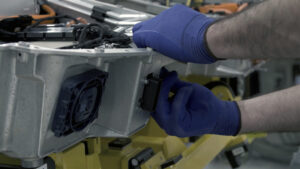 Rivian, Tesla & GM prep for predicted shortage of EV battery production materials
By on
Technology
Rivian CEO RJ Scaringe recently told the Wall Street Journal "the auto industry could soon face a shortage of battery supplies for electric vehicles" that could surpass the continued semiconductor chip shortage.
Since the shortage began two years ago due to the COVID-19 pandemic, OEMs have had to cut advanced features, such as heated seats, park assist, and more off of their vehicles to get them to consumers faster or halt production altogether. Now, some OEMs are planning ahead in hopes of preventing raw material shortages that would affect the production of lithium-ion batteries – the main power source of EVs.
"Put very simply, all the world's cell production combined represents well under 10% of what we will need in 10 years," Scaringe said while giving reporters a tour of the company's plant in Normal, Illinois, according to the WSJ. "Meaning, 90% to 95% of the supply chain does not exist."
The WSJ reports demand for lithium-ion batteries has surged to 400-gigawatt hours in 2021, up from 59-gigawatt hours in 2015, and it's expected to jump another 50% in 2022, based on data the publication got from Benchmark Mineral Intelligence.
Scaringe said shortages will occur in the mining and processing of raw materials as well as in building the battery cells. The semiconductor shortage when compared to material shortages for the production of batteries is "a small appetizer to what we are about to feel on battery cells over the next two decades," he said.
And Scaringe isn't the only EV executive worried about raw material shortages. Tesla CEO Elon Musk warned of skyrocketing lithium prices due to mining pace on April 8 in response to a World of Statistics tweet. Musk replied, "Price of lithium has gone to insane levels! Tesla might actually have to get into the mining & refining directly at scale, unless costs improve. There is no shortage of the element itself, as lithium is almost everywhere on Earth, but pace of extraction/refinement is slow."
According to Reuters, Tesla is building a plant in Texas that will convert spodumene concentrate, which is processed rock containing lithium, into lithium hydroxide – "a key building block for EV batteries."
The automaker applied for Texas permits for its facility last year, but it's unclear when the facility will open, according to Reuters.
Raw materials make up 80% of the cost of a lithium-ion battery, which is double that of what it was in 2015, and materials for the battery cathode including lithium, cobalt, and nickel, have gained nearly 150% combined over the past year, according to Benchmark data reported by the WSJ.
In response to the predicted shortages, General Motors announced last week its partnership with Glencore for a multi-year sourcing agreement in which Glencore will supply GM with cobalt.
Cobalt is an important metal in the production of EV batteries, and the cobalt processed from Australia will be used in GM's Ultium battery cathodes, which will power electric vehicles such as the Chevrolet Silverado EV, GMC HUMMER EV, and Cadillac LYRIQ, according to a GM press release.
"GM and our suppliers are building an EV ecosystem that is focused on sourcing critical raw materials in a secure sustainable manner," said Jeff Morrison, GM vice president, Global Purchasing and Supply Chain, in the release. "Importantly, given the critical role of EVs in reducing the carbon footprint of the transportation sector, this agreement is aligned with our approach to responsible sourcing and supply chain management."
Ash Lazenby, Glencore U.S. cobalt marketer and trader, said commodities such as cobalt that are "future facing" play a "pivotal role in decarbonizing energy consumption and the electric vehicle revolution."
"Glencore is already a leading producer, recycler and supplier of these commodities, which underpin our own ambition of achieving net zero total emissions by 2050," he said in the release.
Cobalt is known for its heat-resistant properties and is added to lithium-ion battery cathodes to improve energy density and battery longevity, according to GM.
By the end of 2025, GM plans to have the capacity to build 1 million EVs in North America and has announced a series of actions to create a "new and more secure" EV supply chain, including projects that target key EV materials and components:
Cathode Active Material (CAM) with POSCO Chemical: GM and POSCO Chemical are building a new facility in Quebec, Canada, as part of their joint venture to produce CAM for GM's Ultium batteries;
Lithium with Controlled Thermal Resources (CTR) to secure lithium produced by the first stage of GM's Hell's Kitchen project in California;
Rare earth materials with GE to develop a rare earth value chain;
MP Materials will establish the first North American processing site for alloy flakes then expand into magnet manufacturing around 2025 at its new production facility in Fort Worth, Texas;
VAC will establish a North American footprint to support GM's magnet requirements beginning in 2024, including locally sourced raw materials and finished magnet production.
Scaringe said Rivian's strategy for securing battery cells is diversification, according to the WSJ. Plans include having multiple suppliers and structured co-investments with partners toward dedicated capacity and, eventually, building cells internally, he said.
IMAGES
Featured image credit: Aranga87/iStock
More information
Share This: